Is anyone else excited about the new season of
Project Runway "All Stars"
? I sure am! Project Runway is one of my very favorite shows on tv!!! The talent, the fashion, the makeup, the competition, and the drama...so fun to watch! The "All Stars" incarnation of the show is great because you get to see some of the fan's favorite designers from previous seasons compete again.
This "All Stars" Season has a new host: supermodel Carolyn Murphy. The judges for this season are Isaac Mizrahi, Georgina Chapman (how gorgeous is she!), and mentor Joanna Coles (former Editor-in-Chief of Marie Claire). While Project Runway is just not the same without fashion-wise Tim Gunn, Joanna Coles is amazing too. She has seriously the most fabulous style ever and is so pretty and sophisticated. The special guests this week were Rachel Roy and Mondo Guerra. I just LOVE Mondo!!!
Rather than Project Runway's usual L'Oreal sponsor, this "All Stars" season is working with Laura Mercier for makeup! As ya'll know, I am a HUGE Laura Mericer fan. So, I will be doing weekly "Get the Look" posts featuring the winning makeup looks from the show! :)
This week the contestants had to create two mini collections using attitude as a theme. I won't give away the winner just in case you haven't watched yet! I know I am always a few days behind on my DVR. :)
Here is how you can get the winning Makeup look!
Flawless Face:
· Prep the face with
Laura Mercier Tone Perfecting Creme
($95).
· Then apply
Laura Mercier Oil-Free Suprême Foundation
($43).
· Camouflage dark circles using
Laura Mercier Secret Concealer
($22).
Eyes:
· Apply
Laura Mercier Eye Canvas
($26) on the eyelid to create an even canvas.
· Next, brush
Laura Mercier Illuminating Eye Colour in Gilded Rosegold
($24) on the eyelid and the inner corner.
· Then apply
Laura Mercier Sateen Shadow in Burnished
($22) on the edge, inner eye and under the eye.
· To make the eyes pop, use
Laura Mercier Kohl Eye Pencil in Brown Copper
($20) on the top lash line.
· Add the final touch using
Laura Mercier Faux Lash Mascara
($24).
Cheeks:
· Lightly dust
Laura Mercier Bronzing Pressed Powder in Sun Bronze
on the t-zone and cheekbones of the face.
Lips:
· To complete the look, apply
Laura Mercier Crème Smooth Lip Colour in Portofino Red
($26).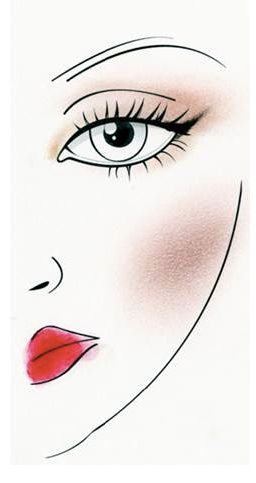 Throughout the season, be on the lookout for more "get the looks" from the show, as well as special news! It is so fun to feature looks from one of my favorite shows and makeup brands! :)
How do you like this season so far? Have you picked which designer is your favorite of the group???