Are you ready to "Go Pink" for the Month of October? As you all know, October is Breast Cancer Awareness Month. Many brands are going all out with special pink product offerings that donate towards research for the cure.
One of my favorite brands for beauty tools,
Japonesque
, is offering an assortment of special edition pink items! For each item purchased, Japonesque is donating $1.00 towards Breast Cancer Awareness Research!
Japoneque is going "Pink" with the
Pink Touch Up Tube Set
, A
Pink Brow Kit
, A Pink
Heated Lash Curler
, a Pink
Pocket Eye Lash Curler,
and a Pink
Manicure Set
. To find out how I like the
Pink Touch Up Tube
and the
Pink Manicure Set
, keep reading!
The Japonesque Pink Face Touch Up Tube:
This sleek little pink metal tube contains adorable mini makeup brushes for on-the-go touch ups! While these brushes are likely too small to rely on for your main makeup application, they are just fine for random touch ups and their small size and lightweight feel makes them very easy to carry. Each brush has a black handle with a pink metal ferule.
There are 5 brushes in this set: a foundation brush (very tiny, I would use it as a concealer brush), a lip brush, two eye detailers, and a blush/powder brush. Not only would this set make a nice addition to your own purse, but also it would be very cute as a gift as well! I think that every girl needs a few makeup tools in her purse. These are a nice option with the added bonus of donating to a great cause!
Yes, these brushes are very tiny; but, the size sacrifice is worth it for the portability. Typically my makeup touch-ups are pretty minor when I am out-and-about. I find that I mostly use the lip brush and the blush/powder brush from this set. The metal tube keeps the brushes clean and protected when in your bag.
The Pink Face Touch Up Tube retails for $19.00.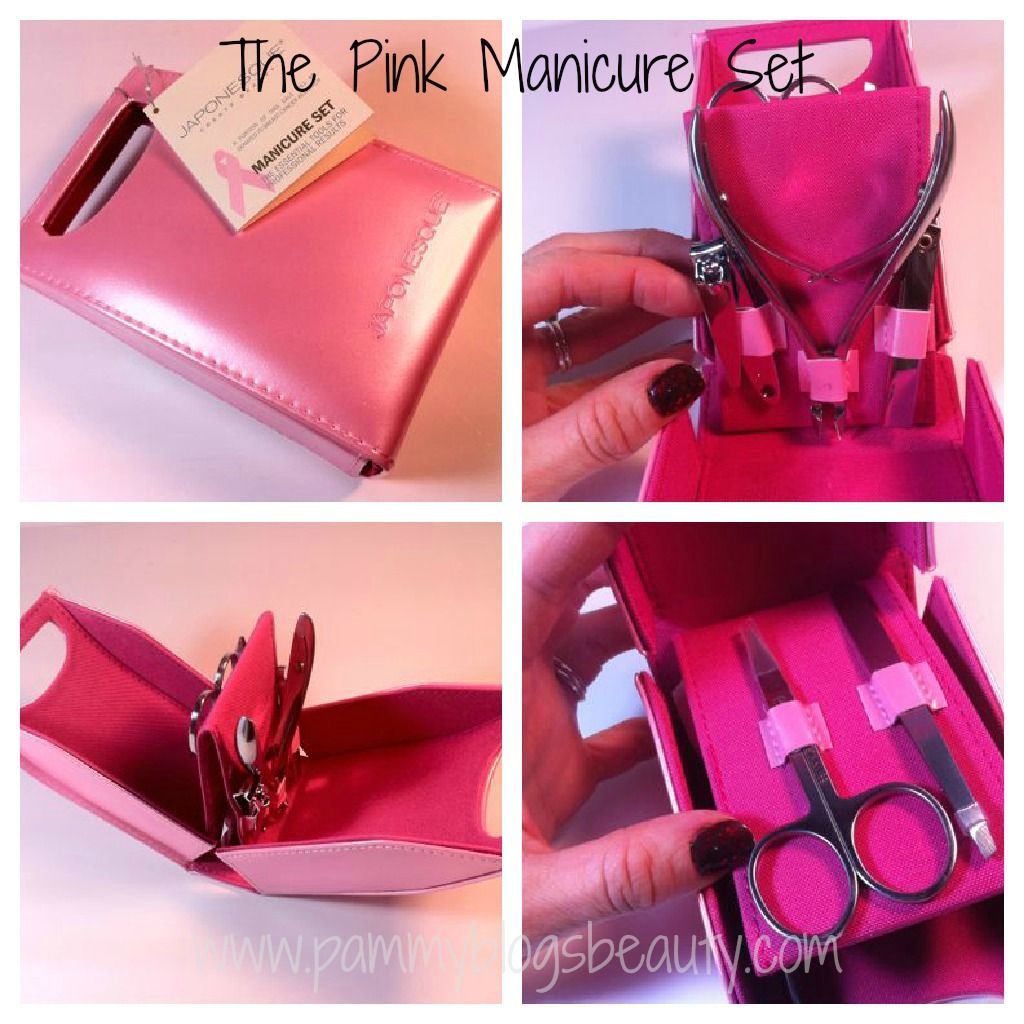 The Japonesque Pink Manicure Set:
This is my favorite of Japonesque's Offerings in their Pink for Breast Cancer Research range! I have long wanted a travel-friendly and convenient set of manicure tools! It almost always seems that I get a hang-nail or polish chips when I am traveling. While I almost always pack a nail file and tweezers, I miss all of my usual tools! This set contains all of the essentials in one cute and portable pink case. Not only do I use this kit for travel, but also I keep it in my nail polish area to whip out every time I do my nails!
I really adore this set! The quality of the tools is absolutely top-notch. This set contains: tweezers, nail clippers, nail nippers, nail & cuticle scissors, combination nail file, nail grooming tool, and a nail scoop. The case itself is very sturdy and made of a faux light pink leather. I am sure that this case will hold up well over the years. It is very pink and girly (totally up my alley!). When you open the case, the tools "stand up" mounted on an insert. This keeps the tools protected and organized. I am very happy with this set!
The Japonesque Pink Manicure Set retails for $28.35.
So, are you ready to "Go Pink"? Be sure to check out Japonesque's full range of special edition Pink items: the
Pink Touch Up Tube Set
, A
Pink Brow Kit
, A Pink
Heated Lash Curler
, a Pink
Pocket Eye Lash Curler,
and a Pink
Manicure Set
. Prices start at $11.00 and all items are available at
beauty.com
!
What Pink for Breast Cancer research items have caught your eye?
Thanks for reading!
This post is part of a 30-day Breast Cancer Awareness Blog Hop hosted by
Glitter. Gloss. Garbage
!
Be sure to check out the links for pink looks and products from my fellow beautiful bloggers!!!