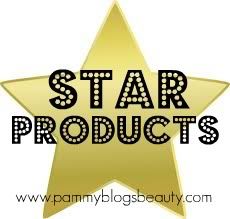 Hello Dolls!
Do you lighten up on your makeup in the summers? I sure do! With the warm summer weather and lazy summer days, I find that I have been using minimal makeup and products this past month. When I apply makeup in the summer, I do so with a much lighter hand. I often skip entire product categories like lipstick and eyeliner and opt for a more natural look.
Even my hair gets a "break" in the summer. I find myself throwing my hair into a ponytail or a bun on most days just to get it off my neck during this heat. So, I lighten up on the hair styling products, too. I am all about "the basics" in the summer.
So, This is my monthly
Star Products
post (a few days late, oops!). Basically, my
Star Products
are my current favorite products or the products that I have reached for consistently over the past month. I love reading these types of posts on other blogs or watching Monthly Favorites videos on YouTube. So, I love sharing my favorites with ya'll too! For previous Star Products posts, see
January Star Products
,
Feb Star Products
,
March Star Products
,
April Star Products
, and
May Star Products
.
Keep reading after the jump break for my
June Star Products
list, photos, etc!
So, here are my Star Products for the month of June!
Urban Decay Naked Palette: As I mentioned, I have been wearing less eye makeup and going for a more natural look. Nothing beats the Urban Decay Naked Palette for beautiful and natural neutral shades. For a simple and natural look, I like using virgin on the brow bone and inner corners with sin on the lid. So simple and pretty!
When I feel like a little more "color", I consistently reach for this beautiful Petal Pusher palette by Wet n Wild. For a pretty and fresh summer look that doesn't look to heavy, I opt for the whitish pink "brow bone" color on the brow bone and inner corner, the baby pink "brow bone" color on the lids with just a touch of the purple "crease" color in the outer corner. The result is a very fresh and pretty look.
Cream Eye Shadow/Primer: When I don't want to "fuss with" powdered eye shadows and all that blending, I pop on some cream eyeshadow and call it done. I love the new Cover Girl Intense Shadow Blast primer/shadows! You can wear them on their own for a very subtle shade that is also long-wearing and waterproof! These are fab as shadow bases as well! Love!
Eyeliner: Typically, I skip eyeliner for hot summer days. But when I do want to define my eyes, I like using gel eyeliner because it is less likely to smear or smudge from the heat. Maybelline Eye Studio in brown is a great option as it is so inexpensive and it performs well! I just dab a super think line on my upper lash line, mesh with the lashes. In the evenings, I might wing it out a little bit.
Face Makeup: I don't like the feel of a full face of makeup in the summer. My skin is generally clear and even toned. So, I just like using a touch of powder to reduce shine and even things out. I have been applying just a tad of my HG Studio Fix NC15 by MAC with a big kabuki. I concentrate the powder on my nose, chin, and forehead and then just blend it out.
Blush: Oh, how I heart blush! Since I love wearing bronzers in the summer, I tend to reach for my "true pink" blushes for color on the apples of the cheeks. This seems to coordinate best with bronzer. I love this Stila Custom Color Blush as it is just the perfect pink!
Bronzer: Laura Geller Blush-n-Brighten in Honey Dipped. This is a "bronze blush". I primarily use it as a bronzer. But, it can also be used as a bronze-toned blush for a really natural look. This is the ideal shade for my fair skin. The pan is a baked dome with a marbled vein pattern and some shimmer. I am so nuts lately about baked blushes and bronzers! The pigmentation of this one is amazing. A big *yay* for Birchbox as this was included in my June box of samples!!! Full review coming soon!
Lips: In the summertime, I tend to primarily wear lipbalm. That's right, I have been on a bit of a lip color hiatus. Not that I don't still adore my lippies! I adore many lipbalms, but seem to reach for my EOS balms the most often lately. Maybe its the cool and unique shape? When I do want a little bit of color or definition, I "slap on" (such a Pammy-phrase, lol!) a little bit of natural looking lipliner such as Stila's no. 16.
Concealer: With the strong Southern sun, I need all the SPF boost that I can get! So, I love using this CoverBlend Multi-Function Concealer with SPF 15. This gives good coverage to the under eye area while being beneficial to the delicate eye skin.
Speaking of SPF, what would I do without Spray Sunscreens! Seriously, what did I do before this stuff was invented. I coat my whole body with either Coppertone UltraGuard Continuous Spray SPF 15 or 30 while lounging at the pool. If I am in full sun, I will wear a higher SPF. But, typically, I am lounging in a shade cabana anyway.
Scent: Bath and Body Works Butterfly Flower: Not only do I lighten up my makeup routine in the summer, but also I lighten up my fragrances as well. I adore this fresh honeysuckle-inspired fragrance! Just smelling this reminds me of summertime playing in the backyard in the deep south when I was a little kid!
Here are some more! LOL! I always seem to forget a few products when I do my photographing! ;)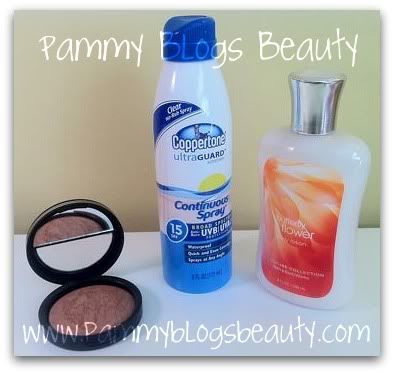 So, that is about it! What are ya'll loving this month? Any new products? Old favorites? If you have a blog and did a favorites post, please link it in the comments below so that I can read it! (Typically, I don't post comments with links).
XOXO!