Stila Custom Color Blush
!!!
So, i just love the idea of this product! A blush that "adjusts" to your own personal shade? The concept reminds me of the mood ring that I used to wear in middle school, lol!!! I am SURE many of you had those??? But, seriously, they make mood lipgloss and nailpolishes so why not a "mood blush"?
I was thrilled when I stumbled upon this pretty blush when browsing online to spend my Birchbox points! So, with my Birchbox points, this blush ended up being "free" for me! What is Birchbox? Check out my
Birchbox Intro Post
! But, if not redeeming points, this blush will cost you about $20.
Not only am I intrigued by the concept of a Custom Color Blush or a "self-adjusting mood blush", but also I flat out love the color of the product in the pan! But, will it wear that color on me??? Please keep reading for my review, swatches, and photos!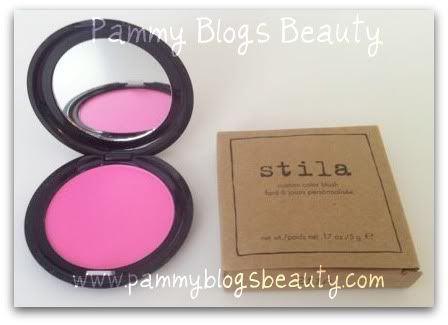 So, yes, I really do love the concept of this Custom Color Blush from Stila!!!
From Stila:
Why settle for "almost the right shade" of blush? This perceptive one-shade-fits-all powder blush reacts with your skin's pH to create a one-of-a-kind, customized shade perfect for you!
...
No more guessing or wearing the wrong color blush!
The blush contains a spherical silicone elastomer treated powder that provides a soft focus effect and diffuses light. There is a silky feel leaving skin soft and smooth. The treated silicone powder fills in fine lines and wrinkles on the skin, making it appear more youthful.
The Packaging:
The compact and blush pan are actually quite smaller than expected. But, I love how non-bulky this packaging is. The compact is very thin and would be ideal for travel or for tossing into your handbag. The compact is your basic black plastic with raised Stila lettering and stars. The inside features a mirror.
The Product:
The blush shade in the pan is absolutely to-die-for gorgeous! It is a bright and vibrant matte Barbie pink with very cool (almost purpleish) tones. I knew if this blush wore anything like the shade in the pan that I would love it! The texture is so soft and nice. The powder picks up very nicely on my blush brush.
When applied:
This blush is very highly pigmented!!! I like using a stippling brush to apply this product to my cheeks.
On my super-fair skin, it goes on quite bright (pretty much the shade in the pan). It almost looks too heavy at first. But, after a few minutes the blush does seem to "tone down" a bit as it reacts to your skin's pH. I find that, on me, the shade becomes a bit less vibrant and more neutral toned. I think that even if it looks like your blush is "overdone" when first applied, as the color adjusts to your own "custom color" you will find that you have applied just the right amount! So cool!
The shade is totally flattering and pretty!
The Wear: I have dry skin and generally do not have too much trouble with a product lasting on my skin. However, I do find that this blush fades throughout the day and needs to be reapplied after about 8 hours (which is still pretty long wear).
Now, does this color wear the same on everyone? I can't say for sure as I can only speak for myself. But, what I think that Stila has stumbled upon is a universally flattering blush shade!!! I really love wearing this blush! The color perks up my complexion and is just so pretty! One of the best parts? Picking up this blush for free when redeeming my Birchbox points! :)
The rest of my Birchbox "haul":
-Zoya Remove + Polish Remover
-Zoya Professional Lacquer: Marley
(with Birchbox points and free shipping this order only cost $4.00! Word!)
I highly recommend this beautiful Stila Custom Color Blush!!! I would love to hear if any of you tried this blush? What shade did it wear on you?
Thank so much for reading! Stay beautiful!!!