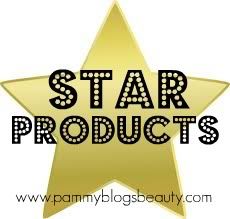 Happy May Dolls!!!
I can't believe we are starting a new Month already?!?! Seriously, where does the time go??? Yes, it is time for my monthly "Star Products" post (April Favorites).
While I love this time of year, it is such a hectic time as well! I don't work in the summers, so it is quite busy at my job in April and May. During busy times like these, I tend to reach for products that work well and work quickly. I want to be ready and out the door in minimal time.
With the beginnings of the Georgia sunshine and heat, I am switching gears to lighter fragrances, lighter skincare (I don't need to pile on the moisturizer), and softer and more natural makeup. I mean, I always go for the natural-look; but, I have really streamlined the routine and try to reach for fewer products so that I am out the door quicker with makeup that looks pretty in the sun! :)
So, are you dying to know my Favorite Products of the Month? My all around "Star Products"??? Well, keep reading after the jump for photos and a full list!
Here they are!!!
Sigma Nice in Pink Travel Brush Kit: Wow!!! I totally love these brushes. Not only will they be ideal when I travel, but they are great for every-day too! My particular favorites from this set are the F40 Large Angled Contour blush brush (which I use every day) and the E40 Tapered Blending (great for dusting powder-BeneFit Powderflage- over your under eye concealer). Click the link for my full review!
Lancome Juicy Tubes 100% Natural Origin Lipgloss in Blushing Beauty: This is so gosh-darn easy to wear. It is sheer and moisturizing. It has a lovely scent and flavor as well as a nice shine. Very natural! I have been reaching for this continuously! Love, love, love!!! Click the link for my full review!
BeneFit Erase Paste: This is one of my current favorite under eye concealers. I have had this for awhile, neglected it, and now find I am reaching for it more. Its texture and peach color make it ideal for the under eye area! For more on this concealer and my other top Concealers check out this blog post: Top 5 Concealers for Dark Under Eye Circles! I actually think that I need to do a follow-up post on this topic!!! I am always searching for new/better under eye concealers. The quest for dark under eye circle coverage is one of the main reasons that started blogging!!! I had to share my years of concealer testing and research!!! It is my mission to find the best ones out there!!! LOL, clearly I am a concealer nut! Or, well, lets just say that I am passionate about this topic! ;)
Vitaphenol Anti-Aging Toner: My full review of this product and a Vitaphenol givaway are coming soon! So stay tuned this week for both of those posts!!! I adore this toner! Where have toners been all my life? Well, actually, I think that my early years of using Astringent toners prematurely soured me on the whole toner category. But, a toner need not be harsh! This toner is so super gentle on my sensitive skin! It is gentle, yet effective! This toner has a host of fab ingredients including 10% Glycolic Acid and CoQ10. My skin has looked so nice from using this and the whole Vitaphenol System. Be sure to check out my review!
Bath and Body Works Rainkissed Leaves: Ahhh!!! Now, this is such a fresh and clean scent for spring!!! Even my Hub, who is not a huge B&BW fan, compliments me when I wear this fresh scent. It is such a clean and grassy scent. LOVE!
Too Faced Naked Eye Kit

: Wow! I can't believe that I haven't reviewed this yet!!! I need to! This is my quintessential "everyday" palette. I can grab this palette and be done with my shadow in minimal time. My faves are all the colors in the middle row. This is a wonderful palette for fair and cool-toned girls!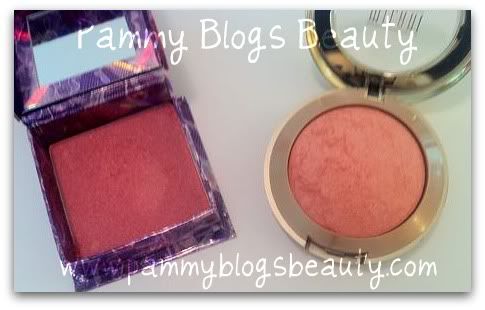 Blush:
This wouldn't be a Pammy Blogs Beauty Monthly Star Products post without including a blush! Yes, you regular readers know that I have a bit of a blush obsession (second only to my concealer obsession, lol!). Since I couldn't pick just one, I included my two faves that I seem to be alternating days with. I had a small bout of pneumonia this past month (yes, I am feeling much better); so, I really relied on these pretty blushes to perk-up my complexion while feeling cruddy.
BeneFit Bella Bamba Blush (full review coming soon!): This is a gorgeous medium pink blush with shimmer. It immediately gives my fair/pale skin a burst of life! Plus it smells divine! Just looking at the pretty packaging makes me happy. One of the best high-end makeup purchases that I have made recently!
Milani Baked Blush in Luminoso: This is the *perfect* peach blush! Just perfect! High end quality for a drugstore price. This whole line is fabu! If you haven't picked up a Milani baked blush yet, run-don't walk-over to Walgreen's to give this line a try. I have a feeling ya'll will be seeing this blush again on future Star Products Lists on Pammy Blogs Beauty! Check out my link for my full review of Milani Baked Blushes!
Thanks so much for reading! I would love to hear what your favorites were for the past month, so feel free to comment below!!! :)
XOXO and Stay Beautiful!!!