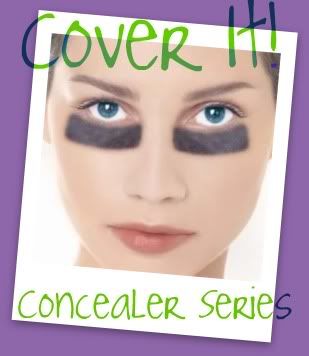 Hello lovely readers!
I am back with another concealer review for my
Cover It! Concealer Review Series
.
What am I looking for in a concealer? Primarily I am looking for medium to heavy coverage for the under eye area to conceal my super-dark under eye circles. But, I am also looking for medium coverage concealers to cover slight redness around my nose and on my chin. For more background, check out my Cover It! Concealer Review Series Intro. Also be sure to check out previous Cover It! post Boo-Boo Cover-Up.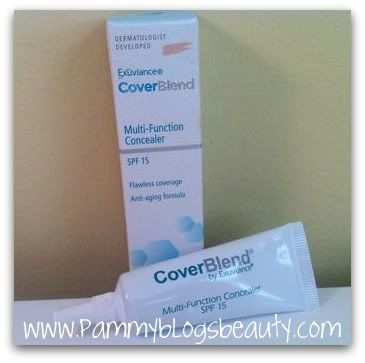 This review is for
Exuviance CoverBlend Multi-Function Concealer SPF 15 by NeoStrata
. I was thrilled when NeoStrata contacted me to see if I wanted to test out one of their best-selling products. A "medical" anti-aging concealer with good coverage *and* SPF 15? This product "had me at hello"! I mean, this concealer sounds too good to be true!
So, "how did I like it" you ask? Keep reading!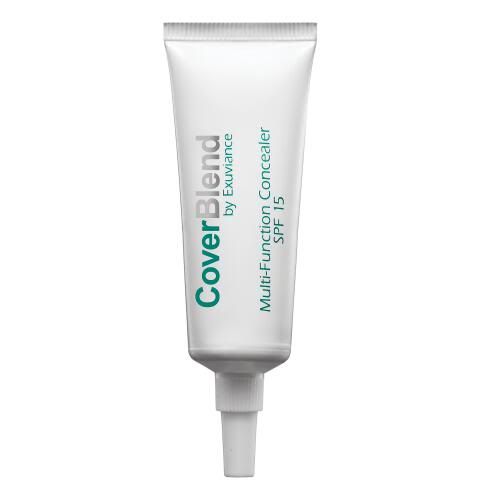 What I don't want:
Ya'll know that I have a tall order for my concealers. I need major coverage under my eyes for my dark circles. But, I don't want the concealer to be so thick in texture that it looks "cakey" (that is the worst! right?). Also, I don't want it to settle in those fine lines.
The Verdict:
So, let's just cut to the chase...I really like this concealer!
Why?
I absolutely adore the fact that this product contains SPF 15! I don't leave home without SPF every day and any extra coverage is just fine by me. SPF in a concealer designed for the eye area is just genius! The delicate eye area needs extra sun protection. Often when I am applying concealer I feel that I am diluting the SPF that is already on my skin (I am sure that I am not actually diminishing the effects, but it sure feels like I am). So, I just "feel better" about using a product with SPF in it. If I had two products side-by-side that were identical except for SPF...I would choose the product with SPF every time.
Love that this concealer goes beyond just concealing! It has antiaging ingredients such as polyhydroxy acid and gluconolactone.
The shade "light" is a great color match for my uber-fair skin (for reference: I wear NARS Sheer Glow in Siberia and MAC Studio Fix in NC 15). Actually, not only is it a good match, but one of the best matches that I have ever found in a concealer.
The Texture: This product has some density. I know that sounds vague. So, let me explain. For a product coming from a squeeze tube, it is dense. But, it is much more thin that a concealer coming from a jar or a stick. It has a creamy-like texture and is not the least bit runny. When you squeeze it out on your hand you will get a blob of this product that does not run (like most squeeze tube type concealers), it stays blob-like (lol, I know, blob is such a technical term, right!). I find this texture to be extremely easy to work with. It literally melts right into your skin and blends like a dream. You can apply the product right where you need it and then blend it out. It blends like a dream!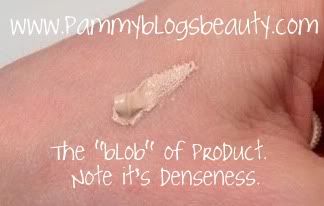 Pigmentation: This product is extremely pigmented. In my concealer shade range ("Possible Coverage Ranges" for any concealer I review: ultra light, light, light-medium, medium, medium-heavy, heavy, or very heavy) I would call this Medium-heavy pigmentation. Not the heaviest concealer ever, but definately emerging into the heavier coverage range. You are going to get very good coverage with this concealer. The coverage is adjustable depending on how much you apply and how much you blend out. With a few layers of this product, it almost erases my dark circles. I am pleased! What is nice: You can build this product without it getting cakey. A Makeup Artist once told me that "any concealer can cover your dark circles if you apply it thick enough"...well, maybe that is true, but not all concealer will look good nor natural applied in this manner.
Squeeze tube product with no-frills packaging. Fits the "medical" makeup feel of the brand. The tube dispenses product well and is sanitary.
.5 oz tube retails for approximately $22.00.
Broad Spectrum SPF: Actives: Titanium Dioxide and Zinc Oxide. This is my fav sunscreen combo! great for sensitive skin and the delicate eye area!.
Product is creamy (yet not runny) and does not settle into fine lines.
Contains anti-aging ingredients: Polyhydroxy acid and Gluconoloatctone
Heavy pigmentation covers: Dark Circles, Acne, Hyperpigmentation, etc.
Comes in 4 shades: Light, Beige, Sand, Mahogany
What a great product! I am thrilled with the coverage, blendability, and general performance of this concealer. Granted I will keep trying new concealers for my review series, but this is a product that I will always come back to! Especially in the summer months when extra SPF around the eye area is a must! I am so pleased with this product that I am very curious to try out more from NeoStrata and the CoverBlend line!
Have any of ya'll tried this? What other concealers out there have SPF? I believe that MAC's does?
Thanks so much for reading my dears! Don't forget to slather on that SPF! Stay beautiful!
XOXO!