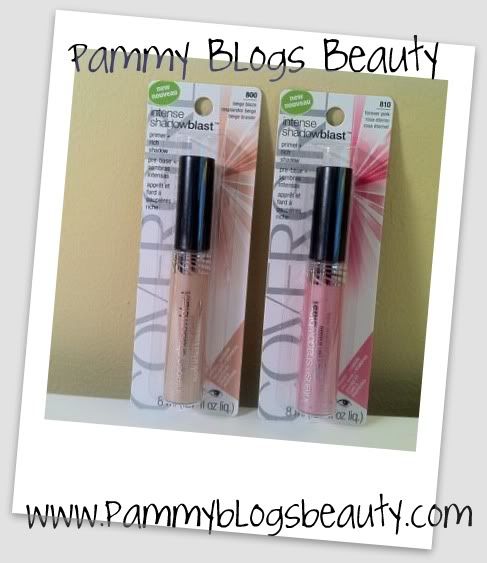 Hey dolls!
Also, I love the idea of finding a decent eyeshadow primer at the drugstore! Not to mention loving the price! I got these Intense Shadow Blasts on a BOGO 1/2 off sale (and I used a manufacturer's coupon). So, I purchased both of these for a total of about $6.00. Can't beat that with a stick!
I am sure you are wondering...how does this product hold up? It is truly good for both intended purposes? How is the pigmentation? Well, keep reading after the jump for a full review, swatches, and more photos!
I purchased these in the shades Beige Blaze and Forever Pink. I tend to go towards light and neutral colors for eyeshadows. So, I thought I would get the most use out of these particular shades. Beige Blaze is a lovely pearly vanilla shade and Forever Pink is a metallic baby pink shade.
There are 6 shades in the collection: Beige Blaze, Platinum Pop, Forever Pink, Brown Bling, Extreme Green, and Blue Bomb.
The Skinny:
Waterproof formula
Liquid/Creme shadow with doe-foot wand applicator in 8 ml size tube.
Pearl/Satin Finish
Retails for approximately $8.00. But, watch for those sales! You can get it much cheaper if you shop around.
Can be worn on its own as a cream eyeshadow or can be used as an eyeshadow base/primer.
How does this product perform?
Let me start of with some background on my skintype. I have dry-normal skin (dry in colder months and dry-normal in the warm months). So, typically, I do not have problems with my eyeshadows sliding or wearing off terribly. But, some products do crease on me. I primarily use eyeshadow primers to intensify the colors of my eyeshadows and to increase wear time.
Application: Just a couple dabs of the wand is all I need to cover my lid. I smooth on and blend in with my fingertips. The shadow/primer applies smoothly and blends well. As you blend it in it sheers out, but still gives decent coverage. After a few minutes it sets and dries. Tip: Do not apply too heavily. I find this product works best with a tin layer.
Pigmentation and Finish: I find these to have medium pigmentation. Actually, I was quite impressed! These certainly have enough pigment and staying power to be worn on their own as a sheer cream shadow. I love the pearly/metallic finish. When worn as a primer, this finish really brings out the shimmer in your powder eyeshadows and intensifies shadows worn over them. It will make any shadow worn on top's color "pop"!
Wear: This is a waterproof formula and the product truly did not budge on me until it was time to remove at the end of the day! This product works very well on me as an eyeshadow primer. Also, these ShadowBlast Primer/Shadows wear very well on their own as a long wearing cream eyeshadow. Actually, in the summer I tend to simplify my eyeshadow look for everyday wear. I love wearing these on their own as cream shadows. It is just super quick and easy and wears extremely well. No creasing!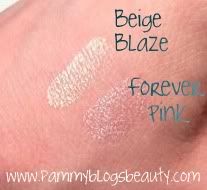 As you can tell, I really love this product! Actually, I would love to add more shades to my collection. This product is nice when worn on its own for a subtle cream shadow. What do I like best? Wearing this product as an eyeshadow primer/base! This product will intensify your power eyeshadow's colors and finish and make your eyeshadows last all day long!