I simply adore Halloween! October is my all-time favorite month and Halloween has a lot to do with it! All month long I go a bit nuts with pumpkin-flavored everything, Halloween decor, and yes plenty of Halloween-inspired manicures.
I know nail art is so huge right now. I am sure that many of you have come up with some really fabulous and decorative Halloween-art manicures. My manicures these days tend to be a bit more on the quick-and-easy side. It almost always seems that when I finally get some time to paint my nails, the baby wakes up! So, color plus possibly a glitter top coat seems to be about as creative as I get these days!
With all that said, I am sharing my favorite Halloween Manicure today for this installment of Makeup Wars!
What are Makeup Wars?
The Makeup Wars group blog hops/blog blasts about the same topic about every other week. We link to each others' posts through the themed graphic at the top of the post (see the last mani, next mani links) and the blog logo links at the bottom of this post. We encourage you readers to click the links and scroll through all of our blogs to see what manicures we are loving this year for Halloween!!! Our posts all go live at the same time. I am always so eager to click through to see what my other dear and creative Makeup Wars girls came up with!!!
Did you miss our last few Makeup Wars? Be sure to check out those posts here:
Battle of the Taupes
,
The $20.00 Face Challenge
,
Battle of the Favorite Summer Lippie
, the
Most Expensive Face Challenge
, the
Best Brush
,
Favorite Fall Polish
,
Favorite Red Lipstick
, and
Best Fall Look
.
Want to see and hear more about my Favorite Halloween Manicure? Keep reading!
While I am a lover of vampire-lore year round, Halloween really is the best excuse to vamp-it-up! Any other Vampire Diaries fans here? I will admit to being a bit obcessed with this show even though I am probably far beyond the age of their target audience, lol! As I have proclaimed many times, I am a kid-at-heart through and through.
Sure, Vampires seem to be the "it" thing these days with the likes of Twilight, etc. I have been drawn to vampire fiction since first reading Bram Stroker's Dracula in High School. After that, reading the Anne Rice Vampire Chronicles in College continued the facination. But what cemented my true love of this genre? Yes, you guessed it, years of watching Buffy the Vampire Slayer. Um yah, I have seen every episode countless times and can easily quote the quippy Buffster.
Long tangent aside, lets get to my Vampy Halloween manicure!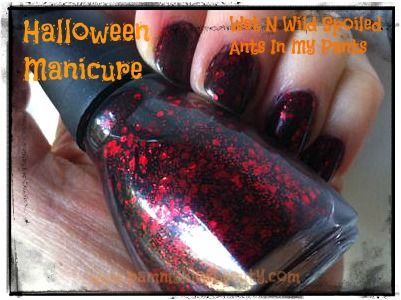 Please excuse my cuticles! They are in rough shape.
This is such an easy combo! I just layered
Wet n' Wild's Spoiled glitter Polish in "Ants in my Pants"
over
Julep's Brandt from the Trina Turk collection
(
September's Julep Maven Box
). I get so many compliments on my nails when I wear this combo! The combo really stands out. I love telling people that I achieved this look with a $2.00 polish: Well, let me edit: A $2.00 polish layered over a $14.00 polish. ;) Hey, high or low end? No matter! I am all about the end result regardless of the price.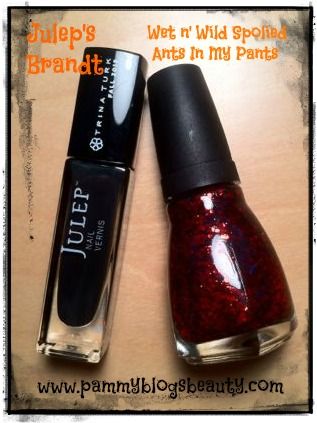 While I used a black base, you do not necessarily need one with "Ants in my Pants". "Ants in my Pants" is a sheer black polish with heavy and dense deep red micro glitter and round chunky glitter. Two layers of this gives you an almost opaque glitter look. I typically go for 3 layers of polish just to get it really solid glitter-wise.
This is my first Wet n' Wild Spoilied Polish! I have eyed the displays many times but had no idea that they were this good! Now I want to go back and try more from this line!!! There really is a great assortment!
Not only is the my favorite Halloween Manicure, but also it is a fun manicure to wear beyond October and throughout the cooler months...or anytime you are feeling vampy or are in need to channel Buffy.
Be sure to check out the links to see what the other Makeup Wars bloggers are doing for their Halloween Manicures!