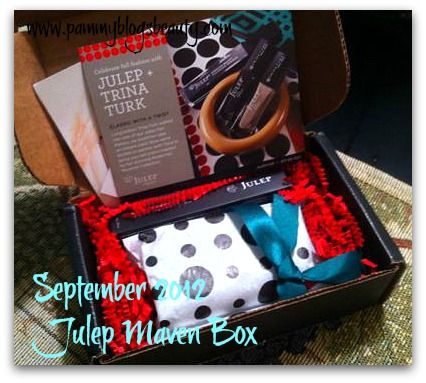 It is
Julep Maven
time again!!! Yes, it is time for the opening of my
monthly Julep Maven beauty box
!
There is no question that the
Julep Maven box
has become one of my most favorite beauty subscriptions. The boxes are just so well done! Beautiful packaging and great products! The polishes are always on-trend and I have been very pleased with the extra spa and makeup products as well.
The Scoop on the Julep Maven Subscription:
I know that many of you know the drill on
how Julep Maven works
. But, if not, this section is for you!
The great thing about this subscription is that you get to pick your box!!! Julep pre-selects a box for you based on your beauty style profile. You get an email with a graphic (see the picture below) representing your box. My style on Julep is "Boho Glam". If I do not want the Boho Glam box for a particular month, I can easily switch to one of their other boxes! This month I choose "Classic with a Twist"!
With Julep, you can skip a month! If you can't find a box that you like or if you just don't feel like spending the $20.00 for a particular month, then you can simply opt to skip a month.
Subscriptions are $20.00 per month (but remember you can skip a month if you need to).
You get to choose your box! They have a great assortment every month.
Each box contains 2 full-sized Julep Nail Polishes plus one Julep Spa full sized product. Also, there is always one box that has 3-full sized Nail Polishes and no spa product. I have literally loved every spa product that I have gotten! Seriously, I have found some favorites at Julep!
Box Value: The value of the box far exceeds the $20.00 cost! The nail polish normally retails for $15.00 a bottle and the product prices range from $14.00-$38.00.
Ready to subscribe? Here is my referral link: Subscribe to Julep
You can earn credits for referrals!
To see exactly what was in my "
Classic with a Twist
"
Julep Maven box
for the month of
September
, please keep reading!
I choose "
Classic with a Twist
" this month because the polishes look like just what I need for the change of season. I think that
Sophie
and
Brandt
pair beautifully together and just look so classic and elegant!
All of
Julep's September Maven Boxes
are collaborations with designer
Trina Turk
. The polish shades are based on the color palette utilized in her current collection. I love that Julep included a nail art idea inspired by her jewelry, separates, and general aesthetic! Very cool indeed. Also, the polishes have special "Trina Turk Fall 2012" labeling on the cap.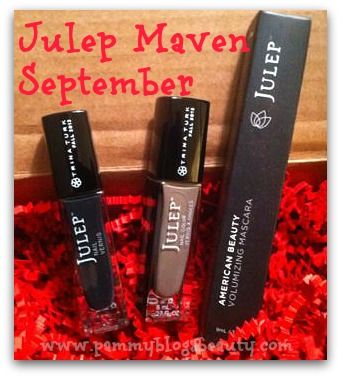 This month's box included:
Sophie Nail Lacquer (retail cost: $14.00): A "greige" truffle mushroom creme color. I am a huge fan of greige polishes! So, I am thrilled to have this one from Julep. I am sure that my nails will "live" in this color once the Fall weather arrives in GA!
Brandt Nail Lacquer (retail cost: $14.00): This is an opaque off-black creme. This is such a sophisticated black. I am glad that it is an "off black". I honestly don't have any other blacks quite like this one!
Julep American Beauty Volumizing Mascara (retail cost: $24.00): Black mascara with a rubberized brush. LOVE the packaging of Julep makeup. Very high end looking. Nicely sleek! I can't wait to test this new mascara out!!!
Trina Turk "magnet"? I think this little sketch is supposed to be a magnet? However, it does not stick to anything in my house?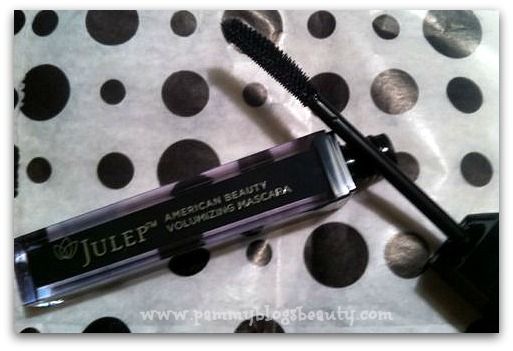 I really love
September's Julep Maven "Classic with a Twist" box
!!! The nail polish shade selection is spot-on and the mascara looks amazing! I wonder how much further Julep is going to go with expanding their cosmetics line? So far, I am a huge fan of their lipglosses (and obviously their polishes too, lol!). So, I have high hopes for this mascara!
The value of this box is clear when you see the retail cost for these items (listed above). The
Julep Maven boxes
are so consistent with great products for a phenomenal prices. Plus, they are packaged so beautifully that they are like getting a nice present every month. I continue to be a huge fan of Julep!
Other Mavens, how was your box this month? What did you choose?
Have you subscribed to Julep yet?
Referral links included in this post!