Sponsored Post
Affiliate Link
Press Sample
OMG, I am *so excited* about the new season of Project Runway! I am a huge fan of the show and have literally watched every single season since the show started. Not only am I a huge fan of Tim Gunn, Heidi Klum, Nina Garcia, and the other rotating judges, but I also become fans of the contestants every season, too! It only takes a few episodes into the season for me to pick out my favorite designers! The fashion challenges are beyond impressive. It is hard to believe that these talented designers can pull together a complete look in just 1-2 days--a hand sewn and designed outfit that is fully styled including accessories, hair, and yes, even a makeup look!
The judges are looking for winning looks that are not only flattering, but also forward thinking. I certainly get inspired when I watch the show. The designer must be able to go beyond just designing and sewing an outfit. They must have a cohesive look and a clear vision. Styling is a huge part of the complete look. This includes designing the makeup look! Makeup artists are on stand-by for consultation with the designers about creating the look to go with or accent the fashion. As a beauty blogger/makeup lover, this is one of my favorite parts of the show!
I am so excited to hear that Mary Kay
®
is the new Official Beauty Sponsor of Project Runway! I am a fan and user of Mary Kay
®
cosmetics. So, I really can't wait to see all the beauty looks that the Mary Kay
®
team of artists comes up with in collaboration with the designer contestants. Today, I am super excited to be able to bring you a sneak peek of two beautiful beauty looks that will be featured on the upcoming season of Project Runway! I even tried one of the looks out on myself and will share it with you!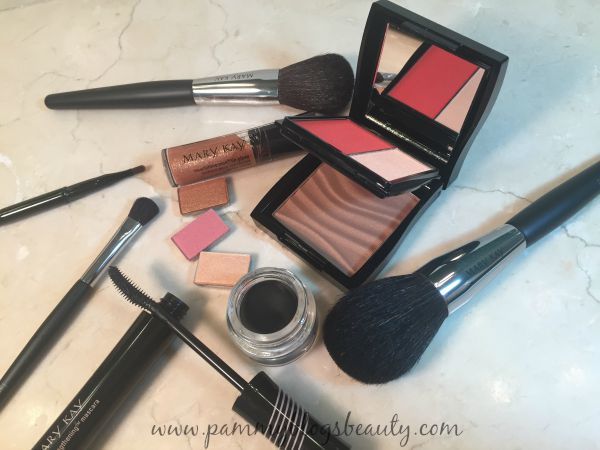 To find out more about these beauty looks, including step-by-step details on how to create each look and photos, please click read more below!
Even though I am a beauty blogger, I am certainly no makeup artist! I am just a makeup and beauty fan (just like you!). I tend to look to runways, magazines, tv, celebrities, and other blogs to get inspiration for my makeup looks. I love it when I can find a specific "Get the Look" breakdown. Then I can specifically follow the already laid-out steps and achieve a complete look at home! So, I am super excited to be able to share two Project Runway "Get the Look" looks with you today that you can go on to create yourself. I am also going to share my attempt at re-creating one of these looks.
Get the Look:
Are you ready to create a runway ready look for yourself? I am sharing all of the details on how you can Get the Project Runway Look with Mary Kay
®
products! Mary Kay® Global Makeup Artist, Luis Casco used the below listed products and steps to create two stunning looks that are featured on Project Runway! I am sharing a Bronze Glow Look (focus on eyes and cheeks) and also steps for the Sculpted Look (focus on brows and face).
Bronze Glow – Focus is on Eyes and Cheeks:
Lets start with this look because this is the look that I recreated to share with you today! Why did I pick this look? I picked it because the eyes and cheeks are typically the areas of my face that I like to focus on when doing my makeup.
I followed these steps exactly:
Using the Powder Brush, apply the Bronzing Powder in Light-Medium to the high points of the face that the sun would naturally hit to create a sun-kissed look.
Add the Mineral Cheek Duo in Spiced Poppy over the bronzer with the Cheek Brush.
Use the highlighter shade on top of the cheek to give shine.
Using the Eye Color Brush, apply Amber Blaze and Gold Coast Mineral Eye Colors to the eyelid. Apply Precious Pink Mineral Eye Color to the crease to add more warmth and dimension.
Apply Gel Eyeliner in Jet Black to the base of the upper lashes.
Apply a couple of coats of Lash Love Lengthening Mascara.
Add a metallic hint to the lips with NouriShine Plus Lip Gloss in Beach Bronze.
Products include:
Powder Brush: $16
Bronzing Powder – Light/Medium: $18
Mineral Cheek Color Duo – Spiced Poppy: $18
Cheek Brush: $14
Eye Color Brush: $10
Mineral Eye Color – Amber Blaze: $8
Mineral Eye Color – Gold Coast: $8
Mineral Eye Color – Precious Pink: $8
Gel Eyeliner – Jet Black: $18
Lash Love Lengthening Mascara – Black: $15
NouriShine Plus Lip Gloss – Beach Bronze: $15
The shades in this look are very warm toned and my skin is neutral-cool toned. So, while I was not sure about the colors since they are not ones I would typically pick, let me tell you, that this is the beauty of branching out and re-creating a specific runway look! I ended up with a beautiful new makeup look that I can easily keep re-creating for myself as often as I like!
I think that the look turned out so beautiful! I couldn't get over how the gorgeous gold and bronze shades made my blue eyes pop and made my skin look so Summery and healthy! I absolutely adore this look and have gone on to recreate it and wear it many more times. If you are looking for a gorgeous glowy look, you must try this Bronze Glow look!
Plus, I think that I have both found some new product loves in this assortment of products and am re-visiting old faves, too! I am a long-time fan of the Mary Kay
®
Lash Love mascara. My new product loves: the eye shadow shade combination of Gold Coast and Amber Blaze on the inner and outer eye lid and precious pink through the crease, as well as the cheek combo of layering the gorgeous glowy Light/Medium Bronzing Powder under the bright pop of the Spiced Poppy blush. As I mentioned, these are all very warm and gold toned products. I was so pleasantly surprised at how well they work with my skintone and eye color. My blue eyes popped because of color theory: the eye shadows are on the opposite side of the spectrum from blue. So, they bring out the blue in my eyes. As far as the warm shades on my skin, I guess my skin is more neutral than I thought (rather than being neutral-cool). I know that these products will be in heavy rotation for me!
Sculpted Look – Focus is on Lips and Brows:
While I did not re-create this look for you, I still wanted to include all of the steps here for your reference just in case it appeals to you and you would like to re-create!
Get the Look:
Use the Mechanical Brow Liner to fill in the brows following the natural growth of the hair. Use the Eye Smudger Brush to apply Hazelnut Mineral Eye Color to the highest points of the brows to give more color and emphasis. Follow with the Brow Gel to set the brows in place.
A soft eye color is best for this look. Pat on Rosegold Mineral Eye Color with your finger and use the Eye Color Brush to blend. Brush on Crystalline Mineral Eye Color as a highlighter under the brow to create contrast.
Apply Black Eyeliner to the base of the upper lashes to shape the eyes.
Apply Lash Love Mascara in Black.
Apply the Mineral Cheek Color Duo in Juicy Guava to the cheeks with the Cheek Brush and blend. Then apply the highlighter color to brighten the face.
Apply True Dimensions Lipstick in Spice 'N' Nice to the lips and sculpt the lips with Dark Chocolate Lip Liner. Blot the lips with a Beauty Blotter tissue to create a longer lasting semi-matte look.
Products include:
Mechanical Brow Liner – Blonde: $11
Eye Smudger Brush: $10
Mineral Eye Color – Hazelnut: $8
Brow Gel: $10
Mineral Eye Color – Rosegold: $8
Eye Color Brush: $10
Mineral Eye Color – Crystalline: $8
Eyeliner – Black: $12
Lash Love Mascara – Black: $15
Mineral Cheek Color Duo – Juicy Guava: $18
Cheek Brush: $14
True Dimensions Lipstick – Spice 'N' Nice: $18
Lip Liner – Dark Chocolate: $12
Beauty Blotter: $6
I hope that you have as much fun re-creating these looks as I have! As a huge Project Runway and Mary Kay
®
fan, it is a bit of a thrill to be able to re-create and wear actual looks featured on the show!
For more beauty looks and information on Mary Kay® products, you can visit their website, visit the Mary Kay® Project Runway page, follow them on Facebook, and watch their videos on Youtube!
Sweepstakes:
Which of these looks would you like to re-create on yourself? Tell me in the comments for a chance to win a Mary Kay® prize pack.
Entry Instructions:
No duplicate comments.
You may receive (2) total entries by selecting from the following entry methods:
1. Leave a comment in response to the sweepstakes prompt on this post
2. Tweet (public message) about this promotion; including exactly the following unique term in your tweet message: "#SweepstakesEntry"; and leave the URL to that tweet in a comment on this post
3. Blog about this promotion, including a disclosure that you are receiving a sweepstakes entry in exchange for writing the blog post, and leave the URL to that post in a comment on this post
4. For those with no Twitter or blog, read the official rules to learn about an alternate form of entry.
This giveaway is open to US Residents age 18 or older (or nineteen (19) years of age or older in Alabama and Nebraska). Winners will be selected via random draw, and will be notified by e-mail. The notification email will come directly from BlogHer via the sweeps@blogher email address. You will have 2 business days to respond; otherwise a new winner will be selected.
The Official Rules are available here.
This sweepstakes runs from 8/31/2015 – 9/27/2015
Be sure to visit Mary Kay's brand page on BlogHer.com where you can read other bloggers' posts!