All You Magazine
has finally released it's official "
Best Beauty Buys 2012
" list!!! Guess what? I am hosting a Giveaway for some of these items!!!
I love reading these "
Best of Beauty
" type magazine articles and blog posts. I always end up taking notes and adding items to my beauty "wish list" from lists like these. Actually, I keep a running list on my notes app on my iPhone. That way I always have my list with me when at the drugstore, grocery store, or mall. :)
I am so excited that I not only got to test out and review some items from
All You's "Best Beauty Buys 2012" list,
but also I am able to *
give away*
a gift bag containing 10 items from the
All You
list as well!
So, do you want to know what is on the full list?
Be sure to check out the August Issue of All You Magazine which is on sale now at your local Walmart. Or, visit All You's website!

Twenty eight products won across four categories: Makeup, Face, Body, and Hair. The team at All You tested out hundreds of products to come up with this great list. I am excited to see that many of my all-time beauty favorites made this list! Also, I found some exciting new products too! :)
All You Magazine is a magazine geared towards the value-driven consumer (me, me, me!!!). Sure, I love my beauty splurges; but, nothing beats a great bargain! The magazine is available either through subscription or you can purchase it exclusively at Walmart. The magazine has articles on health and beauty, cooking and recipe, and parenting and kids. Oh, and it contains a ton of coupons!!! As a new stay-at-home Mommy, it is just a perfect magazine for me. Actually, I am going to start subscribing! Also, there website is worth checking out too. There are tons of daily deals and coupons as well as great recipes and beauty articles.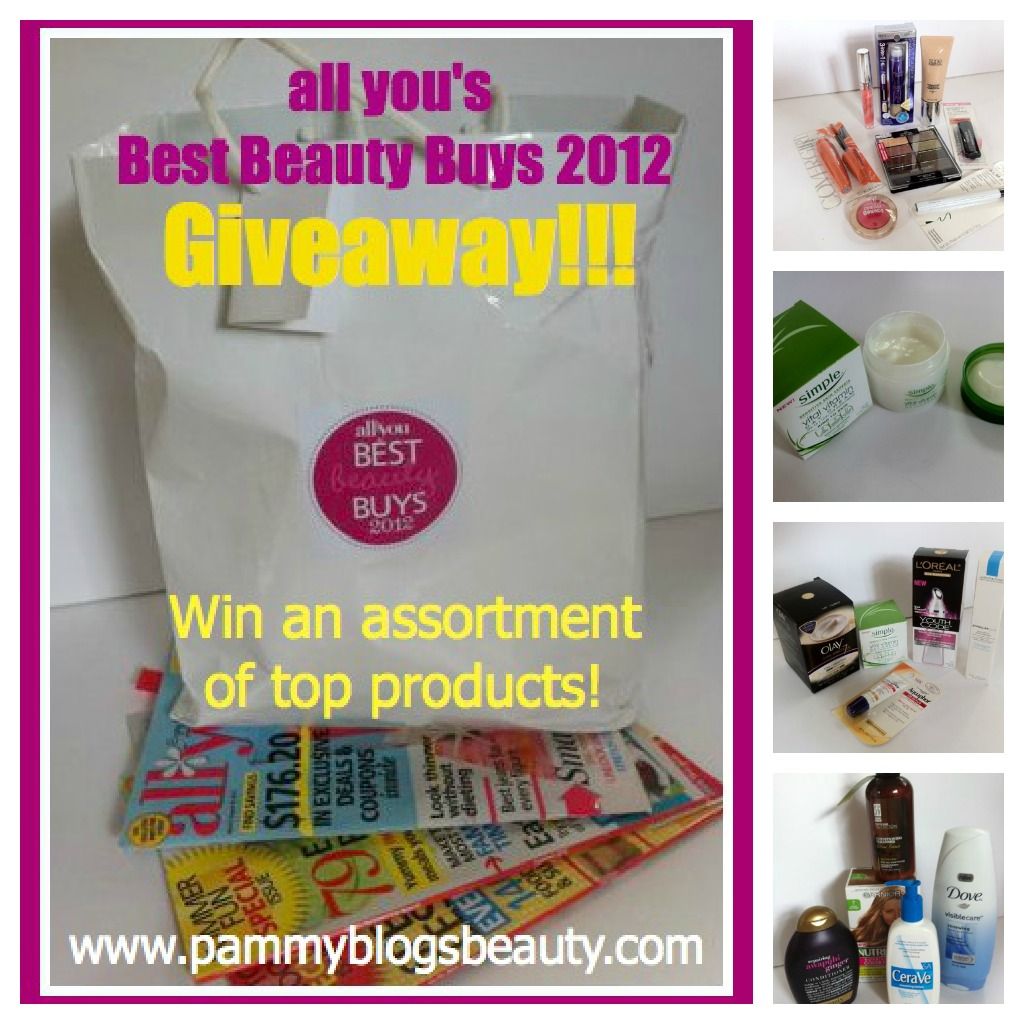 If you are interested in entering my
Giveaway
as well as seeing the
All You "Best Beauty Buys 2012"
list (and my review of some of these items), then please keep reading after the jump! Buckle in for a LONG post; but, hang in there!!! I promise there is a Giveaway towards the end of the post. :)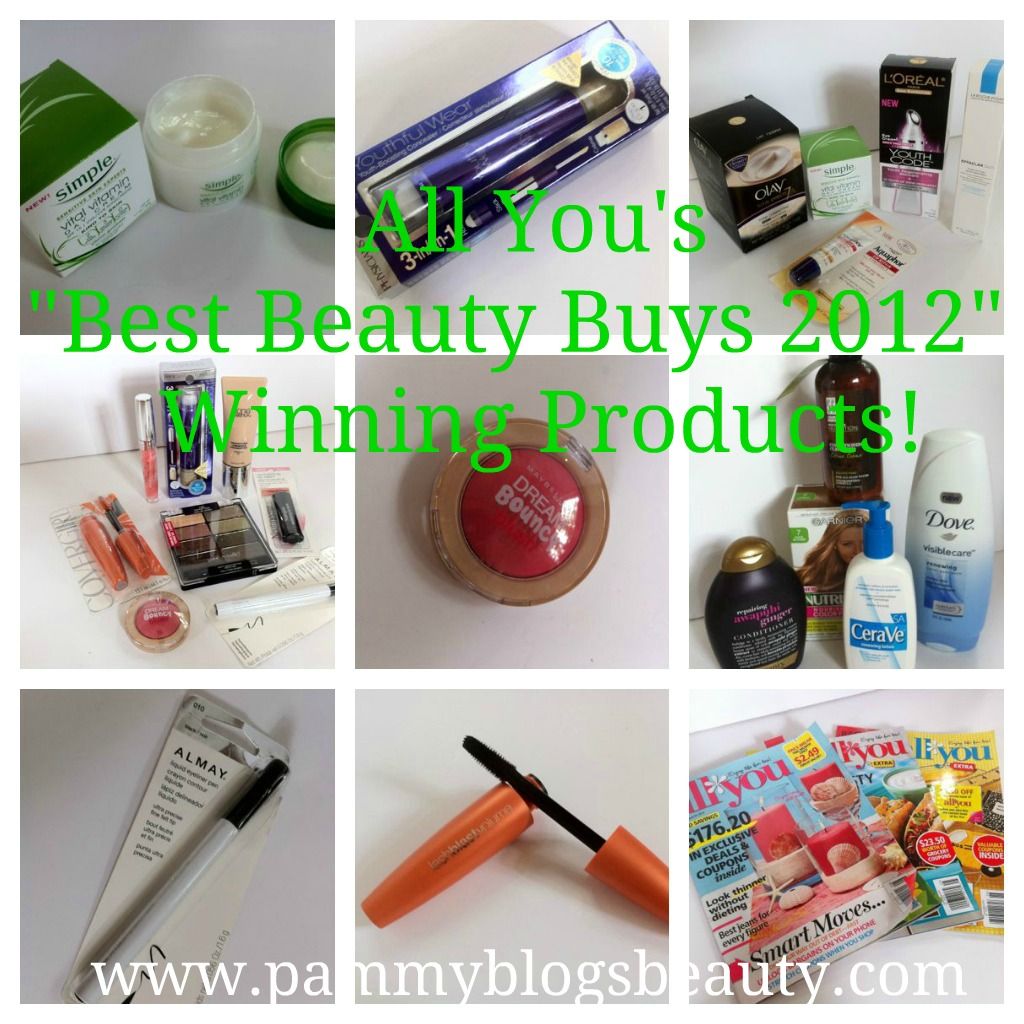 The wait for
All You's Best Beauty Buys 2012
list is over, on July 27th the August Issue hit the newsstands with the published list! For the full list, be sure to pick up the current issue or check out
All You online
!
My First Impressions:
In honor of my Giveaway, I got to try out quite a few items from
All You's "Best Beauty Buys 2012"
List.
Since I have only had these products in my hands for a short period of time before writing this post, I am not doing "full" reviews. Instead, I will be sharing my initial thoughts and/or first impressions instead. Ya'll know me, I like testing products out for awhile before doing full reviews (especially with skincare!). So, with that said, as you read my first impressions, please let me know which products you would like to see me review more extensively! Also, for products that I am more familiar with (because I have either used in the past or have been able to test for long enough), you will get a more complete review in this post.
I agree with All You's picks! A great list!!!
Funny, many of these products on this list are actually favorite products of mine that I either use currently or that I have used and loved in the past! Also, many of these items are ones that I already have on my beauty wish list!
So, sit down, grab a cup of coffee, and kick back with your laptop. We have a lot of products to chat about!
CoverGirl LashBlast Volume ($9.00): For those of you who have never tried a LashBlast product, get thyself to the drugstore ASAP! This mascara is amazing and a long-time favorite of mine!!! Both LashBlast Volume and LashBlast Fusion are amongst my favorite mascaras ever! I am a firm believer that you do not have to spend a fortune to get a fantastic mascara. Case in point: Cover Girl Mascara! LashBlast Volume separates the lashes beautifully while thickening, slightly lengthening, and darkening your lashes. For me, the fat wand with the rubberized brush is the best part. It is literally impossible to clump your mascara with this great brush! Plus, the fat orange tube is super cute! This mascara wears all day without smudging. Love it!
Sally Hansen Moisture Twist 2-in-1 Primer + Color Gloss ($5.00) I tried out the shade Peach Smoothie. It is a pretty peachy coral shimmery gloss. This gloss looks like peach and white swirls in the tube. It is not overly sticky nor thick. It feels a bit tingly on the lips and packs some pretty sparkly shine.
Almay Liquid Eyeliner Pen ($8.00): With winged eye liner being all the rage these days, we all want a wearable winged look that we can achieve effortlessly. This eye liner pen is the answer! Easier than a straight-up liquid, this "felt tip marker" type liner makes winged liner application a snap! The pen is easy to work with. Just hold the pen parallel to your lash line and apply at an angle winging it out on the outer corners. The size and shape of the tip allows for a thick or thin line. This eyeliner wears all day on me without smudging.
Sonia Kashuk Perfecting Luminous Foundation ($10.00): This lightweight foundation is a 2-in-1 foundation and skin illuminator. I tested out the shade #02 Vanilla. It turned out being a bit too dark for me. It comes in six shades. I think shade #01 Bisque is probably a better match for my very fair skin. The coverage is light-medium (build able). The packaging is very sleek and high end looking. I love that it comes in a pump bottle!
Maybelline Dream Bouncy Blush ($8.00): What a cute little blush!!! I tested out the shade Pink Frosting. I also own other colors of Dream Bouncy blush as well. So, I am already a huge fan! The texture is what makes this product unique. It is a "bouncy" sponge-like cream product. To apply, I just smooth my finger over the product to pick up the color. Then I tap it onto the apples of my cheeks and blend out. It takes a very small amount of this shade to get great color. This little blush will last a long time! Pink Frosting is a medium-bright matte Barbie pink. What a pretty shade!!!
Neutrogena Revitalizing Lip Balm ($8.00): I am not surprised that Neutrogena's amazing tinted lip balms made this list! As ya'll know, I am a huge fan of these and seem to mention them all the time on this blog! Actually, I even featured one in a recent Makeup War post. It was my pick for "Best Summer Lippie"!!! They come in 6 shades (and I own about 4 shades already). If you have dry lips and like natural looking color, then you will love these balms! Packaging is pretty basic: looks like a lipbalm. I just love the feel of this product on your lips. I reach for these all the time and totally love them. The SPF 20 is a huge plus too!
Wet n' Wild Eyeshadow Palette in Comfort Zone ($5.00): This palette was actually the "Reader's Choice" award winner! I couldn't agree more. This palette is amazing!!! It is one of the most used and loved palettes in my makeup collection! There is no question: Wet n' Wild makes the best drugstore eye shadows. While the packaging isn't the best, the quality of the eyeshadows is! Comfort Zone contains a beautiful assortment of neutral shades in browns and greens. From browbone highlight, eyelid, crease, and liner shades, this palette has all you need for a natural daytime look or even a bolder smokey eye! You can't beat the $5.00 price. Everyone should try these!!! If you missed my previous review of the Wet n' Wild 8-pan palettes, be sure to check that out here!
Physician's Formula Youthful Wear 3-in-1 Concealer ($13.00): I have never had a concealer that does so many things! This product has both liquid and stick concealers as well as a roller ball blending tool. The packaging is pretty cool. It all fits into one sleek tube. The liquid is a yellow cream that can help color correct dark circles. The stick concealer can be used on its own or used over the yellow liquid. I find the stick to be really creamy for a stick concealer which is great for the under eye area. It covers my dark circles very well and doesn't settle into fine lines. The shade works great for my fair skin too. What I don't understand is the roller ball thingy. It is supposed to be a blending tool? Personally, I prefer blending with my finger. $13.00 is a bit pricey for a drugstore concealer. But, keep in mind you are getting 2 products with this.
Hair:
Salon Grafix Conditioning Cleanser in Citrus Creme ($9.00): Have you ever tried a Cleansing Conditioner? This is a new experience for me! Cleansing conditioners are just that: A hair conditioner that cleanses. This product smells soooo good! So, you skip shampoo and "cleanse" with this conditioner. It is quite a different feel than washing your hair as you do not get later. According to the package, you just pump out about 3-7 pumps of this product (depending on length and thickness of your hair) and distribute. My hair is super long. So, it actually took about 15 pumps of product to distribute through my hair. After distributing, I leave it on my hair for my entire shower and then rinse out. My hair is dry and damaged from highlights and this product worked pretty well for me! It is just a different experience not using an actual shampoo! I personally love the lather of shampoo. So, while I won't use this every day. I do like using it! My hair was left feeling soft and moisturized. The best part? I found that it works great to eliminate/reduce frizz. I think this is a good option for anyone with dry hair.
Organix Awapuhi Ginger Conditioner ($8.00): Yay for a product from Organix! I have always wanted to try this brand!!! I will admit that the cute packaging drew me in immediately! This Conditioner in Awapuhi Ginger is formulated to repair dry and damaged hair. It detangles well and ingredients like Keratin add strength to your hair. This left my hair feeling soft without being weighed down. I like it so much that I am going to purchase the matching shampoo.
Garnier Nutrisse Nourishing Color Foam ($9.00): I was not able to test this product as I already have highlighted hair. While I get my current color done at the salon, I have used home coloring kits many times in the past. This kit contains the colorant, developer, and a conditioner. The products go into a cool pump type container that foams the product. While I prefer the results of salon color, home kits are a great option if you want to save some money.
Skincare/Body:
Dove Visible Care Renewing Creme Body Wash ($7.00): This is another "Reader's Choice" winner! I love the clean smell of this product. If you are in need of moisture, nothing beats Dove for keeping you soft and moisturized. Works great for dry skin. You get a huge 18 fl oz bottle for the $7.00 price.
CeraVe Renewing Lotion ($15.00): This body lotion contains salicylic acid, ceramides, and Vit D to exfoliate, soften, and smooth your skin. It was created for skin that is very dry, rough, or bumpy. I can't test this lotion out just yet as it contains Salicylic Acid which I am avoiding because I am currently breastfeeding. But, I hope to try this lotion soon!
Face:
Good skincare testing takes a long time! So, these products were not fully tested yet. Please let me know which items you would like to see reviewed in depth! :) I am listing these here just to give you some more product info.
L'Oreal Youth Code Eye Cream ($25.00): This Eye Cream promises to reduce signs of stress, fatigue, and aging. Specifically, this cream is supposed to work well to reduce under eye puffiness. The cool-feeling metal-like applicator feels very soothing to the touch as it helps to massage under eye bags. Also, the packaging is great! I love that it comes in a tube. I can't wait to test this out.
Olay Total Effects 7-in-one Tone Correcting Night Moisturizer ($22.00): What an affordable night cream! This luxurious looking cream smells amazing. It seems to be light in texture for a cream. Here are the 7 signs of aging that it fights: fine lines and wrinkles, lack of firmness, uneven tone, discoloration, uneven texture, dryness, and dullness.
Simple Vital Vitamin Day Cream SPF 15 ($13.00): I am so excited that All You included an item from Simple! I have really been wanting to try out this intriguing brand! As someone with sensitive skin, an entire line designed for sensitive skin is very appealing!!! This simple and basic skin cream really looks and feels more like a lotion. It comes in a screw top jar and it is unscented.
La Roche-Posay Effaclar Duo Dual Action Acne Treatment ($37.00): This formula contains both Benzoyl Peroxide and the exfoliant LHA to fight blemishes. While I rarely break out, this is a good item to have on hand when I do.
Aquaphor Lip Repair + Protect ($5.00): This lip treatment repairs and protects very chapped lips. As a huge fan and user of Aquaphor products, I am thrilled that this was in the All You package!!! This Lip Repair + Protect from Aquaphor was designed for sensitive skin. Also, I love that it has a high SPF of 30.
The Giveaway:
The Prize:
One reader will win a random assortment of 10 products that are listed in
All You's "Best Beauty Buys 2012" list.
Those ten products may or may not be the same as the ones listed above that I got to test out and review.
Rules:
You must be 18 years old to enter or have your parents permission.
Prize is shipped directly to winner by All You. Pammy Blogs Beauty is not responsible for items lost or damaged in mail/transit. Prize fulfillment is through All You.
To enter the contest, you must fill out Rafflecopter form below. The winner will be chosen randomly through Rafflecopter. In the event of technical error, Pammy Blogs Beauty reserves the right to pick the winner. Pammy Blogs Beauty will verify entries and will disqualify individuals with multiple entries or who have falsified information.
Only one entry per person. With that said, you may earn extra entries by tweeting, liking on facebook, etc on the Rafflecopter form.
Contest is void where prohibited by law.
Contest runs from August 1st-August 31st. Winner has 48 hours to respond to winning announcement or a new winner will be selected.
To Enter the Contest (required rules):
1. Please see the rules listed above.
2. You must be a follower/Subscriber of this blog in at least one way to enter. You have multiple ways to follow this blog: e-mail subscription, Google Friend Connect,
facebook, twitter, Pinterest, Google+, BlogLovin, and Hello Cotton.
The more ways in which you follow this blog...the more chances that you have to win!
3. You must like
All You's facebook page
and follow
All You on twitter
.
3. Fill out Rafflecopter form below.
4. Answer question in comment form below: "What
All You
winning item are you most excited to try and hoping to win?"
5. You must
Follow Pammy Blogs Beauty on Facebook
.
For extra entries:
You can follow this blog in numerous ways: Google Friend Connect, twitter, Pinterest, Google+, BlogLovin, and Hello Cotton.
You can tweet about this giveaway (one time per day max please!). Please include a link back to this giveaway and @pammyblogbeauty
Do a Blog Post about this giveaway (must include a link back to this giveaway and giveaway photo/art)
Good luck everyone!!! Thanks so much for reading my blog!
XOXO!!!
Prize fulfillment through
All You Magazine
a Rafflecopter giveaway