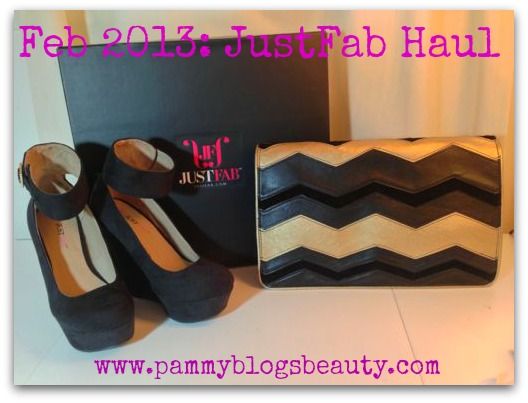 Happy Valentine's Day!!!
In honor of Valentine's Day, I thought I would post my outfit and style inspiration for my upcoming V-Day date this weekend!!! Rather than go out tonight (on actual Valentine's Day), we are going out this weekend when we have a babysitter. When I made my
JustFab
selections this month, I had my upcoming date night in mind!
Our date? Dinner and a Movie at Cinebistro! I have never been to a theatre that serves dinner. I am excited!!! No, it is not a super fancy dinner date like we usually do for Valentine's Day. This year I felt like doing something "different"! I have honestly been dying to try this Cinebistro place! Have any of you been? I am not sure if it is a national thing, or just in Atlanta? Anyways, I am excited!!! :) Especially since I have had a bad cold the past 5 days! Hopefully I will be feeling a bit perkier by this weekend!
JustFab
just for trendy items! There is no question that both of these stores/websites are my go-to's when I look for trendy pieces. However, they also have great basics! As you can see from my Get-the-Look graphic above (created on beautysets), you can get a very classic and elegant look with these low price pieces!!! This entire look is less than $100!!! OMG! What a deal (not to mention that JustFab almost always runs a sale).
The Dress:
This Peplum dress from Forever 21 (in the beautyset "Keep Calm and Kiss On" graphic above) is so cute! If I was ordering a black dress today, that is totally what I would pick out! However, I already have a black basic LBD in my closet from F21. So, I am going to wear that! :) The cute black peplum dress pictured above is only $15! What a steal!!!
Are you not familiar with JustFab? Let me give you this scoop! :)
JustFab
(short for
JustFabulous
) is an online fashion site and styling service. They offer trendy and affordable shoes, handbags, jewelry, jeans, and accessories to subscribers (called VIP members). When you
sign up to become a VIP member
, you take a style quiz. Then JustFab pairs you with a stylist who creates a personalized online boutique for you to shop from. Everything on the site is $39.95!!! You will be charged a monthly fee (unless you elect to "skip a month" then you won't be charged) which gives you credit for one item. So, that is one monthly fee for one item (not an item plus an additional fee). Of course, you could always purchase more than one item a month. They seem to have a lot of 2 for/ $39.95 deals, too.
Here are the details for my
JustFab February Selections
: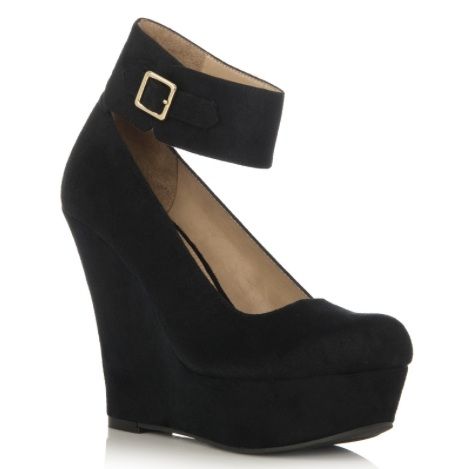 The Isla (Wedges):
OMG! These shoes *might* just be the cutest shoes that I have gotten since joining
JustFab
!
I adore wedges shoes. You really do get the sleek and sexy look of a heel with the comfort of a wedge heel. What can I say, wedges are right up my alley! Plus, I love feeling "tall"! :) Yes, these Isla wedges are super-tall. However, when you subtract out the height of the platform, the actual rise of the heel is only 3 1/2 inches high (which accounts for the comfort!).
The
Isla
wedges feature a faux-suede finish, rounded toes, and an ankle strap. The ankle strap has a little gold buckle. I must note, the strap is extremely loose on me. Actually, I had to punch an additional hold in the buckle strap to make it fit around my skinny ankles.
The Skinny on the
Isla
:
Heel height 5 inches
Platform Height 1 1/2 inches
Synthetic upper with Man Made sole
These shoes are adorable! I am so glad that I got them (especially since they now appear to be sold out on the
JustFab
site). I am not surprised that they sold out so quickly. Hot items on
JustFab
always go super fast. If you are hoping to get these, you can add your name to the waiting list on
JustFab
.
JustFab
frequently brings back popular items.
As always, I love that the
JustFab
site gives styling ideas! Here are
JustFab
's ideas for styling the adorable Isla: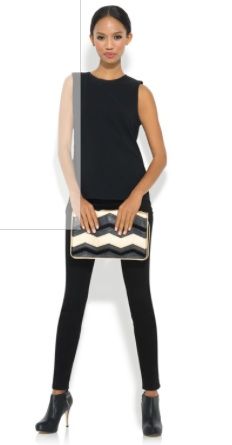 The Clutch: Camden Town:
I finally got it! This is an item that I have been eyeing for awhile on
JustFab
. I always like carrying something on the smaller side when I go out in the evenings. This chevron design on this clutch is just enough pattern to add something "special" to my outfit for the evening. It pairs great with solid black! It comes in either gold and black or silver and grey. The silver and grey looks perfect for Spring! The pattern is on the front of the bag and the back is black.
This clutch is HUGE! Since I read the
JustFab
feedback reviews on the website before ordering, I knew that the Camden Town clutch would be quite large. I like it that way! It has the sleekness of a clutch. Yet, you can really fit a lot in this bag!
The Camden Town clutch is beautiful! I really love it!!! My only critique is that I wish that it had some sort of removable strap.
My Febrary JustFab Items:
I am *so happy* with what I picked out this month!!! My new
JustFab
clutch and shoes allow me to dress up a simple LBD that I already had in my closet and make it more special for my Valentine's Day date!
House of Fab:
Show Viewing Twitter Party!!!
Have you seen the new show
House of Fab on the Style network
? See all of the behind-the-scenes happenings with Kimora and the gang at JustFab! I am having so much fun watching the show!!! Join the show viewing twitter party every Wed night from 9-10 EST! I will be tweeting: @pammyblogbeauty with #HouseOfFab and @JustFabOnline
If you missed some of my previous JustFab reviews, please check them out here:
Just Fab Monthly Shoe and Accessories Subscription
,
Shoe Bag Love
,
What's In My Diaper Bag?
,
The Fowler Collection
,
Outfit of the Day
,
What's In My Bag
?, and
Just Fab January selections
.
What are your plans for Valentine's day? Doing anything special? I will update this post with a picture of my final V-day Date Night look! :)
Thanks for reading!!!
xoxo