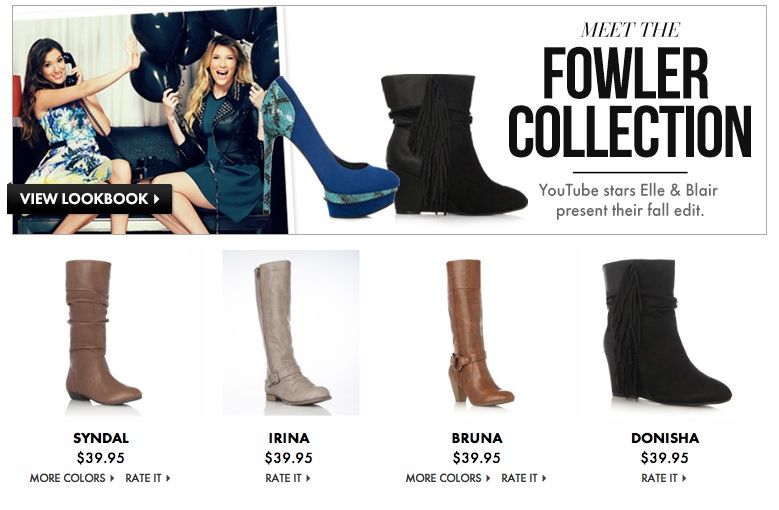 Here are a few boots from the collection!
photo credit: JustFab
Is there anything that these gorgeous and talented girls can't do? Not only are they both YouTube sensations, they also have a new makeup line and a book. Well, now the sisters Elle and Blair Fowler have a
shoe and handbag collection on JustFab
! If you have not stumbled across their YouTube channels yet, you must check them out. These girls are just so watchable!
So with that said, you know that I just had to pick a couple items from their collection for this month's
JustFab review
!
Limited Edition: Fowler Collection:
Elle and Blair Fowler's JustFab collection is a limited edition "capsule" collection of shoes, boots, and handbags. As with all items on JustFab, I am sure that these will sell out super fast. So, if you are wanting to try some styles, don't delay ordering!!! Often I find myself wanting something from JustFab and then I don't act quick enough and it sells out. With the popularity of the Fowler sisters, I am sure that this collection will go fast!
What is JustFab? How do I sign up?
JustFab
(short for
JustFabulous
) is an online fashion site and styling service. They offer trendy and affordable shoes, handbags, jewelry, jeans, and accessories to subscribers (called VIP members). When you
sign up to become a VIP member
, you take a style quiz. Then JustFab pairs you with a stylist who creates a personalized online boutique for you to shop from. Everything on the site is $39.95!!! You will be charged a monthly fee (unless you elect to "skip a month" then you won't be charged) which gives you credit for one item. So, that is one monthly fee for one item (not an item plus an additional fee). Of course, you could always purchase more than one item a month. They seem to have a lot of 2 for/ $39.95 deals too. Oh, and depending on what type of deal JustFab is currently running, when you sign up, you get from 20-50% off your first item!!! Plus, when you refer friends, you can earn credits towards free items. So, be sure to check out the links and sign up! :)
Besides the items in your personal
JustFab Boutique
,
VIP Members
also have access to shop in
JustFab's Special Collections
. Their special collections include The Fowler Collection as well as looks from
New York Fashion Week
, the edgy
Iron Fist
collection, featured selections from the
IPSY Girls
(formerly "My Glam"), the
Denim Shop
,
Fall Bags
, and rocker-chic
Abbey Dawn
by
Avril Levine
.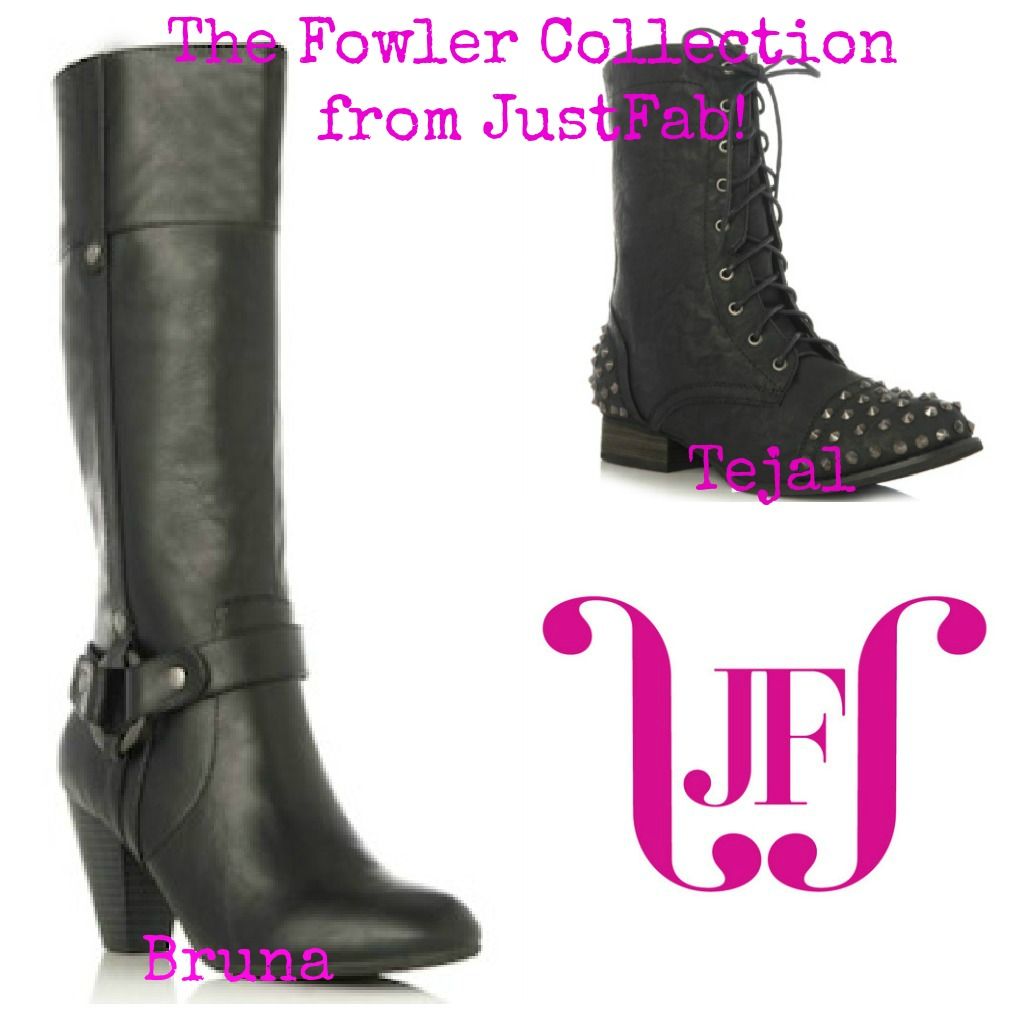 Since I am all about this Fall weather, I couldn't resist trying some boots from their line. I decided to go with two very different styles. One pair is sleek yet comfortable and the other is trendy and a bit punky. I like having lots of shoe options depending on what look I am going for!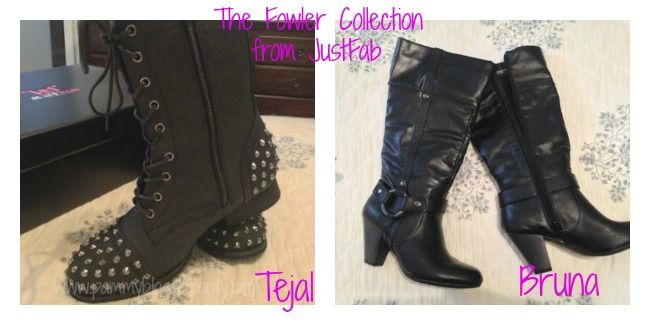 To find out how I liked
JustFab's Fowler collection
Bruna
tall boot and
Tejal
combat style boot, please keep reading!
Here is another snapshot of the collection.
Such cute stuff!
I have my eye on the Soho bag for next month's review!!!
After much contemplation, I decided upon the Bruna Tall Boot in Black and the Tejal studded combat boot in black. I felt like going with some black basics that I could get a ton of wear and use out of. As much as I love fun colors, browns, and taupes, my black shoes and boots get the most use out of my collection (by a landslide!).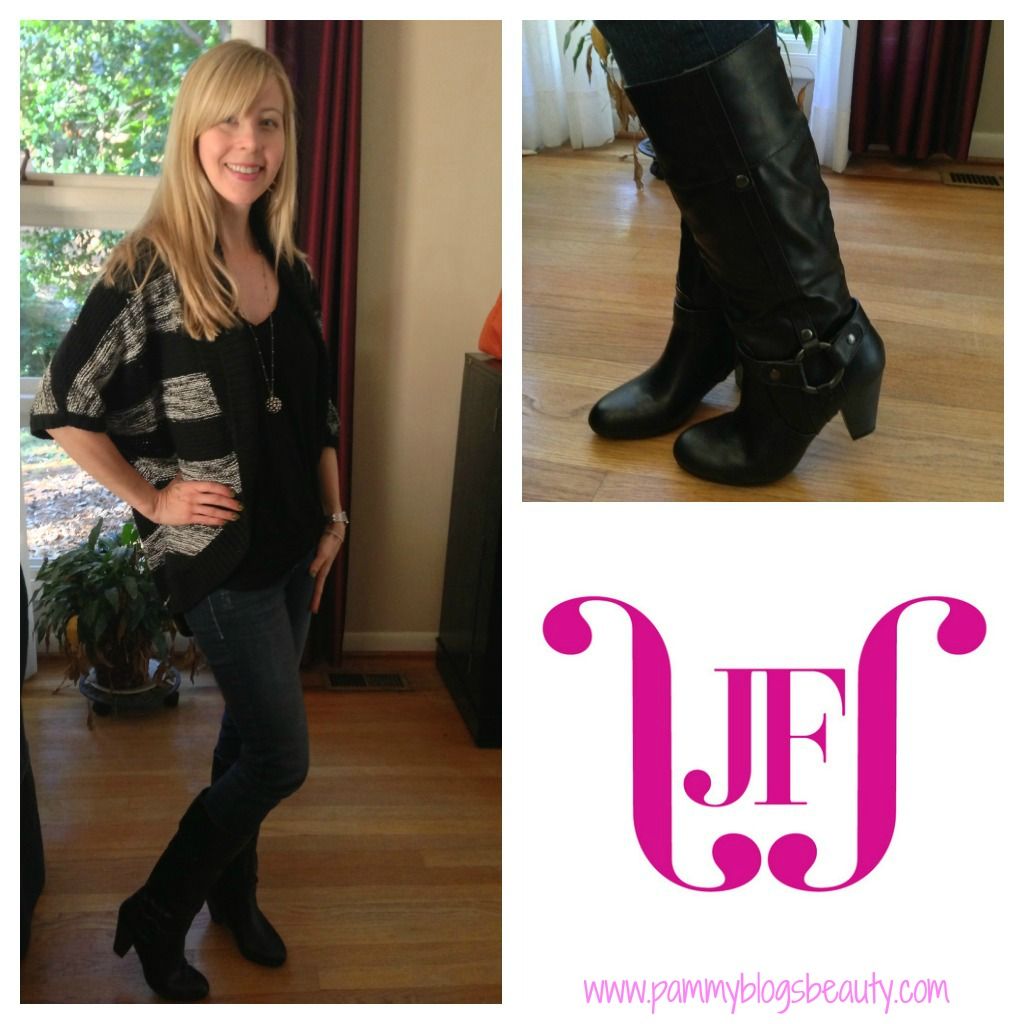 The Bruna Tall Boot:
This is such a fun casual boot! The chunky heel gives a casual vibe while the silver stirrup gives it a little bit of edge with a western-vibe. Yet, the overall style looks very classic! I feel like my typical jeans and a sweater "Mommy Uniform" instantly looks more pulled together when I add these boots!
I find the heel height to be "just right" at three inches. Plus, there is no platform. These boots are not too tall, and not too short. The heel height is just what I like for a casual boot. Plus, a boot with a 3 inch heel is much easier to walk around in that a boot with a sky-high heel!
Typically, I have some issues with boots generally being too big around my small calves. Well, these fit just right in that area! Yet, they are loose enough to allow plenty of room to tuck in jeans. They seem to fit a bit more slender than my other tall JustFab boots.
The material is synthetic leather. They are a tad bit stiff (but they are new). I find these to fit pretty close to true size. However, they are the slightest bit snug through the toe box (but not enough to need a larger size).
I think the Fowler sisters really got it right with these boots! I like these paired with either tucked into skinny jeans and a casual top or sweater or a skirt or dress with some black tights.
These boots are the perfect compliment to my Fall casual outfits! Very daytime wearable! I know that these boots are going to get a ton of wear not only this season, but also all through winter too! Love them!!!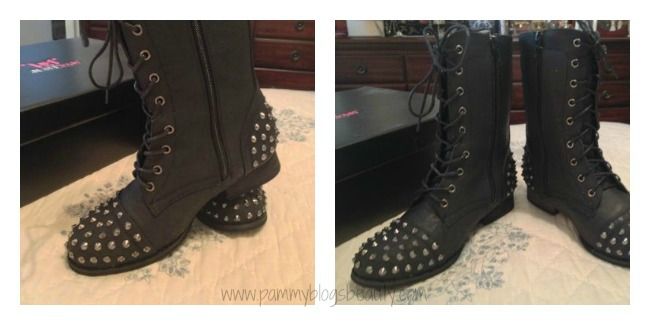 The Tejal Studded Boot:
Oh how these boots "bring me back" to my Doc Martens days, lol! These are a fashionable take on the combat boot trend. The spikes on the heels and the toe certainly not only add edge, but also a girly flair! Unlike typical combat boots, I like that these do not have a chunky sole. It makes them sleeker. Still, wearing these, I want to bust out my old flannels and turn on Pearl Jam.
These Tajal Studded Boots are so comfortable!!! Seriously! The sole is flexable (I wasn't expecting that!). They look so stiff in the picture but these really bend and move with your feet and legs. Also, these are quiet to walk around in because of the flexible and somewhat rubbery sole (not the usual "clunk" "clunk" going down the hall on my hardwoods...something to keep in mind when you have a baby sleeping in the house, lol!). I really love the feel of these!
Like the Bruna, these Tejal boots are also made of synthetic leather. These boots have a bit more noticable of a "plastic" smell. I know from past experience that airing them out should do the trick (the Bruna does not have a plastic smell).
While the boots feature laces, they also have a zipper on the side. So, they are super quick and easy to get in and out of.
So, not only are these boots comfortable, but also they give a bit of a bad-girl vibe to my otherwise "sweet" look. Often I find that I come across too "sweet" looking. I need to add pieces like these studded boots to my wardrobe to give me a little bit more edge. So, ya'll know that I will be rocking these boots continuously this season and next!!! I am just in love with the stud detailing on these. It really makes these boots stand out in the sea of combat styles that are everywhere this season!
A note on fit: As I mentioned earlier in this post, my legs are slim. yet, these boots are fitting right to my ankles and calves. So, they run narrow. If you have larger ankles or calves, you might have difficulties fitting into these boots. I know if I was still pregnant (I had issues with ankle swelling then), I would not be able to fit into these.
So, as you can tell, I am really loving my boot selections from the new Fowler Capsule Collection from JustFab. I totally recommend both the Bruna and the Tejal if you are looking for some cute and casual boots at an affordable price!
If you have not checked out
JustFab
yet, now is the time as this collection is amazing and won't last long. These boots are really a total steal for $39.95 each (not to mention a
discount for new JustFab subscribers
!).
What do ya'll think? Will you be shopping this JustFab Fowler collection? If so, what do you have your eye on? I totally have my eye on that Soho handbag and the Laden flats in leopard. The Donisha is really cute too!
I am also a JustFab
Subscriber! This post
contains my referral link.