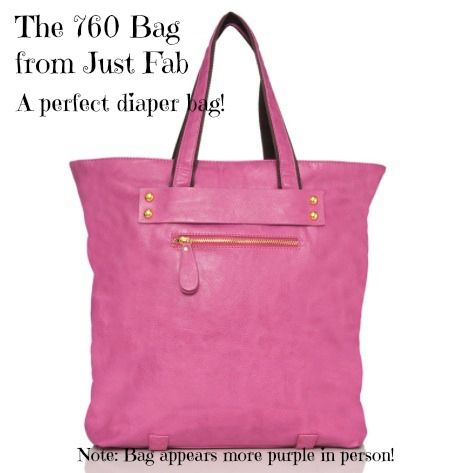 It is time for my monthly
JustFab LookBook selection
and review!As ya'll know, I "JustAdore"
JustFab
! Cute shoes, check. Trendy handbags, check. Ha, ha! I couldn't resist that one!
This month I decided that I wanted to be "practical" with my selection. I brainstormed this month's selection with the girls over at JustFab. I searched amongst their selection for the largest handbag that I could find because I wanted to turn it into a diaper bag! I mean, what is a diaper bag anyways but a very large tote style handbag?!
What is JustFab?
JustFab
(short for
JustFabulous
) is a website that sells trendy and affordable shoes, handbags, jewelry, jeans, and accessories. When you
sign up to become a VIP member
, you take a style quiz. Then JustFab pairs you with a stylist who creates a personalized online boutique for you to shop from. Everything on the site is $39.95!!! You will be charged a monthly fee (unless you elect to "skip a month" then you won't be charged) which gives you credit for one item. Of course, you could always purchase more than one item a month.
Great sign up deals and sales: Become a VIP Member!
They seem to have a lot of 2 for/ $39.95 deals too. Oh, and depending on what type of deal JustFab is running, when you sign up, you get from 20-50% off your first item!!! The offer is usually right on the front page of the website. Just follow my links to get there to sign up! Another bonus? When you refer friends, you can earn credits towards free items! Also, be sure to check out their sale section (upper right hand tab on the JustFab site)! They have a ton of items on sale for only $25!
Besides the items in your personal
JustFab Boutique
,
VIP Members
also have access to shop in
JustFab's Special Collections
. Their special collections include: looks from
New York Fashion Week
(JustFab debuted on
Charlotte Ronson
's runway! Um, yah, I love those shoes!), the edgy
Iron Fist
collection, featured selections from the
MyGlam Girls
(Now called "IPSY"), the
Denim Shop
,
Fall Bags
, and rocker-chic
Abbey Dawn
by
Avril Levine
.
To find out all the details about this great bag, keep reading!
The Color: Berry
After considering a variety of bags, I decided upon the
760 Handbag in Berry
. The
JustFab site
features customer reviews which are so helpful when it is hard to decide. From reading the reviews, I knew before getting the bag that it would be really huge and that the color is deeper and different than pictured. Don't you just love it when you can comb through reviews before making a purchase on a website!
In person the color is a vivid magenta or purplish color. Very fitting with the "Berry" shade name. The JustFab website photo looks like a hot pink. So, do not purchase it if you are looking for a hot pink bag. The deep berry color is perfect for Fall! Actually, I just got a compliment on the shade yesterday as someone was saying "oooh! Love the bag! That is the new in color for the Season!" There is absolutely no question that this bright and bold color perks up my wardrobe! I wear so much black and grey in the Fall and Winter (actually, year round!) that a bold colored bag is just what I need! This color just literally makes me happy! Not only is magenta a pretty shade to me for an accessory, but also it is one of my favorite shades for nail polish and lipstick as well! Cool toned girls like me can rock this shade. :)
The Size: Huge yet somehow lightweight!
I am not kidding you when I tell you that this bag is enormous! If you are looking for an enormous bag, you must get the 760! Not a fan of Berry? It comes in Tan and Grey too. Actually, I am considering getting another one already in Grey!
The actual dimensions of this bag are 18 X 15 X 7. Now, I have a very small frame. A large bag can overwhelm my proportions. I know this, yet I still love this bag! :) It's size is similar to most of the diaper bags and work bags that I already own. So, using a huge bag is nothing new to me. I tend to carry a lot of stuff! I like being able to fit everything into one bag rather than carry multiple bags. I am amazed that this bag is still amazingly lightweight when it is fully stuffed despite the huge size. You need to be so careful when purchasing big bags that the bag itself is not too heavy. This bag is easy to carry, even when fully stuffed!
Multi-Use Bag:
I think that this bag is ideal as a diaper bag! There is plenty of space and then some for everything that I need for my baby girl! I also think that this bag would be perfect for a travel carry on, a school bag, or a work bag. You can easily fit a laptop or heavy school books in the 760. I would have loved a bag like this bag when I was in high school or college! So chic!
The Look and Feel:
The 760 is made of PVC material. This is one of the nicest "pleathers" that I have felt. It is incredibly soft and not at all stiff. It really feels like real leather. While I have not had this bag long, the material seems like it will be easy to keep clean.
Inner Organization and Bag Features:
The inside of this bag features a cute black and white polka dot print. This type of print makes it easy to find your things when digging around inside. The bag is divided into two main compartments. This makes organizing it a breeze!
The two main compartments are divided by a tall thin zippered section. This section is perfect for storing your electronics like a kindle or an ipad! Also, it is great for paperwork. Out of all of my totes that I own, this is the only one divided like this! I love it! Also, there is an inner zipper pocket and two inner side pockets for a cell phone and another small item. There is also and outer zipper pocket which is perfect for your keys! The bag has two handles which are pleather sewn over a nylon strap. This combo is so comfortable for carrying! Also, there is a Nylon long adjustable strap included too. It clips to the top when you need it.
The bag has other pretty details like gold zippers, gold rivets, and some strap detailing on the bottom. Another great feature? This bag zippers shut! Even when stuffed to the brim, this bag is easy to zip close! I can't tell you how many bags that I have dump out when they topple over. No worries with this bag. Just zip it close and you won't lose your items if it falls over.
What is in my Diaper Bag?
This 760 bag is perfect as a diaper bag! I find the two inner compartments to be ideal for keeping my stuff organized. One side is the "Mommy Side" with my makeup, hand sanitizers/tissues, umbrella, sunglasses, and wallet.
The other side contains all of my diapering and baby essentials: diaper changing pad, diaper pouch with wipes, diapers, and trash bags, change of clothes for baby, burp cloth, and a little bag of toys. The zippered tall divider contains my kindle and/or ipad and a bunch of coupons. The outer zipper pocket holds my keys and the inner zipper compartment holds my phone. I tend to stuff extra napkins in those side pockets.
Right before I leave the house, I add a small cooler bag with my baby's lunch and milk right on the top of the inside of this bag (nestled just "above" the two main compartments). I am thrilled about this! With my other diaper bags I have to carry this separately. So, I get better space with the 760 bag over any other diaper bag I own! I can also add a small blanket or sweater for my baby as well when she needs one.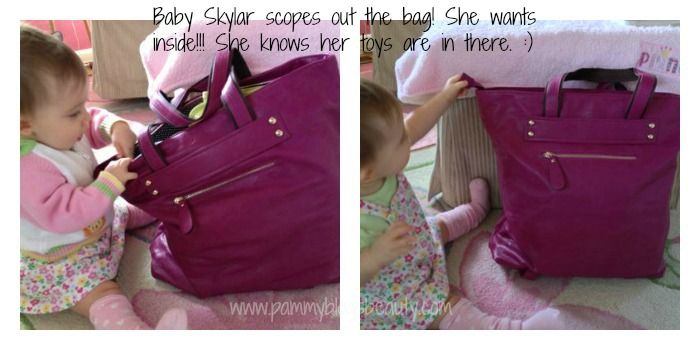 As ya'll can tell, I totally love this bag! So much so that I want it in another color! This bag will serve me well in the future not only as a diaper bag, but also as a travel or tote bag! This Mommy-on-the-Go will have a toddler soon and hopefully another baby too. This bag can serve my needs long term and my baby grows and my family expands.
If you are looking for a super stylish tote bag, I highly recommend the 760! So, if you haven't signed up for JustFab yet, head on over to the site to sign up! They almost always have a 50% off deal posted right on the main page for new subscribers. The 50% off deal would make this bag $20! Now, you can't beat that deal! While most bags and shoes on the site are $40, they also have a great $25 sale section. So, scope that out when you browse the site too!
Are you a
JustFab
fan? What are some of your favorite JustFab items? Or what do you have your eye on?
XOXO!