Shoes, Handbags, Jewelry...le sigh! When I am not shopping for makeup, my 2nd favorite thing to shop for (cough, obsess over) is shoes (with handbags and jewelry rounding out a close 3rd and 4th)! So, needless to say, I am all about
JustFab
and I am so excited about my
September JustFab Selections
!!!
We are merging into
Fall
and I am so excited to bust out all my Fall clothes, shoes, and boots! These new items in my personalized
September Boutique on JustFab
have me so motivated for Fall! Sure, it is still a bit hot in GA; but, we are getting hints of Fall weather in the mornings.

What is JustFab?
JustFab
(short for
JustFabulous
) is a website that sells trendy and affordable shoes, handbags, jewelry, jeans, and accessories. When you
sign up to become a VIP member
, you take a style quiz. Then JustFab pairs you with a stylist who creates a personalized online boutique for you to shop from. Everything on the site is $39.95!!! You will be charged a monthly fee (unless you elect to "skip a month" then you won't be charged) which gives you credit for one item. Of course, you could always purchase more than one item a month. They seem to have a lot of 2 for/ $39.95 deals too. Oh, and depending on what type of deal JustFab is running, when you sign up, you get from 20-50% off your first item!!! Plus, when you refer friends, you can earn credits towards free items.
Besides the items in my personal
JustFab Boutique
,
VIP Members
also have access to shop in
JustFab's Special Collections
. Their special collections include: looks from
New York Fashion Week
(JustFab debuted on
Charlotte Ronson
's runway! Um, yah, I love those shoes!), the edgy
Iron Fist
collection, featured selections from the
MyGlam Girls
(Now called "IPSY"), the
Denim Shop
,
Fall Bags
, and rocker-chic
Abbey Dawn
by
Avril Levine
.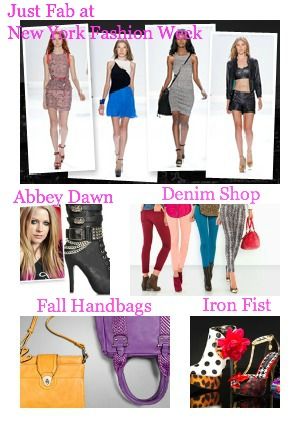 I look forward to the new round of Just Fab releases in my personalized boutique each month! It really does make selecting the items that I want easier. This month, I selected the
Corporal Handbag in Dark Silver
and the
Kyra tall boot in Grey
. Let me tell ya'll, I am so excited about this month's selections!!!
How could you style these items? Here are some ideas! I am brand-new to Polyvore. However, I am hoping to create more outfit-of-the-day style pages! Here is what I came up with!
To find out details about the
Kyra Boot
and the
Corporal Handbag
(and to see how I styled them), keep reading!
I am just beyond thrilled about the items that I got this month. These items are just "so me" and so my style. I think they are trendy and sexy while also being sophisticated with a little bit of an "edge". So me!!! Or, well, that is the look I strive for. As a stay-at-home Mommy of an 8-month old baby, I am not always rocking the heels; but, when I do, I love a look like the
Kyra
boots!
Do you see a common thread here...apparently, I am all about the Grey this month! :) Grey and Silver are great neutrals and perfect for Fall! These items really go with just about everything.
A Large Handbag: The Perfect Mommy Accessory! The Corporal Handbag
It has taken me a few months to figure this out! LOL! I am gradually making the shift from enormous diaper bags to large handbags. I need enough space for all of my personal things *and* baby stuff! I mean, what is a diaper bag anyway? It is just a large bag! So, I am scoping out all of the biggest handbags from
JustFab
. This
Corporal Handbag
makes a great Mommy Bag! I carry this both with and without the baby. When I was using diaper bags more heavily, I would always end up somewhere without my wallet or other essential as I was constantly switching back and forth between diaper bag and purse. When I simplify and just carry a big handbag for all outings, I always have all my stuff.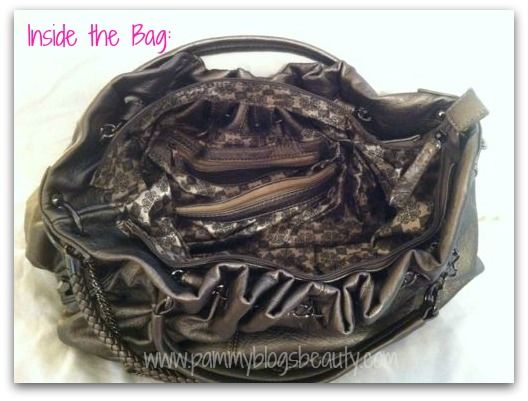 When the
Corporal
is fully stuffed, it is quite heavy; but, after tugging around large diaper bags, this really doesn't bother me. It still weighs less than one of those. The Corporal, even when empty, does have quite a bit of weight to it. The Dark Silver color is really more of a pewter in person (rather than a true Gray). I really love that this is a synthetic leather bag as well: totally wipeable for baby spills! The inside is nicely lined and has a few sewn in pockets and zipper pockets for your essentials. Also, I must mention that this is one of those bags where everything inside seems to fall to the bottom. Since I don't like digging for my items, I remedy this by keeping everything organized within a series of smaller zipper bags (cosemetic bags). Using a system of small bags to organize makes it easier to switch handbag (which I do often!).
The quality of the Corporal bag is really stellar for the price. No one would guess that this is a $39.95 handbag! Actually, I seem to get compliments on it all the time. The contstruction is very sturdy and the synthetic leather is quite soft.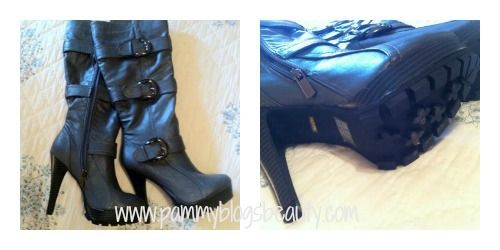 Sexy Chic: The Kyra Boot:
As I mentioned, I don't rock out in heels every day; but, when I do, I love the sexy chic look of the Kyra boot! These come in both black and gray and I kept going back or forth between which color. Finally, I decided upon gray simply because I do not have any gray boots already! I am soooo happy with this choice: both the color and the style!
These boots are so sexy! My Husband *loves* these on me! I think that they make just about any outfit look cuter and sexier! These are great because they go with so many items in my current wardrobe: jeans, leggings, skirts, and dresses! I find that they work both for casual outfits and dressier ones too. They certainly bring a bit of an "edge" to my overall look as well.
These boots have really nice tread on the bottom. I feel like I can walk quite easily in these and they don't slip. The boots are a bit loose on my calves. But, my legs are quite thin (so most boots are loose in this area for me).
I did notice a bit of a "plastic"-type odor when I first got the boots. The boots are not leather (they are made of a synthetic material). My contact at JustFab told me that the plastic-type smell is likely just the p/v used to make the boots. I aired them out for a few days and the odor did seem to dissipate and become less apparent. Just note, if you order these you might need to do this. Otherwise, I am really pleased with the quality of these boots. I have not noticed this slight-odor issue with anything else that I have ordered from JustFab.
With all that said, the Kyra boots are absolutely adorable while still being a bit edgy! I totally feel cute and sexy when I wear these! These are notice-me boots that always seem to get compliments.

So, as ya'll can tell, I just love my selections from
JustFab
this month! I am thrilled to be making the transition to big handbags from diaper bags. Also, it is exciting to begin wearing Fall colors and boots! Actually, I already can't wait for next Month's JustFab Boutique to keep looking for more Fall/Winter styles!
If you haven't had a chance to sign up for JustFab yet, be sure to check out the site! They really have a TON to choose from. Boots, flats, heels, handbags, clutches, totes, jeans, jewelry (must try some JustFab Jewelry soon...I haven't yet!), and even some accessories like sunglasses. Also, I am running a
JustFab giveaway
. Be sure to enter!!!
Thanks so much for reading!
XOXO!
referral links in post