Spring is just around the corner!!! Do you know what that means??? Yes, of course: New makeup releases from my favorite brands!!! I just love Spring cosmetics releases! Yes, I know, I am an enthusiast. However, no matter where you stand with makeup, the freshness of Spring is undeniable. Gone will be the cold days of winter. So, perk up your look with some fresh Spring shades! :)
Pixi has a full lineup of new products for Spring of 2013. What a lovely collection! I am in the process of testing these items out and will be rolling out reviews over the next few weeks!
The Spring 2013 Pixi launch includes:
Beauty Bronzer + Kabuki (2 shades available: $21 for each set)
Shade Quartette in Shades of Daylight (line extension: $22 for quad)
Daylight Glow Collection Gift Set ($28 for set)
Endless Silky Eye Pens (line extension, New Shades: Copper Glow and Sage Gold: $15 each)
Extra Eye Bright Liner (line extension, New Shade: $17)
Eye Glow Cube Palette (NEW! $28)

Nail Colour (new shades: Fluoro Flamingo, Summer Sunset, Wakeup Wisteria: $8 each)

Soft Focus Fresh Palette (NEW! $34: OMG!!! Wait until you see this one!!!)

Tinted Brilliance Balms (line extension: New shades!

Orchid Petal, Lucent Glow, Unique Pink: $16 each)
This review is for the Beauty Bronzer + Kabuki and the Shade Quartette Eye Shadow kit in Shades of Daylight. To find out more about how I liked these (including more photos and swatches!), please keep reading!
image source: Pixi Beauty
The Beauty Bronzer + Kabuki Sets: Subtly Suntouched and Summertime
If you have not yet tried a Pixi bronzer, these Bronzer + Kabuki sets are a great place to start! You get a full size bronzer plus a mini kabuki. While I prefer using my larger Kabuki brushes or Sigma Contoured Face brush for applying bronzers, the mini kabukis are useful for your handbag, travel, or if you don't own a kabuki already.
I just love Pixi's bronzers! I have fair skin. So, sometimes finding a bronzer that looks good without making my skin look muddy or orange can be a difficult task. Subtly Suntouched is a perfect bronzer for fair skin! It gives me just the right amount of color. Summertime was created for medium skintones. However, I can still use it on my fair skin when I want a deeper bronze color. The bronzers pack in medium pigmentation. This gives them great color impact while also being easy to apply and blend without looking streaky.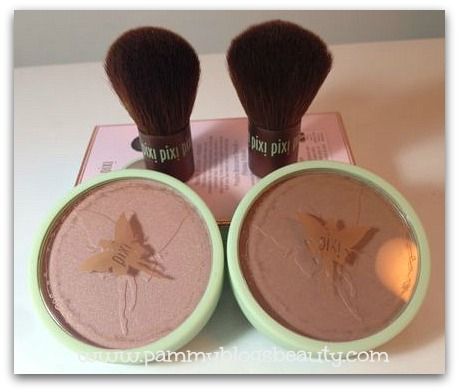 This deluxe bronzing powder and super soft kabuki brush in the Pixi Beauty Bronzer + Kabuki give your complexion the warmth and luminosity of natural sun kissed skin! Moisturizing, long- wearing, and oil-controlling, the powder protects against free radicals and keeps you looking gorgeous all day! Added Vitamin E to protect & soothe skin.
2 colourways: choose Subtly Suntouched for light skintones and Summertime for medium to olive skintones.
Image Source: Pixi Beauty
The Shade Quartette

in Shades of Daylight:
My love affair with Pixi's Shade Quartettes continues with Shades of Daylight! As much as I love my larger eyeshadow palettes, I find that an eyeshadow quad is always quicker in the mornings when I am in a rush to get ready (before the baby wakes from her nap!). Shades of Daylight is an excellent addition to the Quartette Collection! I particularly love the warm peachy bronze shade worn in the crease and the shimmery champagne shade on the lid. These shadows are nicely pigmented (about medium-heavy pigmentation depending on the particular shade, darker shades seem to be more heavily

pigmented).
The Pixi Shade Quartette in Shades of Daylight has four perfectly brightening colors to subtly enhance eyes while creamy coated mineral pigments make the formula foolproof to apply. The gorgeous, warm colors naturally blend together for a seamless ray of light.
Pixi Shade Quartette comes in new Shades of Daylight as well as existing Shades of Taupe, Shades of Peach and Shades of Nud

e.
I also have Shades of Taupe and LOVE it! It is so easy to wear for

a quick and easy everyday makeup look!
Have you seen the new Pixi Spring 2013 items yet at your local Target?
Thanks so much for reading! Stay tuned for more Pixi Spring 2013 reviews coming soon! :)
XOXO!!!