Whats in my Handbag/Diaper Bag?
(Winter Edition)
Rather than do my usual
JustFab monthly review
, I thought it would be fun to do an updated "Whats in my Handbag/Diaper Bag"! I am constantly trying to get organized in the handbag department. My bag functions as both a diaper bag and a purse. So, as you can imagine, I carry around a TON of stuff! I need my bag to be functional and organized while carrying everything that I need for my baby girl and myself.
Ever since finding the
760 Bag by JustFab
, I realized that a large handbag could easily function as a diaper bag. Plus, ya'll, using a large handbag for a diaper bag is soooooo much cuter! While I still totally love the 760 bag, it is really enormous. As my baby is transitioning to toddler hood, I am carrying around slightly fewer things. For example, I don't always need to carry around a bottle/sippy for her. So, if I do need to bring that, I bring a separate cooler bag. Eliminating that from my handbag has allowed me to downside just a bit. When I do want to carry a bit more (including a sippy and a blanket in my bag), I still reach for the 760.
While I have a deep love for high-end bags, they are just not in my budget these days, nor do I want to get baby-spills all over them. I like opting for affordable bags! Plus, you can get trendy with affordable bags! :)
Before getting into my "What's In My Handbag/Diaper Bag" details, lets talk a bit more about what JustFab is all about!
What is JustFab? How do I sign up?
JustFab
(short for
JustFabulous
) is an online fashion site and styling service. They offer trendy and affordable shoes, handbags, jewelry, jeans, and accessories to subscribers (called VIP members). When you
sign up to become a VIP member
, you take a style quiz. Then JustFab pairs you with a stylist who creates a personalized online boutique for you to shop from. Everything on the site is $39.95!!! You will be charged a monthly fee (unless you elect to "skip a month" then you won't be charged) which gives you credit for one item. So, that is one monthly fee for one item (not an item plus an additional fee). Of course, you could always purchase more than one item a month. They seem to have a lot of 2 for/ $39.95 deals too. Oh, and depending on what type of deal JustFab is currently running, when you sign up, you get from 20-50% off your first item!!! Plus, when you refer friends, you can earn credits towards free items. So, be sure to check out the links and sign up! :)
Besides the items in your personal
JustFab Boutique
,
VIP Members
also have access to shop in JustFab's Special Collections. Their special collections include The Fowler Collection as well as looks from
New York Fashion Week
, the edgy
Iron Fist
collection, featured selections from the
IPSY Girls
(formerly "My Glam"), the
Denim Shop
,
Fall Bags
, and rocker-chic
Abbey Dawn
by
Avril Levine
.
If you missed some of my previous JustFab reviews, please check them out here:
Just Fab Monthly Shoe and Accessories Subscription
,
Shoe Bag Love
,
What's In My Diaper Bag?
,
The Fowler Collection
, and
Outfit of the Day
.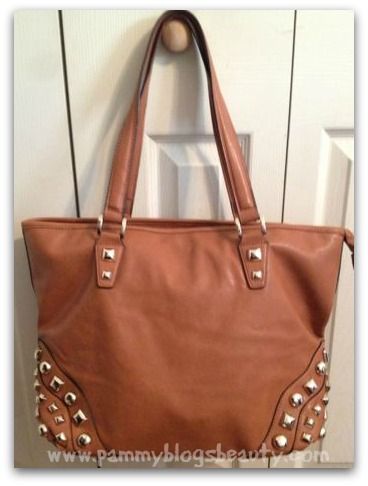 Now, lets get into it!
What is in my Handbag/Diaper Bag
?
This month I chose the beautiful camel colored
Times Square bag
. To find out how I like it and to see what is inside, keep reading!
Don't you just love getting the chance to peek inside some else's bag? I love reading posts like these as I like to get organizational strategies ideas and I like to see what products everyone uses on a daily basis and loves!
First, how about some details about the Times Square bag!
This bag is just *gorgeous*!!! This is, hands-down, the most beautiful handbag that I have gotten from JustFab to date. It is incredibly soft and absolutely looks like real leather (but it is not!). I am totally in love with this bag! It looks much more expensive than it actually costs. I am just thrilled with it!
The bag is 18x12x12 which makes it the perfect size for its current function: a purse diaper bag hybrid! This size would also make it great for a workbag (or school bag) as it can easily fit my Macbook Air and iPad and could hold files too. The width of this bag is just right! I like totes that are wider than they are deep as that is how I utilize the space. Often when bags are too long, I feel like the space on top is "wasted space" (does that make sense?). While this bag is certainly large, it is not so big that it overwhelms my small frame (for reference I am 5'5 and slender). The handle drop is just right for the bag to sit comfortably on my shoulders.
The bag zips completely shut (even when it is completely stuffed with my items)! Yay!!! Also, the width and depth of this bag keep it from toppling over. It sits up just right! The inside is divided in half and features one inside zipper pocket and 2 side pockets. The outside of the bag has one zipper pocket (perfect for your keys and phone).
The gold stud details are just so cute! Stud embellishments are so in right now. Actually, that is one of the main reasons that I chose this bag. They add a bit of fun and fashion to this neutral bag. I love the camel shade (the shade is actually called "tan" on the JustFab site). It goes with just about everything.
I just love carrying this bag! So much that I am planning on ordering this bag in another color! It also comes in Red and Black. I am thinking I will get black.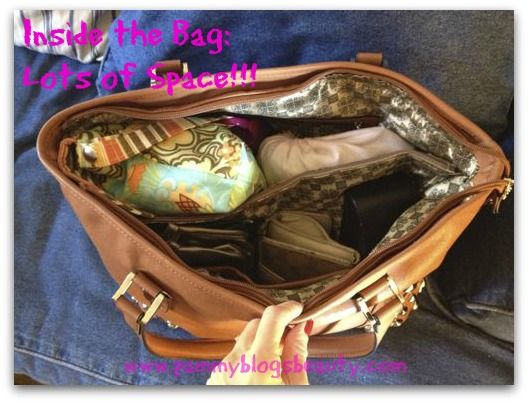 What is Inside?
So, what does a beauty-loving Stay-at-Home Mommy of a 12-month old carry around? Lets see! Oh, and if you look closely at my photos, you will see my little baby girl Skylar's hands! lol! Every time I tried to take a picture, she pulled herself up to the couch and tried to grab the items. Too funny! :)
I find that keeping my items inside smaller zipper bags is the best way to stay organized. I devote a "category" to each bag. So, I have a makeup bag, a lotions bag, a diaper holder bag, and a toy bag. Everything else fits inside pockets in the bag.
In my Makeup Bag:
I will admit that I do not touch-up my makeup a lot when I am out and about. However, I hate being without a few items just in case! Usually, the most I do is touch up my lipstick or lipgloss. I honestly didn't even realize that I was carrying so many lippies! Here are some of my staples:
Clean & Clear Oil Absorbing Sheets: Blot, blot, blot!
Nail File
Powder: L'Oreal True Match C1
Minteas Mints
A pen
Clinique Dramtically Different Moisturizing Gel
Stila Lipglaze in Grapefruit
Joe Fresh Lipstick in Rose (one of my fav lipsticks!)
Bath and Body Works Antibacterial Hand Gel
Your Best Face (YBF) Quench Lip Treatment (yummy and minty!)
Some random liners (these are so old and I should probably replace): Aveda Cacao Eyeliner, Rimmel White Eye Pencil (I love using white in the waterline), and Stila Lip Pencil in No 1
Model and Co dual ended lipstick/lipgloss
Anastasia Hydrafull Gloss in Sharona
Pixi Brilliant Tinted Lip Balm in Pretty Pink
L'Oreal Colourriche Lipstick in Pink Cashmere
Toy Bag:
The assortment always changes. I try to rotate so that I can make sure the toys hold my baby girl's interest! Currently, I have some books, a lovie blanket, and some rattles that can attach to her car seat or a high chair cover.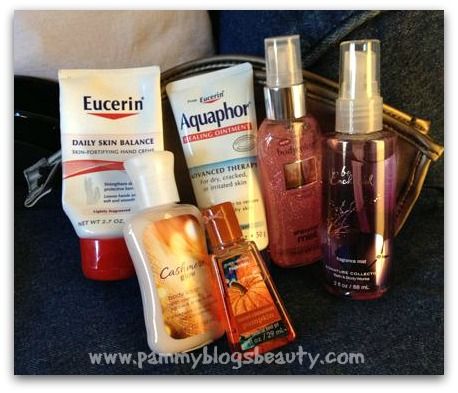 Lotions Bag:
When I am out and about, I do like to moisturize! The bag is from St. Germain a "new" brand I am trying out. I love the faux leather texture of this little zipper bag.
Eucerin Daily Skin Balance Hand Cream: I LOVE this hand cream!!! It has a lovely cherry scent and it just works so well. I am almost out and need to get a refill soon! I keep another one of these on my nightstand. Great stuff!
Aquaphor Advanced Therapy Skin Protectant: I am obsessed with Aquaphor. You can use it for everything: Lips, cuticles, skin irritations, and on the baby! I almost always have Aquaphor in my purse (especially in the winter).
Bath and Body Works Sweet Cinnamon Pumpkin Antibacterial Hand Gel: I am obsessed with this scent!
Bath and Body Works Cashmere Glow Body Lotion
Diaper Holder:
This is a hand-made diaper holder that I got either on Etsy or Ebay (can't remember!). It velcros shut and has a snap handle. I attach a Munchkin trash bag holder on the handle (Mommys-to-be: these are must haves! With this little holder you always have a trash bag for your baby's dirty diapers). The inside of this diaper holder has a wipes container, a small changing pad, and 3 diapers. When I need to change the baby, I just take this out of my purse and head to the restroom. I don't need to fish around my purse for all of my diaper changing items. It is all in this holder!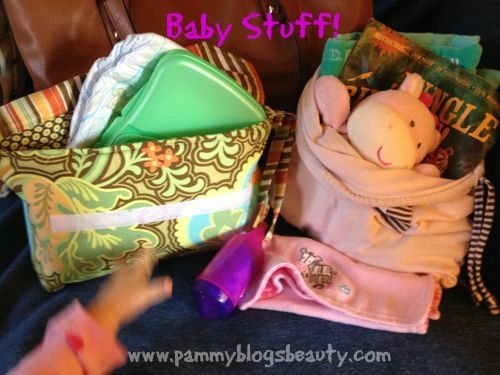 Everything Else:
Gucci Wallet: I really adore this wallet! It is sooooo old (but still kickin). It is a little worse for the wear. However, I think it looks pretty great considering it is like 5+ years old. It holds a TON!
Umbrella: Leopard Print
Phone (not pictured cause I am using it to take pictures, lol!): I have an iPhone 4
Prada Sunglasses and Sunglasses Case: My sunglasses are almost always either on my face or on my head. I rarely put them in the case. However, since they are expensive sunglasses, If I do put them in my bag I want them in the case so that they don't break.
Envirosax Fold Up Tote Bag: This is a little lightweight nylon tote bag that rolls up and snaps shut. It is great to have! It dosn't take up much space and weighs nothing. This way I always have a bag available if I run into the grocery store. I got this one at a beauty event.
Body Sprays: I think I have a phobia of not smelling fresh! Plus, I have a bit of an obsession with Body Sprays. I have Bath and Body Work's "Be Enchanted" Fragrance Mist and Bodycology's "Enchanted Forest" (Twilight Woods dupe) Shimmer Mist. I love the Be Enchanted fragrance and the Shimmer Mist is new (So, I honestly haven't even used it yet, lol!). Side note: I have come to the realization that I should always purchase small fragrance mists! I never seem to use them up all the way and love to be able to carry them around. I find that these light mists layer nicely over whatever perfume I might be wearing.
Tissue Holder
Burp Cloth
So, that is it! You got to peek inside and see what I carry around and use on a day-to-day basis! :) Plus, can you believe even with that much stuff inside the bag, you can still zip it up! The Times Square bag works amazing as a handbag/diaper bag hybrid! I highly recommend this bag!!!
You might be wondering what else I got from
JustFab
this month? I got another pair of the Laden flats from the JustFab Fowler collection. I liked them so much in Silver (remember from last month?) that I had to get them in Black too! :) These cute flats are just perfect!
Thanks so much for reading!
XOXO!!!
referral link in post