Hey ladies! Its time for another installment of my Cover It! Concealer Review Series. Yes, my quest for the ultimate concealer continues with my test of
Hard Candy's Glamoflauge Heavy Duty Concealer
. If you missed previous
Cover It! Concealer Review Series
posts, check this intro post
Do you have very dark under eye circles? Are most concealers too sheer for your needs? Do you love high-end quality at a drugstore price? Well, if you answered "yes" to those questions, then this review is a must-read for you!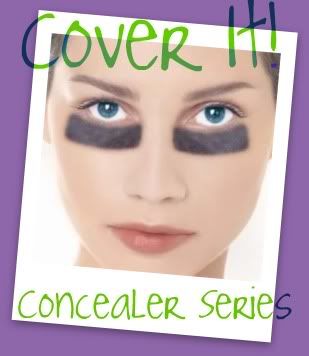 My Dark Under-Eye Circle Story:
Alas, I was "blessed" with super dark under eye circles. Combine this with my fair skin, and I have a look that practically resembles black eyes when I don't wear concealer. So, you can see that a great under eye concealer is an every day necessity for me! I absolutely do not leave the house without it.
Why do I have dark circles? Well, it appears that all of the causes of dark circle come in to play. My dark circles are due to heredity, general lack of sleep (I have to wake up *so early* for work!), and year-round allergies.
Since I have only had limited results eye creams having any reduction in dark coloration, I turn to concealers. So, what do I look for in a good under eye concealers? Its a tall order! I want at least medium coverage-heavy coverage that is build able. My dark circles vary in intensity and I want to build the product up thicker in the darker areas. So, I don't want a product that cakes when layering product. While I want medium-heavy coverage, I also want the concealer to have a realistic texture and to look natural on the skin. Furthermore, I need a good color match. With my very fair skin, I often find that various brands do not have shades light enough for my skintone. Also, when searching for under eye concealers, I often like to choose shades with a peach tone as this has color correcting benefits for my particular under eye circles. Finally, I want a concealer that will last all day without touch ups. I know, this is a lot to expect of a concealer!
So, how did the
Hard Candy Glamoflauge
fare? I am excited to tell you, so please keep reading this article after the page jump!
Hard Candy Glamoflauge Heavy Duty Concealer: Light
Lets just go ahead and cut to the chase here...I am in love with this concealer!!! Really, I am totally amazed! Not only is this a fabulous product for a value/drugstore line, but it is also in contention for being a "Holy Grail" concealer. The best of the best!
Ya'll know that with my beauty blogging and sincere interest in concealers, I test out a ton of concealers. So, you know it is a big deal if I find a product that makes it to the "top of the list" of favorite concealers! I am really amazed by this fabulous concealer!
The Skinny:
This is a Heavy to Very Heavy coverage concealer. The pigmentation is very dense (for reference: think of the density and pigmentation of DermaBlend or Amazing Cosmetics concealers...it is *that* pigmented).
Value: The product is very concentrated. You only need a tiny-tiny amount. I use only one drop and apply it to both eyes. Since you only need a very small amount of product, this .71 oz tube will last you forever. The best part: Can you believe it is only $6.00 at your local WalMart? Side note: because of the popularity of this product, it can be a a bit hard to find. You might need to go to multiple WalMarts to find your shade. My WalMart always seems to always be out of the light shade (and low on stock with Hard Candy products in general).
Texture and Finish: The texture is really quite thick for a tube-style concealer. Coming out of the tube, I initially thought "stage makeup". But, no worries, it applies and wears much more natural than stage makeup! It is somewhat "tacky" in texture and it adheres very well to the skin. It smooths out and blends nicely. The finish is very natural and realistic...not "dry" like many other heavy coverage concealers. This product really seems to melt into my skin once I apply and blend in. Beautiful coverage with a natural finish. (*Please see my tips below for application to the under eye area. If you do not properly prep the area, then this product might "seem" dry. But, when applied to well prepped skin, it is not dry at all).
Color match and Shade Selection: This product comes in 3 Shades: Light, Medium, and Tan. So, the range of shades is quite limited. I tested out the "Light" shade. Initially, when looking at the color through the tube, I thought that the "Light" looked much too dark for my skin (for reference I am a NC15 in MAC or a NARS Sheer Glow in Siberia). But, I was delighted that I was wrong! The Light shade works quite well for my under eye area. Now, remember, you don't want to go "too light" for your under eye area or you will have Raccoon-eyes in reverse! If you find a shade even close to near your skin tone in this product, you must give it a try! But, I do wish Hard Candy offered more shades.
Wear: This concealer wears *all* day! I have very long days and never need a touch up.
Packaged with a mini pencil style concealer. I honestly have not had much of a chance to use this little pencil. But, I think it would be ideal for covering small blemishes on the face. I am glad that Glamoflague is packaged in a squeeze tube type container . It is very sanitary and it allows for precise dispersion of a small amount of product.
Tips for Application to the Under Eye Area:
Here are some tips to help you get the best results possible from this concealer (these tips could be used with any heavy coverage squeeze-tube type concealer).
You must moisturize first! Prep your eye area with a super-moisturizing eye cream. I like to apply my eye cream and then let it sink in at least 5 minutes before applying under eye concealer.
If you have trouble with fine lines and wrinkles, you might want to prep the eye area further with an eye serum/primer. This is a step that I often skip. But, I do find that it helps most concealers apply and wear better. The serum should be applied after your eye cream sinks in. A serum will smooth out those fine lines and provide a smooth surface for your concealer. I like MAC's Prep & Prime Vibrancy Eye Primer, Perfekt Eye Perfection Gel, and for a drugstore option: Olay's Regenerist Eye Lifting Serum.
Apply your concealer with a flat concealer brush. I find that this lays down the product the best. Blend in and then smooth out with the brush. I usually do a final "smoothing" with my fingertips. Really try to get that concealer to "melt" with your skin.
Build your coverage where you need it. You do not need to apply it heavily all over the eye area! I concentrate all of the color in the super dark areas and just blend out from there. Often, I got back and apply another layer to that very dark area if needed.
Finish with a *very* light dusting of a translucent powder or an eye area powder (I like BeneFit's Powderflauge). You can certainly skip this step. But, I think it helps your concealer to hold up longer.
Final touch: Take a sponge wedge and "press" the concealer into your skin. I actually fold the sponge wedge in half and "roll" it over the under eye and inner corner areas. A makeup artist showed me this trick a few years ago and I have been using it ever since. It keeps that dusting powder from settling and melts the product further into your skin.
The Verdict:
If you haven't guessed already by all my gushing, I really adore this product! I honestly never expected to find such high-end quality in a drugstore concealer. Glamoflauge concealer obliterates my dark circles! I couldn't be more pleased! Hard Candy is setting the bar high for drugstore concealers.
While I love this for the under eye area, I do not use this on the rest of my face. Not because it wouldn't work well; but, because I just don't need that much coverage anywhere else. I tend to use light coverage concealers (or no concealer) just around my nose and a little dab on my chin. For those of you who have tried this product for concealing acne or other areas of the face (besides eyes), I would love to hear how you liked it!
As always, thanks so much for reading!
Stay beautiful!