Press Sample
Affiliate Link
Blogger Ambassador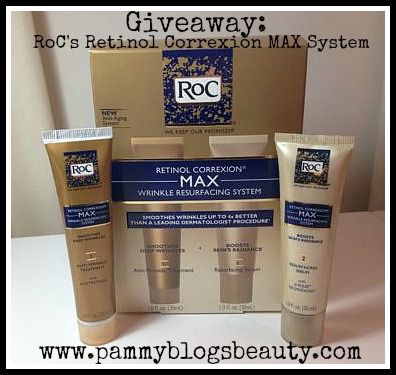 Guess what??? It is time for another Giveaway!!! One
Pammy Blogs Beauty
reader will win
RoC's Retinol Correxion MAX Wrinkle Resurfacing Skincare System
! As a RoC Ambassador, I am excited to be able to share my product reviews and offer amazing RoC product giveaways!!!
I am sure that we have all heard that Retinol is one of the #1 proven wrinkle fighters? If you haven't, then it is time to jump on the bandwagon! Retinol's effects are undeniable! Out of all of the skincare ingredients available, nothing seems to beat retinoids. The great news is that RoC has powerful Retinol products available right at the drugstore!!!
My Skin:
I have combination skin that is prone to sensitivity. It is a bit dry in the winter and it gets a bit oily in the t-zone during the warmer months. I am in my late 30s. So, anti-aging products are a must for me. I have no major wrinkles, yet. However, I do have some very fine lines starting to crop up around my eye area. While my skin is sensitive, it does respond well to Retinol products. If you have sensitive skin, too, and are considering a Retinol regimen, please start slowly (every other night at first).
Please click "read more" for my first impressions review of the
RoC Retinol Correxion MAX Wrinkle Resurfacing System
! Also, the Giveaway entry form is on the next page, too!
RoC's Retinol Correxion MAX Wrinkle Resurfacing System
:
This is a 2-step System. The products were designed to work together. It totally takes the guesswork out of layering your products.
The RoC Retinol Correcxion MAX Wrinkle Resurfacing System features a lightweight, two-step moisturizer that combines RoC Retinol with an E-Pulse Resurfacing Serum, which functions as one powerful unit for maximum results.
More about "E-Pulse"
:
Since I was not sure exactly what "E-Pulse" was, I asked my contact at RoC to clairfy. Here is the info about E-Pulse directly from RoC:
E-PULSE® is a patented new technology never before seen in skincare. It builds on new scientific learning about one of the body's own repair mechanisms: micro-current. The technology combines zinc and copper, to mimic the body's own natural bioelectricity. By helping stimulate collagen and elastin production, it tackles the appearance of fine lines, dark circles, eye folds, under eye bags and upper eyelid puffiness.
Product Info (from RoC):
Improves the look of wrinkles around the eyes, forehead and cheek while also improving the overall signs of damage associated with sun exposure

Clinically proven to be up to 4x more effective than a series of three dermatologist peels

Two-step system for maximum results

Anti-Wrinkle Treatment

with RoC® RETINOL to smooth deep wrinkles

Resurfacing Serum

with E-PULSE® Technology to boost radiance

Leaves skin dramatically smoother

Rich essential moisturizers such as glycerin, shea butter and dimethicone

Use once or twice a day in the morning and/or evening
Suitable for everyday use

Available at food, drug and mass merchandisers

Suggested retail price: $26.99 (1.0 fl. oz. per tube)
Directions and How I Use:
This system is so easy and simple to use! Just apply step one, the "Anti-Wrinkle Treatment" after washing your face and follow up with a layer of step two, the "Resurfacing Serum" right afterwards. So easy! I apply this system at night however, I believe that you can use it during the day (note: Sunlight may deactivate Retinol. So, the system is likely more effective at night). If using the system during the day, the step 2 "Resurfacing Serum" acts as an ideal makeup primer!
Effects:
I am really pleased with my initial results from using this system!
First of all, I experience no skin irritation with this product! This is a huge plus because my skin is very sensitive and sometimes Retinol products can be too harsh. However, this one is just fine!
Instant and Short-Term Results:
The Step Two Resurfacing Serum has immediate results. This silicone-based serum hydrates and smooths out your skin leaving it feeling smoother and more flawless. After a few weeks of use with this two-step system, I noticed that my skin feels soft and supple and my fine lines around my eye area look less apparent. I love that this product produces results without irritation! Looking forward to more results over time. :)
Here are some more of my favorites from RoC:
The Giveaway Details:
Giveaway Prize:
One winner will get one RoC Retinol Correxion MAX Wrinkle Resurfacing System Kit
The Rules:
You must be 18 years old to enter (or have your parents permission).
Prize is shipped directly to the winners by RoC. Pammy Blogs Beauty is not responsible for items lost or damaged in mail/transit. Prize fulfillment is through RoC. Prize is not redeemable for cash.
To enter the contest, you must fill out Rafflecopter form below. The winner will be chosen randomly through Rafflecopter. In the event of technical error, Pammy Blogs Beauty reserves the right to pick the winner. The entries will be verified as needed and individuals with multiple or falsified entries will be disqualified.
Only one entry per person. With that said, you may earn extra entries by tweeting, liking on facebook, etc on the Rafflecopter form (see details below on how to earn extra entries).
Contest is void where prohibited by law.
Contest runs from May 2nd 2013-May 31st 2013. Winners have 48 hours to respond to winning email from Pammy Blogs Beauty or a new winner/winners will be selected.
To Enter the Contest (required rules):
Please see the rules listed above.
1. You must be a follower/Subscriber of this blog in at least one way to enter. You have multiple ways to follow this blog: e-mail subscription, Google Friend Connect,
facebook, twitter, Pinterest, Google+, BlogLovin, Hello Cotton, and Instagram.
The more ways in which you follow this blog, the more chances that you have to win!
2. Fill out Rafflecopter form below.
3. Answer question in comment form below: Have you used Retinol products before? If so, what were your results?
4. You must like
Pammy Blogs Beauty Facebook
page.
5. You must follow Pammy Blogs Beauty on
Instagram
: pammy_blogs_beauty
6. You must follow Pammy Blogs Beauty on
Bloglovin
.
For bonus (optional) entries:
You can tweet about this giveaway (one time per day max please!). Please include a link back to this giveaway and @pammyblogbeauty
Do a Blog Post about this giveaway (must include a link back to this giveaway and giveaway photo/art)
Please let me know if you have any questions about the products or the giveaway! I have had great results with the
RoC MAX Retinol Correxion MAX System
! :) Thanks so much for reading my blog! Good luck to all of you entering the Giveaway!!!
XOXO!!!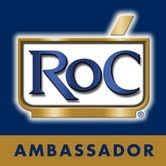 a Rafflecopter giveaway