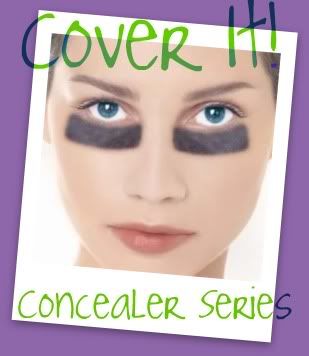 Hello there my loyal readers!
This post is my introduction to a new blog series: Cover It! Concealer Series. I am embarking upon a series of reviews dedicated to concealers.
My Cover It! Concealer Series will primarily focus on concealer reviews for various product that I have tried. I will also post various "tips and tricks" that I have gathered for reduction of dark under eye circles, moisturizing and prepping the eye area, eye brightening, and general concealment.
Let me start off with a little bit of background information. I have had a life-long struggle with dark under eye circles. They are the bane of my existence. Dark circle concealment is the primary reason that I fell in love with makeup.
All of the causes/reasons for Dark Under Eye Circles apply to me. I have allergies; therefore, I am plagued with redness and slight puffiness in the eye area. My allergies are not just seasonal, but year-round. So, I struggle with this throughout the year. Also, my dark under eye circles just seem to be hereditary. So, in addition to the redness and puffiness, I have those dark purplish dark circles. Furthermore, I never seem to get enough sleep and have some mild insomnia issues. All of this combined =major dark circles! I swear concealer were invented for someone just like me! :)
When I discovered that a fabulous concealer can truly erase this pesky dark circle problem, I completely fell in love...with makeup! If you are curious, it was a makeover at an Aveda Salon many years ago and the concealer that magically erased my dark under eye circles was Aveda's long discontinued Conceal + Protect. As many of you know, often products that we love get discontinued.
So, the search continued and still continues as a constant quest to find the perfect under eye concealer. Even when I find a fabulous product that works very well, I am always curious as to what else is out there. Is there a product with better coverage? A perfect texture? An ideal match for my skin tone?
This series will delve into the remarkable world of concealers for not only the eye area, but also the rest of the face and even the body. We might as well "Cover It" all, right?!?!
Do you have dark under eye circles or concealment issues too? If so, then I hope you will join me on this Cover It! Concealer Series! This will be an ongoing journey of product testing for the ideal concealer!