If you have been following my
"Cover-It: Concealer Review Series"
then you know that I struggle with dark circles and am on the constant quest to find great products for under eye treatment, prep, and concealment.
I was thrilled to discover the
Per-fekt
brand which specializes in unique multi-function products that combine color cosmetics with great skincare ingredients.
For this review I tested out the Eye Perfection Gel in the shades Bright and Refreshed. If you are interested in reading my review and seeing swatches, please keep reading after the break.
In a Nutshell: What exactly is Per-fekt Eye Perfection Gel?
I would describe Per-fekt Eye Perfection Gel as a multi-function product in the general category of an eye primer/serum. But, this eye primer/serum has a "kick": anti-aging ingredients! So, it is not an eye cream nor a concealer. It is the product that you apply after eye cream and before under eye concealer. This product smooths and perfects (hence the name!) the eye area and provides the ideal surface for flawless concealer application.
The Skinny:
This multitasking product targets puffy eyes and under eye shadows with its cool-feeling palladium tip applicator while the anti-aging/good-for-your-skin ingredients hydrate. Your skin is left feeling soft and smooth. You can achieve an "airbrushed" look when you apply concealer over this product. Love it!
Contains a light-reflecting tint that can diffuse shadows and leave skin looking luminous. Note: if your under eye area is not very dark, this light tint *might* be all you need. For me, this tint didn't come close to covering my circles. But, this product really isn't a concealer. So, I did not expect it to cover up my circles. It really is more of a sheer tint that diffuses with its color correcting shades.
This product battles eye puffiness with its cooling palladium tip applicator and cucumber extract.
Antioxidant protection: Vitamins A & E and alpha lipoic acid fight free radicals and protect the skin.
Hydration: Hyaluronic Microspheres moisturize and firm the skin to smooth the appearance of fine lines and wrinkles.
Anti-Aging Ingredients: Peptides and ceramides stimulate collagen and maintain hydration.
Per-fekt Eye Perfection Gel retails for approximately $45.00 for a .30 fl oz tube. It can be found online and at Sephora.
4 Shades Available: Awake (Clear, no color): For any skin tone. Doubles as a shadow base. Bright (Light/Neutral): For Fair-Medium skin tones. Refreshed (Medium/Beige): Medium-Dark skin tones. Vibrant (Warm/Tan): For Olive or Dark skin tones.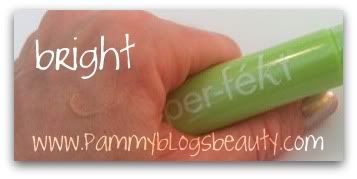 For this review I tested out the shades Bright and Refreshed (see swatches above). While Refreshed was too dark for me, I found that Bright was just perfect (or per-fekt, lol!).
How I use:
I apply my eye cream and allow it to sink in for a few minutes. Then I dab on one small squeeze of Per-fekt Eye Perfection Gel with the palladium applicator. I smooth out the gel with my fingertips and allow to sink in for a few minutes. Next, I apply my concealer on top. Voila!
The product feels smooth and cool going on. The Bright shade is slightly luminescent. It blends out to look invisible on the skin. It has a slippery gel/serum feel. It is great for de-emphasizing the look of fine lines and other imperfections in texture. I really enjoy the cool feel of the applicator. It makes you *want* to apply this product!
This product provides such a smooth surface for concealer! I find that all my concealers apply and wear better on top of this product. Plus, I love that Per-fekt Eye Perfection Gel contains beneficial ingredients for your skin. It gives your eye cream a boost and adds moisture to your skin.
I really enjoyed testing out this product! I will continue to use Per-fekt Eye Perfection Gel. Actually, I like it so much that I want to explore the rest of the Per-fekt line! I think the Cheek Perfection Gel and the Body Perfection Gel both look fabulous!