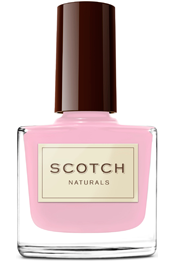 Hey Dolls!
Do you love the look of clean and polished nails but hate dealing with the fumes? I know there are many polishes out there that are toluene, formaldehyde, and phthate free. But, those polishes still have strong fumes! Don't get me wrong, I love my polish...I just hate the fumes! I actually prefer to deal with the fumes and have painted nails than skip the polish all together. I know, I know...priorities, right!?!? LOL, I am a NUT! What can I say, I am a "high maintenance" girl who loves pretty nails!
Well, if you are finding that polish fumes are preventing you from painting your nails, then boy did I find a product for you! Scotch Naturals has developed a line of WaterColor Polishes that is absolutely fume-free!!! I mean, this polish has literally no smell at all! Amazing! Are fumes not an issue for you? Well, if you are a lover of non-toxic and eco-friendly cosmetics, then you will want to find out more about this product as well!
If you want to read about this very inventive natural product: Scotch Naturals WaterColors Polish (from Nature's Basin), please keep reading this article after the jump break!
Scotch Naturals WaterColors Polish:
Scotch Naturals WaterColors Polish is truly like no other polish that I have ever tried before. Just take all of your preconceived notions about nail polish right out of your head. This polish is in a whole new category. It is applied differently than a typical nail polish, works differently, and, yes, even looks different than your typical nail polish. So, instead of me saying "this is just like regular nail polish", I am going to say, "this is a good alternative to nail polish". Your results will look much different than your typical manicure.
More about Scotch Naturals WaterColors:
This is not a classic "nail polish", but is a great nail polish alternative. The finish is different. Rather than give a high gloss lacquer look, it leaves a sheer and natural slightly shiny buffed color appearance. The results are nice. I would put this in a "My Nails But Better" category.
This is a non-toxic and eco-friendly alternative to three-free polishes: Unlike polishes free of toluene, formaldehyde, and phthate only (by the way, I love using polishes that are free of the "3"), this one is truly safer because it contains no chemicals nor fumes that can build up in your system and cause negative side effects.
There is absolutely no scent to this product! None! This is great either for those of you who are sensitive to fumes or those of you who want to stay as non-toxic and eco-friendly as possible.
The Environmental Working Group's Skin Deep Cosmetic Safety Database rated Scotch Naturals as the safest polish on the market.
This polish contains ingredients that are good for your nails. The company claims that over time repeated use of the polish can improve the overall condition and health of your nails. While I have not tested this out long enough to see (I change my polish too often and am testing too many brands to see long term effects of this one polish), the polish seems very soothing and conditioning to your nails.
No base or top coat is needed! This one product is all you need! Not only does it dry fast, but you only apply 1-2 coats of this polish and your manicure is done. So super quick!!! Great for girls-on-the-go!
These cute polishes come in 22 colors and retail for about $14.99 a bottle.
Application Tips and Tricks:
1. Remove any existing polish.
2. If your nails are damaged or peeling, the polish may apply unevenly or streak. So, the brand suggests that you apply a drop of jojoba oil to each nail and buff in before polish application.
3. Wash your hands to remove excess oil or dust. Dry hands.
4. Apply 1-2 coats of polish. No base or top coat needed!!!
5. After a few days of wear, you can rebuff nails to revive shine of polish!
The Results:
This product gives your nails a "Your Nails But Better (YNBB)" clean look. I tested out a sheer milky pink color: Whisper that looks so natural and pretty. Truly YNBB! The finish is not super shiny, but there is a sheen (similar to the results you can get from a professional quality buffing). I wanted to swatch this for ya'll, but honestly, you couldn't really see the polish. It just looks sheer.
I really enjoyed testing out this product! I will continue to use this Scotch Naturals Whisper Polish and would love to try more shades. This product just "feels good" on your nails! Like your nails can breathe (I know, I know, nails don't have lungs and they can't *actually* breathe). But, really, it is just a nice "break" from typical nail lacquer and the accompanying fumes.
I think this polish is absolutely perfect for a busy work week when you want to change out your nail color so your nails look clean and presentable, but you have limited time. Plus, you don't have to deal with those terrible fumes! My husband always groans when I start to paint my nails (because he hates those fumes too), but not with this polish.

In summary, I really love this polish! The application is super quick and the product dries fast! Great for girls on the go that want a natural look. Don't get me wrong, I love my high shine colorful lacquer polishes. But, for a quick and natural look, this Scotch Naturals Polish is great! Scotch also offers a soy-based polish remover that looks great!
Have any of you lovelies tried out Scotch Naturals or any other water-based polishes? I am so intrigued to try more shades in the Scotch Naturals or try some other brands.
Thanks so much for reading ya'll! Stay beautiful!