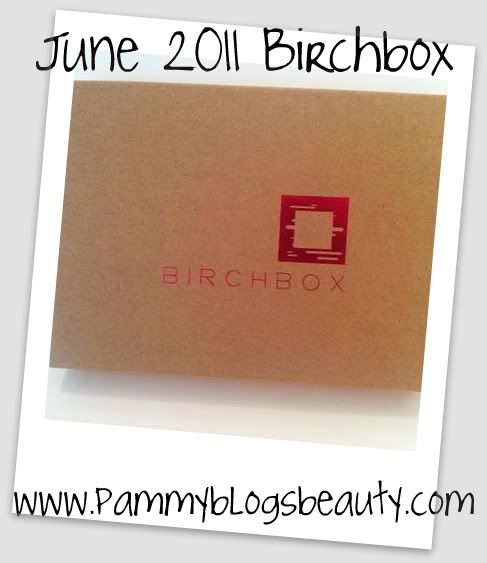 Hey everyone! I am just now able to post my Monthly Birchbox Post as I was out of town (anniversary trip to Cancun!) when the box arrived. I must admit that it was fun to come home to my monthly "surprise"Birchbox full of goodies!
If you are not familiar with Birchbox, it is a monthly sample subscription of a gift box filled with 4-5 deluxe sized samples plus occasionally a "treat" or an "extra". The subscription is about $10/month and it includes the monthly Birchbox, access to the fabulous member's only
Birchbox website
, free shipping on full sized products included in the current month's box, and opportunities to earn Birchbox points for reviewing the products on the Birchbox website (accumulated points go towards discounts on purchases).
I really enjoy my Birchbox subscription and look forward to these boxes around the 10th of every month. While some boxes have been better than others, overall I am super pleased with the Birchbox goodies! For me it all boils down to value. Am I getting a good deal? Is the value of the box greater than the $10 that I spent? Well, the good news is that the value of the box always exceeds the actual cost. Besides value, I just love that feel of getting a monthly "present" of beautifully wrapped surprise goodies! I have found some really great products through my Birchboxes! Curious about my previous Birchboxes? Check out my monthly posts: January 2011 Birchbox, Feb 2011 Birchbox, March 2011 Birchbox, April 2011 Birchbox, and May 2011 Birchbox.
So, was this month's box a "good one"? Keep reading to find out!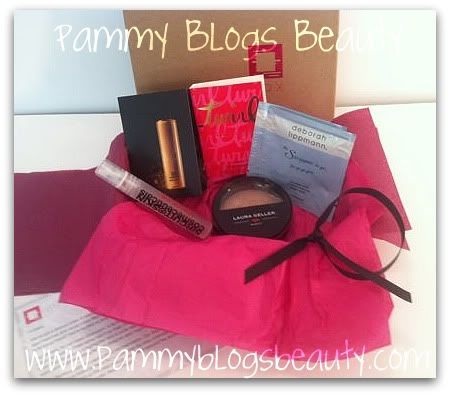 May 2011 Birchbox
So, lets start off with this month's "theme". Yes, each Birchbox has a general theme or concept. I have always found that great gifts or packages seem even better when organized around a fun concept. June marks the beginning of summer. So, it is totally appropriate that this month's theme is travel. Perfect! I do so much traveling in the summer and always need some good travel sized goodies!
The Asthetics:
I just had to insert a comment here about how beautifully Birchbox presents and wraps the monthly Birchboxes. I know that I have raved about this before. But, I think that the beautiful presentation deserves another mention. The aesthetics of these Birchboxes is just totally my style. There is always a bit of a girly "spa"-like feel to the packaging design. So lovely! I truly enjoy opening and unwrapping these packages! The natural (and recyclable) pressed cardboard box with the pink embossed Birchbox logo opens to reveal contents wrapped in berry and pink tissue paper and tied with a black grosgrain ribbon. I love the inclusion of the postcard style monthly letter that explains the theme and details the contents. The letter makes each box "feel" personal! I *heart* Birchbox! :)
What did I get?: The Box Opening
Kate Spade Twirl (full size cost $65-$85): This is a .05oz mini perfume sample vial. I really like the scent too. It is fresh and uplifting. Birchbox describes this as a carefree and joyful flirty scent. So, its a perfect scent for summer. The fragrance itself kinda reminds me of Clinique Happy.
Laura Geller Baked Blush Blush n' Brighten in Honey Dipped (full size cost $29.50): Wow ya'll!!! I am *thrilled* with the inclusion of this baked blush! I mean, first of all...this is a *FULL SIZED* blush! Yes, Birchbox totally outdid themselves with the inclusion of yet another full sized product (last month they included a full sized Stila eyeshadow pan). Yipee! As you readers know, I totally adore blush...especially baked blushes! Now, the blush in this shade Honey Dipped really looks more like a bronzer. So, I would describe this as a bronze-toned blush. Perfect for summer! I tend to lighten up my makeup during the hot summer months. So, this shimmery product can double for a blush and a bronzer (and "glow" product) in one for a super-sunny glow! Plus, I can't get over the *value* of Birchbox adding a full-sized product! The inclusion of this product totally blows me away!!!
Shu Uemura Essence Absolue Nourishing Protective Oil (full size cost $65 for 150 ML): Okay, at first glance I thought this was a perfume sample as it is mounted on a folded card like a perfume sample! LOL! So, I am thrilled to see that it is actually a hair oil sample! I have *very* dry hair and can't wait to try this! Birchbox states that hair stylists call this "liquid gold". This product can be used wet or dry for hydration and shine. The product was apparently inspired by beauty secrets from the Geisha's as they used to use Camellia oils in their hair. You only need one drop of this rich oil. So, this small sample will last me awhile and is perfect for travel. Very nice sample!!!
Sircuit Cosmeceuticals Molecular Mist Hydrating Moisture Care (full size cost $36 for 2 oz): Birchbox states that this is a face mist that uses evaporation-resistant heavy water technology to help skin retain moisture and keeps your skin hydrated all day. This is for plumping and hydrating all skin types. It can be used as a pre-moisturizer, a mist for skin refreshment during air-travel, or to set makeup. I am a huge fan of face mists in general and use them all the time! So, I am thrilled about this sample! I have never heard of this brand and am eagar to try it! The small and slim size make it perfect for travel or for your purse. Love it!
Deborah Lippmann "Stripper to go" nail lacquer remover finger mitts (full size cost $12 for 10 mitts): I am so happy that Birchbox included 2 of these mitts as I have really been dying to try this product! I adore nail polish; but, I abhor chipped and peeling manicures. So, that presents a dilemma for travel: How do you refresh or redo your manicure without toting a huge bottle of remover and cotton balls? Well, these finger mitts are just the ticket! From what I understand, one mitt contains enough remover to remove the polish on all your fingers. So, for trip packing, all you need is one or two of these mitts (depending on how long you are away) and your polish shade to refresh your manicure. Perfect!!!
I love it!!! The theme, the actual items, everything! I honestly see my self loving all of these items. Plus, these are items that I can imagine that I will want to repurchase in full size. The value of this month's box way exceeds that actual subscription cost of approximately $10 per month. What a great way to try high-end luxury products without breaking the bank! This is such a nice introduction to fabulous products that I will likely love. Another cool thing, this month Birchbox is featuring travel essentials on their website...I can't wait to check it out!
My fellow Birchboxers, what did you think of June's box? Did you get the same thing or something different?
Thanks so much for reading dolls! Stay beautiful!