Affiliate Link
Press Sample
The transition into colder weather not only signals the return of our favorite Winter clothes, but it also means taking a look at our Winter Beauty Routines. December brings not only the Holidays but also signals the end of the year. This milestone offers the perfect time to re-evaluate your skincare routine and ensure your skin is getting the care it needs. While Winter is somewhat mild here in Georgia, there is no question that the needs of my skin totally change because it is colder. My skin goes from somewhat normal-dry to very dry. I must be proactive with my skincare to make sure that my skin stays soft and comfortable.
Dove
is a brand that I have used and trusted for years.
Winter is the perfect time to add more
Dove products
into my routine! They are mild, gentle, and moisturizing: just what my skin needs! Not to mention, I adore the various Dove scents! The product do smell amazing!!! With that said, Dove also offers their formulas in non-scented versions as well (which I totally appreciate when I have any skin irritation: that is when I switch to no-scent).
Dove
is the #1 Dermatologist recommended brand and leaves skin softer and smoother after just one shower. The Dove personal wash collection includes a variety of Beauty Bars and Body Washes to cater to every skin type.
Win the Full Core Dove Personal Wash Line!!!
To find out a bit more about
Dove products
and to enter the
Get Healthy Skin in Time for the New Year Dove Giveaway
, please click "read more" below!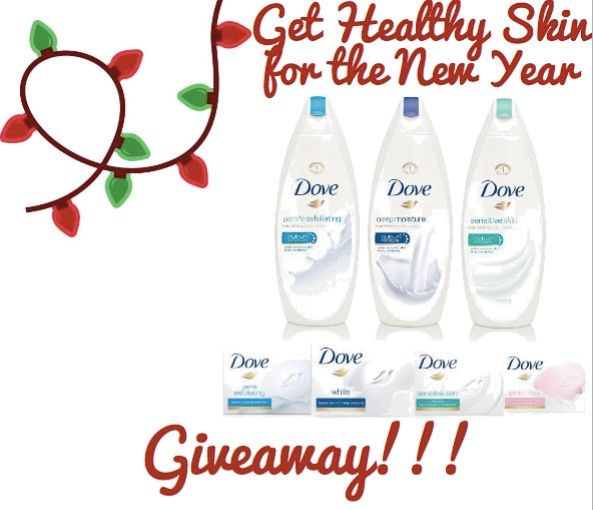 What Dove Body Product is Right for You?
For me, I really enjoy using all of Dove's products. From their bar soaps to their body washes, they are all gentle, effective, and moisturizing. Dove Body Washes and Beauty Bars are available for a variety of skin types. See below for more information about what Dove recommends for you depending on your skin type:
Dry Skin: Almost invisible pores Flaky with dry, or red patches. Recommend: Deep Moisture Body Wash and White Beauty Bar
Oily Skin: Enlarged pores. Recommend: Gentle Exfoliating Body Wash and Beauty Bar (Contains exfoliating beads and smoothes away dull, dry skin)
Sensitive Skin: Blotchy patches and Redness. Recommend: Sensitive Skin Body Wash and Beauty Bar (Fragrance free and Hypo-allergenic)
Dove Nourishing Core Body Washes with NutriumMoisture:
I almost always have a Dove Body Wash in my shower. There is no question that their body washes are some of my very favorites! I love the beautiful scents and the creamy feel. They leave my skin cleansed while also leaving me feeling soft and moisturized. What a nice balance!
The upgraded Dove Body Wash formula features the brand's mildest formula to date. The formula has broken the body wash paradigm, allowing one to enjoy the rich lather they love and the mildness their skin needs. Dove Body Washes take a dual approach to healthy looking skin by repairing and maintaining its protective layer during cleansing, leading to smoother, softer skin after one shower.
Dove Core Beauty Bars:
In addition to body wash, I always have bar soap in my shower. I start my shower with cleansing with a bar and then finish off my shower (after washing my hair) with cleansing with a liquid body wash with a body pouf. Dove Beauty Bars are a great option for classic "bar soap". However, the Dove Beauty Bar is different! It does not strip nor dry your skin like classic "soap". Actually, quite the contrary! The Dove Beauty Bar contains Dove signature ¼ moisturizing cream combined with DEFI technology, a unique blend of mild cleansers and moisturizers, to effectively cleanse and nourish skin.
The Giveaway:
National Healthy Skin Month Dove Giveaway!
One winner (with a US shipping address) will get the full core personal wash line: Deep Moisture Body Wash, Gentle Exfoliating Body Wash, Sensitive Skin Body Wash, White Beauty Bar, Gentle Exfoliating Beauty Bar, Sensitive Skin Beauty Bar, and Pink Beauty Bar!
To enter the Giveaway, please enter using the Rafflecopter form below. Note: This contest is for 18 and older USA residents only. Pammy Blogs Beauty is not responsible for prize if it is lost in transit. Giveaway items subject to availability. This contest is void where prohibited and the prize is not redeemable for cash. One entry per person (with options for extra entries in form below). False entries will be disqualified.
Be sure to comment below with your favorite
Dove Beauty Bar and Body Wash Scents
(or the Scents that you most want to try!)!
Good Luck! :)
a Rafflecopter giveaway
Affiliate Link