Affiliate Link
Press Sample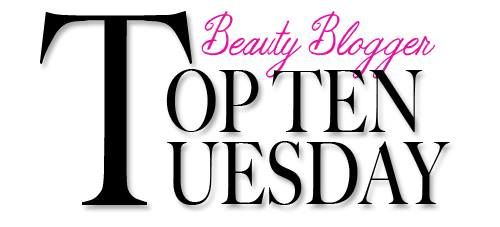 Welcome to another round of Top Ten Tuesday!!! If you are new to this series, it is a collaborative post which links up to other top beauty bloggers in the links and thumbnails at the end of this post. Every other week, we pick a beauty category. We then make a Top 10 (or as close to 10 as we can get) list for said category. This weeks topic? Things in my shower! :)
10 Things in my Shower:
I am a bit of a shower product fanatic!!! I actually have almost 20 products currently in my shower. This Top 10 assortment is a collection of my current favorite things in my shower! No, I don't use all of these things for every single shower. Some of these are 1x/week or occasional use items. Still, I like to have them on hand for when I do want to use them. Sure, it makes for a lot of products in the shower; but, hey, that is why we build in extra shower shelves during our shower rennovation! :)

Here they are (in no particular order):
1.
Neutrogena's Rain Bath
: This product is such a classic! It has that fabulous and distinctive "Neutrogena" smell (fresh herbs and spices). I know this product has been around for ages, but I just finally tried it! It has quickly become a favorite of both myself and my husband. It cleanses completely yet is also gentle and rinses clean: exactly what I want in a soap. Plus, it has a great later! I like the original Rainbath so much that I want to try the other scents, too! It is also available in Grapefruit and Green Tea Pear.
2.
LUSH's Flying Fox Shower Gel
: While on the topic of shower gels, here is another great one! To me, LUSH proucts are all-about scent. This shower gel's sensual scent is to-die-for!!! It is a mixture of jasmine and ylang-ylang. This shower gel lathers great and the scent really lingers on your skin.
3.
LUSH's H'Suan Wen Hua
: My latest craze in hair treatments? Products that you apply to dry hair! While I do not technically keep this product in my shower, I do rinse it out in the shower. I slather this deep conditioner all over my dry hair in the mornings when I wake up (about once a week). By the time I am ready for my shower, it has penetrated deeply and is ready to be rinsed out. Then I proceed with washing and conditioning like normal. I love the scent of this deep conditioner: it smells like gingerbread batter! Plus, like most LUSH products, the scent really lingers! This product packs in both protein and moisture for damaged hair.
4.
LUSH's Ro's Argan Body Conditioner
: Yes, another LUSH product. My shower is typically an oasis of LUSH products...what can I say? I am obcessed!!! This scent is, hands-down, my #1 all-time favorite LUSH scent. It is a soft and intoxicating rose scent. While I would not normally describe myself as someone loving Rose scents...for some reason, this particular rose scent just really appeals to me! It is like rose mixed with honey. I wish that LUSH made more products infused with this scent! So, what is a body conditioner? It is like a hair conditioner...but for the body! You apply it at the end of your shower (after cleansing). You just massage it onto your skin and then rinse off. It leaves you so soft and moisturized. Actually, it leaves you so moisturized that you can skip moisturizer after your shower. I absolutely adore this body conditioner!!!
5.
Avene's Gentle Body Scrub
: This is the perfect pre-self tan scrub! It exfoliates very gently and rinses clean (you don't want any residue to interfere with your self tanner). It is gentle enough to use on your entire body. Plus, it smells so clean and refreshing!
6.
Number 4 High Performance Hair Care Clarifying Shampoo
: I adore Number 4 Hair Products. These high end French hair products are so luxurious! Until I tried this shampoo, I have never been one to clarify my hair as clairfying shampoos always seemed so over-drying. Well, this shampoo does not over dry nor strip my hair. I just cleanses deeply and removes all traces of product residue.
7.
B. Kamins Laboratories Maple Sugar Body Scrub
: This is a big tub of pure maple sugar combined with luxurious oils, antioxidants, and AHAs. Since this is an oily scrub, I only use it during night time showers as it does leave a bit of an oily residue on my skin (I don't mind that before bed, but I prefer not to have that oily feeling during the day). I mostly use this on my rougher areas like my elbows and heels. A little bit goes a long way. So, this huge tub will last me forever!
8.
Ecru New York Sea Clean Shampoo
: This freshly-scented daily shampoo does just what I need! It cleanses my hair completely without overdrying it. I leaves my hair bouncy and shiny. Plus, it has a great lather!
9.
Ecru New York Protective Silk Conditioner
: This thick and creamy conditioner detangles and conditions my hair in 60 seconds. It provides both protein and moisture to strengthen and soften my hair. Plus, it smells amazing!
10.
Aphogee Keratin 2 Minute Reconstructor
: I don't think that I could do a shower post without mentioning a product from ApHogee! This Keratin 2 Minute Reconstructor has been a staple product in my shower for about 10 years. About once a week, I use this 2-Minute treatment after shampoo and before conditioner. This product has proteins and amino acids that penetrate deeply to help combat damage from highlights/color treatments. While not as effective (or as complicated) as my beloved
ApHogee 2-Step Protein Treatment
, this is still a great way to get protein into your hair on a weekly basis in a quick and easy way.
So, there you have it! The Top 10 Items in my Shower!!! :) I would love to hear about what shower products you are loving day-to-day!
Be sure to visit the links below to see what my fellow Top Ten Tuesday bloggers picked for their top Shower Items! :)
XOXO!!!
15 Minute Beauty
polish insomniac
Beauty Info Zone
Pammy Blogs Beauty
Gouldylox Reviews
Prime Beauty
The Pink Sith Blog
Blushing Noir
Beautiful Makeup Search
Beauty and Fashion Tech
Phyrra: Beauty for the Bold
Beauty411
The Makeup Blogger
Older Girl Beauty
Perilously Pale
Retrodiva's Beauty