It is time for an update in my
Shoe/Bag Love! JustFab review series
! Every month, JustFab releases new items in their online Boutique. This month the choices were amazing!!! It was so hard to pick from the items as there were so many that interested me.
After browsing the selections, I finally decided upon the beautiful
Bogota flat
and the
Pantheon in black
. I have been eyeing the Pantheon for *months*! When I saw that it was now available in black, I think I might have squealed! lol! While the other colors were nice, I knew that I just had to have the black version of this huge bag!
Sign Up! There is a great BOGO Sale!
If you haven't signed up for JustFab yet, I totally recommend this shopping site! Plus, they are having a great Buy One Get One Free Sale right now! :) So, feel free to click on any JustFab link in this post to use my referral link to sign up! :) Oh, and depending on what type of deal JustFab is currently running, when you sign up, you get from 20-50% off your first item!!! Plus, when you refer friends, you can earn credits towards free items. So, be sure to check out the links and sign up! :)
Are you not familiar with JustFab? Let me give you this scoop! :)
JustFab
(short for
JustFabulous
) is an online fashion site and styling service. They offer trendy and affordable shoes, handbags, jewelry, jeans, and accessories to subscribers (called VIP members). When you
sign up to become a VIP member
, you take a style quiz. Then JustFab pairs you with a stylist who creates a personalized online boutique for you to shop from. Everything on the site is $39.95!!! You will be charged a monthly fee (unless you elect to "skip a month" then you won't be charged) which gives you credit for one item. So, that is one monthly fee for one item (not an item plus an additional fee). Of course, you could always purchase more than one item a month. They seem to have a lot of 2 for/ $39.95 deals, too.
Besides the items in your personal
JustFab Boutique
,
VIP Members
also have access to shop in JustFab's Special Collections. Their special collections include a
Hello Kitty Collection
, the edgy
Iron Fist
collection, featured selections from the
IPSY Girls
, the
Denim Shop
,
Fall Bags
, the
Fowler Collection
by Elle and Blair Fowler, and much more!
If you missed some of my previous JustFab reviews, please check them out here:
Just Fab Monthly Shoe and Accessories Subscription
,
Shoe Bag Love
,
What's In My Diaper Bag?
,
The Fowler Collection
,
Outfit of the Day
, and What's In My Bag?
I have been so into flats lately!!! As a stay-at-home Mom of a 1-year old, flats just really fit my current lifestyle. I am either at home playing with my baby and cooking or doing housework, running errands about town, shopping at the Mall, out to lunch, or on playdates or at playgroup. So, not only are flats practical but also the right flat can pull together my whole outfit! Also, as you can imagine with all the errands that I do, a huge bag is essential. I have slowly drifted away from the traditional diaper bag in honor of a large handbag converted into a diaperbag/purse hybrid. Using a large handbag is just so much more chic than carrying a diaper bag! :)
One of the things that I love about shopping the JustFab site is that there are images included with each item showing ideas for how to style it! There is no question that this helps me make my selections. Plus, I get some really great ideas!
Here are some examples from the JustFab site for how to style the two items that I got this month:
Lets talk details! I love sharing the scoop on my items! :)
The Bogota Flat:
What a unique flat! I honestly don't have anything else remotely similar to it in my shoe collection! The design is trendy and fun while also being very neutral and classic. This is my first foray into a snake-skin print. It is very wearable! I am amazed at how these little flats seem to magically go with everything!

The faux snakeskin print is a black and grey pattern over an off-white base color. While perfectly wearable now, these shoe will also be perfect for the transition to warmer weather in the Spring! The shoe is edged with a buttery brown color. So, these shoes wear equally well with black or brown clothes and accessories. There is an adorable little bow accent made of grey faux leather and gold metal with little gold metal grommets. The overall look of this shoe is flirty and sweet while also leaning to the trendy side of classic. I love these shoes and they are very fun and comfortable to wear!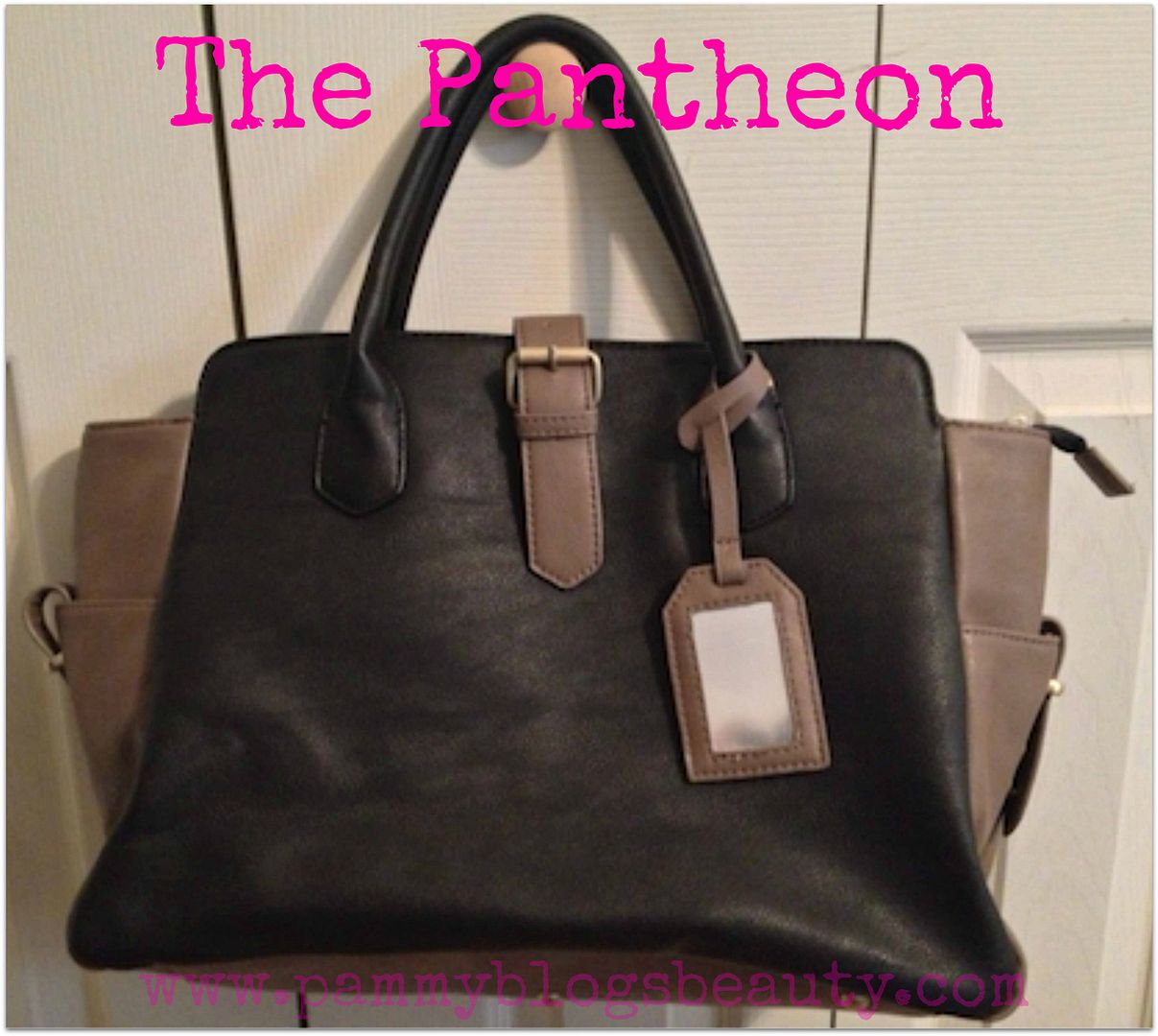 The Pantheon Bag in Black:
I have already fallen in love with this handbag!!! While it certainly is a very large bag, it is not so huge that it is not practical for daily use. With a 1-year old baby, I still need my bag to function as both a diaper bag and a purse. The Pantheon does that very well...and with great style! I feel like I look very "put together" when I carry this! It is sleek and modern with a business satchel vibe.
While I use this bag as a diaper bag/handbag combo, I think this would make a great "Mommy Bag" no matter what your kids ages! Also, it would be an ideal bag for work or school. You could easily fit a full sized laptop as well as books and notebooks inside. This bag would also be great for travel!
Features of the Pantheon:
The bag is made out of faux leather. While the material does not feel like real leather, it really looks like leather! It has a bit of a texture and the finish is matte. The front, back, and handles are black and the sides and bottom are brown. Personally, I love black and brown combined. I think the look is so sophisticated!
The hardware on the bag is a brushed gold. The top of the bag features a full zippered closure as well as a buckle closure (that snaps). There are two exterior side pockets that are big enough to hold a water bottle, bottle, or sippy cup. The side pockets have a little snap closure that I have been able to use to attach the bag to my stroller!!! Yay! This works as long as I don't over-stuff my bag (making it too heavy). The bag also has a removable long shoulder strap that can be adjusted for one shoulder or can be worn cross-body. The bag also has an exterior zipper pocket which is perfect for keys and your phone. In addition, there is a luggage tag included.
The interior print is adorable!!! It is a black and white hounds tooth check pattern. Very chic! The interior features one zipper pocket and two other size pockets. I actually like that this bag does not have a divider in the middle like many JustFab bags do. The drop on the handles of the bag is 4 inches which makes it long enough for me to wear it by its handles on my shoulders (a key factor for me!). The shoulder strap works well. However, I prefer to just carry it on my shoulders using the handles.
Bag Dimensions: Size: 18L x 12H x 5W
Note: This bag comes in two other colors: Brown and Mustard

As you can probably tell, I just love my JustFab selections this month! The flats are so unique and adorable and the bag is just right! As you guys can tell from my previous reviews, I love using JustFab handbags as diaper bags. They are so inexpensive compared with most diaper bags while also being attractive and practical! I don't mind if I get spills on an inexpensive handbag. While I love my designer bags, I have no desire to use them as diaper bags and risk those spills! So, JustFab bags are just my speed right now! :) Flats seem to be my "speed" too lately! They are comfortable and stylish and perfect for everyday wear. I always get compliments when I wear my Bogotas! Love them!!!
As always, thanks for reading! What are you eyeing from
JustFab
? Be sure to check back in a few weeks for next month's
JustFab review
!
XOXO!!!
Referral links included in post