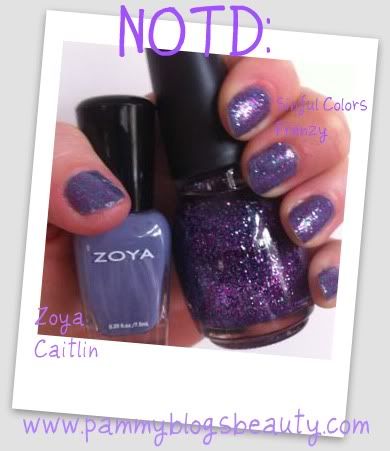 To quote Buddy the Elf, this nail look is "Purple-y". I don't know what it is, but I am just digging purple nails lately. Yes, it is one of my favorite colors. But, I just think it is a nice change from the neutrals that I have been wearing. Plus, nails are the best place to experiment with sparkle and color!
This nail color literally just makes me smile! Sparkly and pretty!
I used
Zoya's Catlin
as the base for this look. Then I layered 3 coats of
Sinful Color's Frenzy
#922 on top. Gorgeous!
Catlin
's steel-lavender shade beautiful on its own as well. Actually, even my husband compliments my manicures when I wear this shade. I got this little mini bottle in one of my
Birchboxes
!
Sinful Colors
polish is a great cheap-thrill drugstore polish brand! For about $2.00 you have a great assortment of fun colors and finishes to play with. I find the quality to be very good considering the price.
Love this manicure and will wear it again. I got a ton of compliments!
Do ya'll like NOTD posts? I am thinking of doing more of these! I am a bit nail obsessed lately and I think doing routine NOTD posts will encourage me to get creative with my manicures. :)