Affiliate Link
Press Sample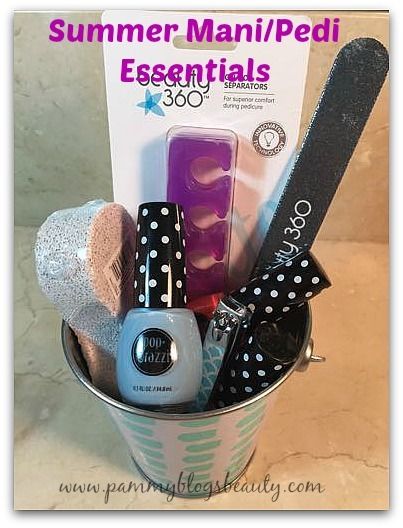 It is finally Summer Vacation time!!! School is out and the weather is hot. While we are not taking a beach vacation this year, I am still getting beach-inspired with some super fun mani/pedi supplies from Beauty 360 and pop-arazzi!
The hot weather has me wearing flip flops or sandals every day and fun summer colors and fashions. I always switch up my polish colors to Summer-friendly hues this time of year. Plus, with all this sandal and flip-flop wear, I need to do pedicures weekly or bi-weekly to keep my feet looking pretty and feeling soft.
Have you heard of
Beauty 360 tools and pop-arazzi polishes
? These brands are exclusively sold at
CVS/pharmacy
. From the super cute polish bottles to the great selection of mani/pedi tools and accessories, you are going to have everything you need for a great Summer mani/pedi!
I recently tried out an assortment of pop-arazzi polishes and some Beauty 360 tools.
From pop-arazzi, I tried Living Coral (a perfect Summer shade! A pretty pop of coral with a very subtle shimmer), The Hue is Blue (a soft creamy baby blue with the slightest hint of shimmer), and Toes in the Sand (a warm beige). I love how Living Coral and The Hue is Blue look like a matte creme at first, but then when you look closely, you see a lovely and very very subtle shimmer. The pop-arazzi polishes are in such pretty shades and OMG...the bottles, so cute! The formula did apply a bit streaky and thick for these. However, I did find the formula to be fairly workable and had a pretty good finish after 2 coats. Wear time was a bit diminished with some peeling before 2 days with the The Hue is Blue shade. However, the Living Coral shade wore for 3+ days with no peeling, which is very good! Despite the minor peeling issues with some of the shades, I still loved the color and look of the polish. Plus, these polishes are a great deal at CVS!
Beauty 360:
What a great assortment of everyday tools for your nails, feet, and hands! I tried the following:
3 Winners will each get the following prizes:
Beauty 360 Ergo Nail Clipper
Beauty 360 Shape Defining Nail File
Beauty 360 Cuticle Pusher
pop-arazzi Just Beachin' Nail Polish
pop-arazzi Shell Me More Nail Polish
pop-arazzi Short But Sweet Nail Polish
To enter, just fill in the Rafflecopter form below. Note: Please see detailed rules on the form. USA only, 18 and older please, prize subject to availability, prize not redeemable for cash, Giveaway void where prohibited, and Pammy Blogs Beauty not responsible for items lost in mail. Giveaway ends:
Affiliate Link