Hello there my lovely readers!!!
OMG, how exciting!!! A few weeks ago, I won the spectacular
Beauty Crazed
Holiday giveaway! Well, it just came in the mail, and, oh my, $500 worth of cosmetics...this is the most new makeup that I have ever had in my hands at one time!!! I was literally jumping with joy when this box arrived!
So, I am sending out a HUGE thank you to Lisamarie and Christelle over at
Beauty Crazed
. If you have not had a chance to check out their amazing blog, please go check them out!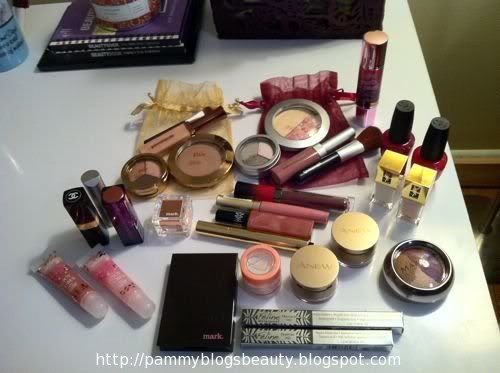 a new lipstick from Chanel

:

Chanel Rouge Coco in 05 Mademoiselle!

YSL Rock & Baroque:

Touche Eclat & Manicure Couture - duo vernis couleur - No 4 Duo-Y-Cone!

shu uemura presented an Abracadabra Fantasy:

lip duo tint & gloss in love apricot!

Lancome Juicy Tubes 100% Nautral Origin:

Sheerfully Sweet & Blushing Beauty!

Benefit - Girl Meets Pearl

OPI Swiss Collection

Nail Lacquer in Color So Hot It Berns & From A To Z-urich!

Vasanti Tinted Lipbalm:

Columbia

Mary Kay Metro Chic Collection:

Vinyl Lip Shine in Attitude & Be Radiant Baked Powder in Dusk!

mark. on the dot Eye Color Compact

& l

ip to be square Lip Tint

in sheer rose!

Avon Anew Youth Awakening Eyeshadow & Primer Kit:

shimmering dusk & spring green!

LuMESH Lipgloss:

Magaly!
In honor of winning, I decided to dabble a bit in the video medium. So, I whipped out my iPhone and shot a video of the box-opening! Please bear with me as this is my first ever video! :) And, lol, I hope that I don't make you too dizzy watching it! Also, tech-wise, the only video capabilities that I have are my iPhone (which lacks a tripod) and my iMac. I think that, generally, writing is my best medium for expression (as I am a really shy person); but, it might be nice to have some videos to supplement my blogging from time-to-time or to do tutorials.
I am going to a link to my *brand new* YouTube channel, so if you enjoyed watching the video, please subscribe to my channel!
Here it is!
Pammy Blogs Beauty Channel
Hope you enjoyed watching! I had to edit out quite a few Makeup items out of the video as otherwise the video would have been way too long. But, I love everything! You will see MANY of these products reviewed very soon on this blog! I have a ton of swatching, testing, and playing to do with this lovely makeup!!! How fun!
Thanks for joining me today!!!