Affiliate Link
Press Sample

It is time for another update in my "My Skin Loves" blog series! As many of you know, I reserve the "My Skin Loves" series for my reviews of my latest and greatest skincare favorites. Believe me, I test out a lot of skincare. With this series, I share with you the best-of-the-best: my ulitmate skincare favorites that "My Skin Loves"! :)
Over the past few weeks, I have been testing out Algenist's *amazing* Genius Ultimate Anti-Aging Cream and Ultimate Anti-Aging Eye Cream. I have had my eye on these products from
Algenist
for over a year. So, I am super excited that I was finally able to try them out. Algenist is one of my hands-down favorite brands (seriously, it is in my top 5 skincare brands of all time!). Many Algenist products are Holy Grail/daily use items for me:
Algenist's Regenerative Anti Aging Moisturizer with SPF 20
(I am completely obsessed with this daily lotion!) and
Algenist's Overnight Restorative Cream
(this night cream is amazing! It has the perfect texture!).
Before diving into my review of the Algenist Genius Ultimate Anti-Aging Cream and Eye Cream, lets talk a bit more about Alguronic Acid (The key ingredient in Algenist products). I bet some of you are scratching your head thinking "what the heck is Alguronic Acid?"...
So, what is Alguronic Acid and what does it do?
The story of the discovery of Alguronic Acid is a good one! Sometimes, the best discoveries are the accidental ones!
A team of biotechnology scientists in San Francisco, California, focused on developing microalgae-based renewable energy solutions, unexpectedly discovered Alguronic Acid, a powerful compound responsible for regenerating and protecting the microalgae cell. When scientifically tested, Alguronic Acid demonstrated significant anti-aging properties, increasing elastin synthesis by up to 32%* and cellular regeneration by up to 55%*.
Algenist Skincare is the first line to introduce Alguronic Acid in the skincare market. I have a feeling that they have started a big thing here with this ingredient! The results are scientifically tested and promise good results. Exciting!!!
My Algenist Skincare Favorites and the Genius Line: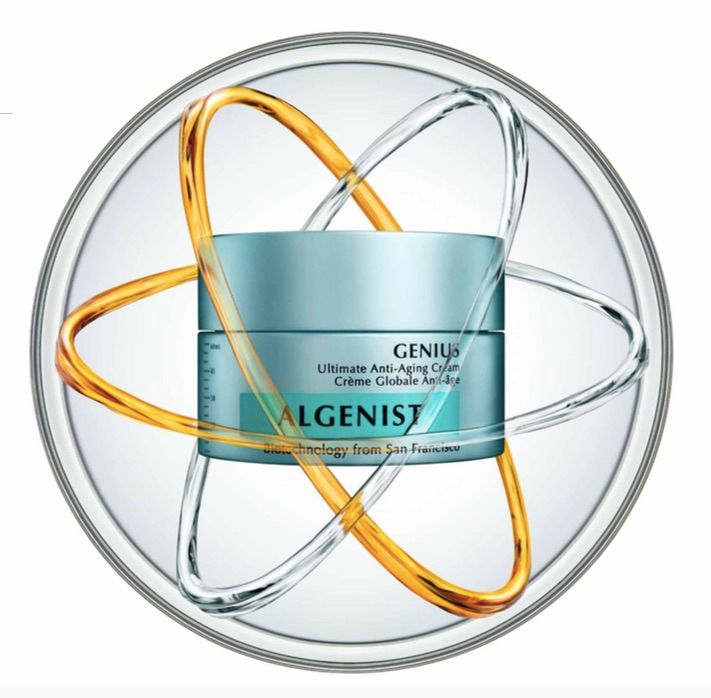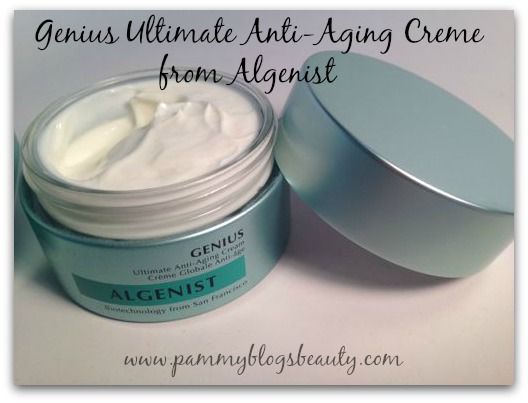 Algenist Genius Ulitmate Anti-Aging Cream
:
I really enjoy using this ultra-rich cream! I love the smooth and buttery feel. Plus, the scent is so soothing! It is packed with anti-aging ingredients to combat "accelerated signs of aging". While I certainly do not experience these accelerated signs, I still want to keep those signs at bay. As it stands, my only signs of aging are fine lines and possibly some loss of radiance (you know, my skin just isn't quite what it was). My skin is sensitive. So, finding anti-aging products that work for me while still being gentle on my skin can be tricky. I experience no irritation with this product. On the contrary, I feel that the richness of this product is very soothing for my skin. This is a perfect night cream for me in the winter months when my skin is at its driest. With that said, this cream might be too rich for the Summertime or for anyone with skin on the oily side.
How I Used:
I used this cream as a night cream only. It was the last step in my skincare routine before bedtime (after cleansing, applying a toner or peel, and applying a serum-sometimes). Note: Algenist does recommend using this twice a day for best results. However, I am pleased with my results with using it once a day for a few weeks.
From Algenist:
Genius represents the culmination of Algenist research to date. A powerful and highly active formula, it addresses the accelerated signs of aging caused by hormonal changes, environmental stress and the natural aging process. The ingredients harnessed in Genius are delivered in a luxurious, emollient formula that instantly absorbs into the skin, softening and smoothing upon contact.
Results are apparent in 10 days and more visible after 28 days of usage. Genius addresses deep wrinkles and expression lines, fragile thin skin texture that's prevalent with hormonal changes, extreme dryness and dullness from excessive environmental exposure and extreme loss of elasticity that leads to a sallow appearance.
Algenist Genius Ultimate Anti-Aging Eye Cream
:
Nothing beats a good eye cream. There is no question that my eyes are my "trouble spot". It is certainly where my aging is more apparent (by evidence of fine lines and even crepe-y eyelids). Not to mention, I have absolutely the worlds worst dark circles. They are super-duper dark. So, I always am in search for super rich eye creams that act as a good base underneath very dense and heavy concealer.
This Genius Ultimate Anti-Aging Eye Cream is so lovely to apply! It is a super rich and dense cream. Like the face cream, it feels super buttery and it almost seems to melt right into your skin like a body butter. Consistent use of this Genius Ultimate Anti-Aging Eye Cream from Algenist has smoothed out the fine lines around my eyes, plumped my skin, and reduced the appearance of the crepe-y eyelids). I am thrilled. Plus, I like how this product feels underneath concealer.
From Algenist:
The GENIUS Ultimate Anti-Aging Eye Cream delivers unparalleled benefits through a combination of Alguronic Acid and Microalgae Oil. Alguronic Acid, Algenist's patented anti-aging ingredient, helps increase skin's smoothness, while Microalgae Oil, Algenist's newest breakthrough, replenishes, nourishes, and delivers smoother looking skin. Microalgae Oil also works to visibly replenish the delicate skin around the eye while improving the skin's luminosity.
These two ingredients joined with a plant-based collagen and a persian silk tree extract, visibly firm and lift the upper eyelid, nourish and smooth skin for a 360 degree action around the delicate eye area. Eyes will appear refreshed with lines and wrinkles visibly lessened.
My Overall Results with both the Eye Cream and the Cream:
Algenist's Genius Ultimate Anti-Aging Cream
and Genius
Ultimate Anti-Aging Eye Cream
were total winners for me! My skin looks fabulously smooth and plump. My fine lines are significantly diminished. There is a smoothness and freshness to the look of my skin that looks overall more youthful. My pores seem to be reduced and my skin feels super soft and smooth. Also, my skin on my face and around my eyes really does seem "firmed". Funny, I didn't even realize that I was experiencing a "lack of firmness" until I saw my skin firm up a bit from using this cream and eye cream combo! I am really thrilled with the results! I especially love how I can get such great anti-aging results with these Algenist Genius products without having to suffer through skin irritation. Many anti-aging products work well but cause irritation...this is not the case with Algensit! Algenist packs in great results without the irritation! Yes, these products are expensive. However, when you consider that these products work, and work well, then I think that they are well-worth the price. Plus, the products are super rich and concentrated. So, a little goes a long way and the jars should last you quite a long time. While my skin might not be the "target audience" for the Genius line (since I do not exhibit signs of accelerated aging), I do still feel that my skin can benefit from it's anti-aging properties.
In addition to the Genius Anti-Aging Cream and Eye Cream, the Genius line also includes a Cleanser and a Serum. As a lover of serums, I am really dying to try the
Genius Ultimate Anti-Aging Vitamin C + Serum
in particular! :)
My Algenist Skincare Favorites and the Genius Line:
Affiliate Link