I Bought It

It is time for a
Makeup War
!!! We dubbed this challenge "
Brand Wars
" as we are battling it out by sharing our current top picks from our favorite brands. I have many favorite brands. However, when I think of my makeup favorites in general, one brand really stands out for me: MAC! So, I thought it would be perfectly fitting for me to feature MAC in this Makeup Wars!
Are you a MAC fan, too? Then be sure to check out my ongoing monthly blog series "
MAC Matters
"! Basically, it is my challenge to build up a fabulous core MAC Collection while spending, on average, less than $21.00 a month.
Find out what products Top Beauty Bloggers LOVE:
Read Makeup Wars!
Before sharing my top favorite items from MAC, let me share a little bit about the idea behind Makeup Wars. The Makeup Wars Bloggers are a group of top beauty bloggers that publish coordinated bi-weekly posts. The Makeup Wars bloggers collectively pick topics to blog about (e.g., Top 10 Products, Beauty Pampering, etc). We publish our posts at precisely the same time and link up through the graphic links and thumbnails at the bottom of our posts (be sure to click through these to read everyone's posts!). We literally have a blast doing these posts! Not only is it fun to create and plan these Makeup Wars posts, but also the behind-the-scenes beauty chatter only increases our enthusiasm for the subject and for products and makeup in general!

To find out more details about these amazing products from MAC, please click "read more" below! :)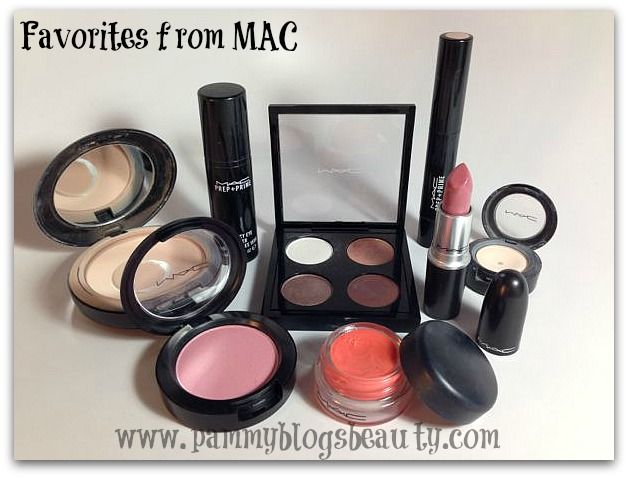 My Current Favorites from my MAC Makeup Assortment:
Some of these are new additions to my makeup routine and some of these are *old* favorites! Either way, I am loving all of these and consider them my "best of the best" as far as the MAC makeup that is in my current makeup collection. Sure, I have more than 9 MAC items in my collection...these are just my 9 current favorites! :)
MAC Studio Fix NC15: Lets just go ahead and start off with my oldest favorite MAC product. Many of you readers know how much I love this powder and how I wear it all the time. I know, I know, lol, I just can't stop talking about it! Most days I don't wear liquid foundation. I just slap on some concealer and then dust on a light application of this amazing powder and call it a day. This powder is so easy to wear and it gives great coverage. The shade NC15 is a perfect match for my super fair skin. Even though my skintone is more on the cool-toned side, for some reason, this shade works perfectly for me! It cancels out any slight redness and leaves my skin looking flawless. I adore this powder and simply won't live without it. I always have a backup on hand for when I run out. It is probably my most repurchased makeup item (ever) and the primary reason why I choose to feature MAC for this Makeup War! :) Sure I have tried other powder foundations that are good. I just always come back to this one. I think the perfect shade is the clincher. My skin just looks good when I use this. It is that simple!
MAC Satin Taupe Eye Shadow: This is my hands-down favorite taupe eye shadow. Actually, I featured it in another makeup war: Battle of the Taupes. It is just beautiful!!! Nothing brings out my blue eyes like this gorgeous shadow. I like wearing it in the outer corner and the crease. I am on my 3rd pan of this and will always repurchase it when I run out! (Pictured Above: Bottom left in quad. This little quad is my go-to everyday eyeshadow! I love that you can make your own custom eyeshadow palettes at MAC!)
MAC Embark Eye Shadow: I have been very into using shadow as a liner lately. I like the softer look that shadow-as-liner gives you. This brown is perfect for this purpose! I just use a damp MAC 266 Small Angle brush to swipe it on right at the lash line.
MAC Prep + Prime Vibrancy Eye Primer: My under eye area is the bane of my existence. I have super-duper dark under eye circles from heredity (dark purple circles) and allergies and lack of sleep (redness). So, I rely on heavy-duty full coverage concealers to cover these bad boys. I find that using an eye primer in addition to an eye cream helps to smooth the area and allows concealer to apply flawlessly. This eye primer is perfect for exactly this purpose! Check out my full review here: MAC Prep + Prime Vibrancy Eye Primer.
MAC Powder Blush in Well Dressed: Ya'll know how I love blush! ;) This one is so subtle and gorgeous for pale skin. Well Dressed is a lovely blue-toned pale pink. If you are a cool-toned blonde like me, you must try this blush!
MAC Lip Lustre in Syrup: This is the quintessential cool-toned mauve/pinky-neutral lippie. This was one of my best "MAC Matters" purchases! I find it to be that perfect shade for everyday wear. I know this term is overused, but it really is my "lips but better" shade. It is just so easy to wear!
MAC Prep + Prime Highlighter in Radiant Rose: I just love this brightening/highlighting pen! You can use this to highlight/sculpt your face or to brighten your under eye area (you know that I am all about that!). It is similar to the famous YSL Touche Eclat only much less expensive. The light pink tone is just perfect for my NC 15 skin! I like it for under eye brightening as well as highlighting my browbone, cheeks, nose, and chin. I just love it! The effect is not shimmery, it is just "brightening".
MAC Vanilla Eye Shadow: This is probably my most used shadow in my collection! I am on my 2nd or 3rd of these and will continue to repurchase forever (seriously!). It is actually almost identical to my skintone. So, it makes a perfect brow highlighter or "naked" type shadow. I also use it to smudge out other shadows or "erase" makeup mistakes. I use it with almost any eye look that I create. I consider it a makeup must-have!
MAC Tendertone in Purring: I just love MAC's tendertones! They are glossy balms with SPF. I find them to be super moisturizing. They just feel good on the lips and give such a nice glossy finish. This one in Purring is a pretty sheer tangerine orange color. They are not sticky and they feel really great going on. Nice and soothing! My lips have been so dry lately that I am reaching for this one more and more.
So, those are my current favorites from MAC! What do you love from MAC? As I continue my "MAC Matters" series, I am always looking for good MAC product recommendations!!!

Thanks for reading! Be sure to click on the thumbnails below to scroll through the rest of this week's Makeup Wars: Brand Wars! See what my fellow Makeup Wars bloggers are loving from other top brands!

XOXO!!!