Affiliate Link
Press Sample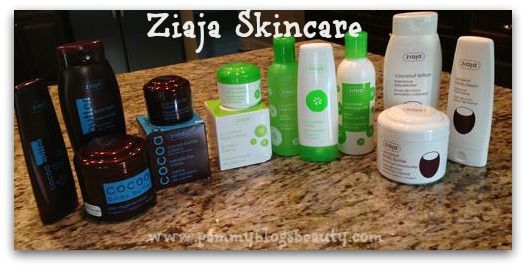 I just love exploring a new skincare line. Especially a fabulous line like
Ziaja
!
Ziaja
is a respected and established European skincare line that is now shipping to the USA. Would you like to know another great thing? Everything in this line is under $10!!!
Ziaja
features 11 different facial and body skincare lines: Aloe, Argan Oil, Cocoa Butter, Coconut, Cucumber, Goat's Milk, Marigold, Marine Algae, Natural Olive, Orange Butter, and Men. You can search the website for products based on product lines or specific skincare need (face, toners, etc).
Ziaja
sent me a variety of items from the Coconut and Cocoa Butter Body lines as well as the Cucumber facial skincare line to try out.
The
Ziaja Skincare
line is a Polish brand that is now available online for shoppers from the USA. The products are natural, not tested on animals, and all under $10 each! The products combine traditional components like herbal extracts and vitamins with innovative modern technology based on pharmaceutical expertise.
Ziaja
wants to bring you innovative products at a competitive price! The prices are really very reasonable!!!
To find out how I like the Coconut, Cocoa Butter, and Cucumber skincare products from
Ziaja
, please click "read more" below! :) I might have just found my favorite Coconut body scent...ever!
OMG!!! If you are a fan of coconut scents (like me!), you are going to go bananas for this line! Every Summer, I rotate my products to use all of my coconut and tropical scented products. Ziaja Coconut is now my clear favorite scent in the Coconut category!!! This is absolutely the best coconut fragrance that I have ever smelled! All of the Ziaja Coconut products that I tried carry this rich and creamy true coconut scent. It is not overly sweet. It just smells like real coconut. It seriously smells good enough to eat! Actually, I wish that they made a body splash in this scent. I find that the scent from these Ziaja Coconut products is rather long lasting, which I really like! Ziaja's Coconut line was designed for skin and senses therapy for normal and dry skin.
Ziaja Coconut Hand Cream: This hand cream contains coconut lipids rich in omega 3, omega 6, and Vitamin E. It is rich and creamy while also being fast-absorbing and non-greasy. The 2.8 fl oz size is sleek and compact and convenient to carry in your purse. Retails for $4.99.
Ziaja Coconut Body Lotion: This is a light weight body lotion with the fabulous Ziaja Coconut scent! Like the hand cream, it is also rich with Omega 3 and 6 as well as fatty acids. I use this all over my body and it leaves me feeling soft and scented. A 7 fl oz bottle retails for $7.49.
Ziaja Coconut Body Butter: I just love the texture of this body butter! It has a slightly whipped and airy butter feel. The body butter literally just melts right into your skin and absorbs. I am amazed at how non-greasy it is considering how moisturizing it is. I use this on my body parts that need the most moisture like my dry elbows, knees, and feet. I also like slathering this on all-over after a bath. A 7 oz tub retails for $9.99.
Ziaja's Cocoa Butter Skincare is for normal and dry skin. This line is formulated to enhance skin's elasticity and softness while prolonging skin's natural tan. The line was formulated to improve skin tone. The products all have a wonderful and creamy cocoa butter scent! I have particularly loved this line as cocoa butter is known to be helpful for the stretching baby bump belly for expectant mothers! So, the body balm has become one of my go-to moisturizers for my belly. :) Now, I know that stretch marks are primarily hereditary. However, last pregnancy I was careful to moisturize my belly a few times a day and I did not get stretch marks. So, I want to do the same with this pregnancy!
Ziaja Body Balm: As I mentioned above, this has become one of my go-to moisturizers for my baby bump! This is such a unique product. It is much thicker than a normal moisturizer. The texture is unlike a lotion or a body butter. It is really a balm-like consistency. At first it is hard to spread. You kinda have to massage it into your skin. It leaves a bit of an oily feel and a shiny look to your skin. However, it is not so oily that you can't use it during the day. I really like the sheen that it leaves on my legs. The product has revitalizing and firming benefits and also prevents moisture loss. It is formulated with Vitamin E, Pro-Vitamin B5, and Cocoa Butter. A 7 oz bottle retails for $7.49.
Ziaja Cocoa Body Butter: I love this just as much as the Coconut Body Butter and I alternate between the two. I love the soft buttery feel! It replenishes your skin's lipids and protects the moisture barrier. It is enriched with Vitamin E, Omega-3, and Omega-6. Plus, it has that awesome Cocoa Butter smell! A 7 oz jar retails for $9.99.
Ziaja Cocoa Butter Hand Cream: I just love the formulation of Ziaja's Hand Creams. Like the Coconut Hand Cream, this Cocoa Butter version also keeps my hands soft and moisturized while also being non-greasy. I keep this tube in my diaper bag so that I always have a hand cream when I am on-the-go! The formulation contains both cocoa butter and canola oil. A 2.8 fl oz tube retails for $4.99.
Ziaja Cocoa Butter Cream: This cream nourishes the skin with Vitamin E and Cocoa Butter. The directions say to gently pat into your skin. The formulation reduces irritation, improves appearance of skin, and can prolong your skin's natural tan. I have only used this sparingly as my skin is on the oily side right now. However, I look forward to using this in the winter when my skin gets drier! A 1.7 fl oz jar retails for $7.99.
The Cucumber Facial Skincare line was designed to keep combination and oily skin types radiant and refreshed! Ziaja's Cucumber Skincare products provide gentle cleansing with a Cucumber scent. Now, these products do seem to be be quite scented. So, if you love the scent of Cucumber, then you will love the scent of these products. However, if you are not a Cucumber scent fan, then you might find the scent to be a bit heavy.
*note: Upon reviewing these products, I see that there is Vit A in the ingredients (an ingredient I am avoiding during pregnancy). So, I am going to discontinue use of the products with Vit A until after I deliver my baby.
Cucumber Cleansing Milk: This is a lightweight lotion-type makeup remover. I like to use this by putting about 2 pea sized drops on a cotton round and then placing it over my eye. I hold the pad for a few seconds and then wipe away my eye makeup. Works great! I try to keep my eye closed during the process to eliminate any stinging. The product contains cucumber pulp extract, pro-vitamin B5, Vit A, and Vit E. Retails for $7.99 for 7 oz.
Cucumber Exfoliating Scrub: The Cucumber Exfoliating Scrub was designed for oily and combination skin. It gently peels off and removes dead skin while cleansing and soothing the skin. This scrub retails for $5.99 for a 2.8 fl oz squeeze tube.
Cucumber Face Toner: This is my favorite product from the Cucumber line! This is a very gentle toner that works to lightly cleanse skin while also hydrating and soothing the skin. I just love the feel of this on my skin after cleansing. If you are a fan of cleansing waters, then you will like this! When my skin gets on the oily side (especially during pregnancy during the summer), hydrating toners like this one are often the only moisture that I need beyond my serums and treatment products. The toner contains pro-vitamin B5 and cucumber pulp extract.
Cucumber Face Cream: This tub of moisturizer was created for combination and oily skin. It provides soothing hydration for your skin. The moisturizer contains Vit E, Vit A, pro-vitamin B5, and cucumber pulp extract. My skin has been super oily lately. So, I have really only needed to use this moisturizer sparingly. This moisturizer retails for $8.99 for a 1. 7 fl oz jar.
All-in-all, I am extremely impressed with
Ziaja Skincare
! I really adore the scents (especially the Coconut!) and the product formulations are really beneficial for your skin. Not to mention, the price is extremely reasonable. The line is certainly worth checking out!
As always, thanks so much for reading!
XOXO!!!