Affiliate Link
Press Sample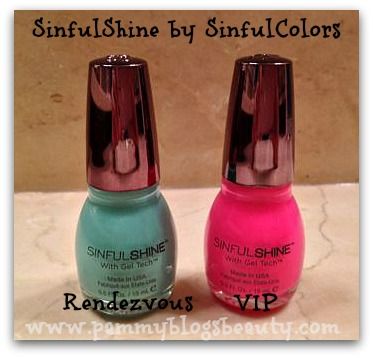 I love a great polish for an inexpensive price!
SinfulColors
has long been a go-to brand for me when I just want a new trendy color without paying a hefty price.
SinfulColors new ShinfulShine line
certainly delivers on-trend shades and fabulous shine!
The
ShinfulShine range by SinfulColors
achieves their high-gloss shine with their Gel Tech formula: a self-curing polymer formula that achieves the same super high shine gloss as acrylic gel UV polishes without the need to cure under a UV lamp.
Key Features:
Gel Tech formula: Great color and shine!
Polish contains a "Plasticizer System" for smoothness (also prevents chipping)
Glossy finish without the need for UV curing
3-free: Formaldehyde, Toluene, and DPB free, not tested on animals, made in the USA!
The Skinny:
I got to select 2 shades from the
SinfulShine
range. Honestly, it was so hard to choose! Almost all of the colors appealed to me! Since it is late Summer, I opted for some bright/fun colors: VIP (a creamy and bright hot pink) and Rendezvous (a soft light green/blue teal). These are such fun colors! I really love wearing them!!! :)
I just love the look of these polishes! The application is indeed very smooth. I needed about 2 coats for full coverage. These polishes do look super shiny and I achieved average wear (Generally, any polish chips on me after about 3-4 days. So, I consider that to be "average wear").
I totally recommend checking out
SinfulColors SinfulShine
polishes next time you are at Walgreens. For only $2.99 a bottle, you can stock up on a few fun colors without breaking the bank! :)
What shades from this line have caught your eye?
As always, thanks for reading!
XOXO!!!
P.S. Be sure to check out
SinfulColors
Social Media pages: twitter: @SinfulColorsNP and Facebook: SinfulColors Professional