Affiliate Link
Press Sample
Introducing the FOREO LUNA:
Are you ready to hear about the latest and greatest facial cleansing device on the market? I am totally being serious! This new device is amazing and I have totally fallen in love with using it! I love how my skin looks and feels after using this device for a few weeks.
Sure, there are a million vibrating or rotating brushes on the market (and I have tried a ton of them!). However, the
FOREO LUNA
is truly innovative and different. Even if you are already sold on your current brush or (on the flipside) even if you have tried a facial cleansing brush and don't like it... The FOREO LUNA is unique enough to deserve a try! You might just like it better than your usual brush!!!

source: FOREO LUNA
Here is why the
FOREO LUNA
is not just a standard facial brush:
Transdermal sonic pulsations, rather than standard oscillation, gently stimulate blood flow beneath the skin's surface, cleansing from the inside out and smoothing away the signs of aging in a similar way to the Botox® effect.
Nonabrasive brush surfaces made from soft, smooth silicone – the first of their kind - making it ultra-gentle and actually pleasant to use on the skin.
So effective, you notice a visible difference in skin tone after just 3 days, and your face will feel softer and invigorated after just one use.
Organic design – 100% waterproof, fully rechargeable for 450 uses at a time, and it looks beautiful as well!
The regular LUNA device comes in 3 different versions/colors: White for Ultra Sensitive Skin, Pink for Sensitive/Normal Skin (the one I tried), and Blue for Combination Skin. The LUNA is also available in a Mini size, a Men's edition, and a Luxe edition.
The LUNA device retails for $199. I know that is a steep price. However, keep in mind that there is never a need to spend any additional money (for replacement brushes).
You can find the LUNA online and also now at Brookstone and Harvey Nichols.
How I Use the FOREO LUNA:
1. First, I remove my eye makeup. Then, I wet my face with tepid water and apply my facial cleanser to my face and distribute. I like using either my favorite Neutrogena Ultra Gentle Cleanser or my Belli Anti-Blemish Facial Wash (which is formulated for pregnancy).
2. Next, I lightly wet the LUNA brush surface, then turn it on by pressing the center button (pushing it once will activate "cleansing mode"). I start to cleanse my skin by gently moving the LUNA over my face using slightly upward and outward strokes.
Note: You can adjust the intensity of the vibration according to your personal preference and for going over delicate areas of your face like your under eye area. Simply press the + or - buttons during use to adjust.
I love how the shape of the cleansing surface on the LUNA really gets into the corners and angles of my face (like around the nose, etc). Plus, I feel that the overall shape of the device is extremely easy to hold and maneuver during the cleansing process.
3. After one minute, you will feel the LUNA device's vibrations pause 3 quick times. This indicates that you are finished. I love that it times you! :) You can then continue to the optional anti-aging treamtent.
Anti-Aging Mode/Treatment:
I will fully admit that I usually finish use after the cleansing mode. Even though I am in my late (gasp!) 30's, I still do not have any major lines nor wrinkles just yet. More so, I am usually exhausted before bed and just want to finish my routine quickly, lol! However, just for the sake of testing this device, I have used the Anti-Aging mode a few times to see what it was all about.
Basically, after the "cleansing mode" finishes, you press the center button again to go to "Stand By" as you rinse your face. Then you press again to activate the Anti-Aging mode. Just flip the device over and press the anti-aging surface to trouble areas on your face where wrinkles form. Relax your face and just lightly press each area for about 10 seconds until you are done moving through the areas.
I am not sure if the Anti-Aging mode is truly effective on wrinkles since I don't really have them (yet!). However, it does feel relaxing to use this mode and it really doesn't take that much extra time (even though I usually skip it).
Once the LUNA is charged, it keeps its charge for ages! Seriously, I have only charged my once and have been using it for weeks without needing to re-charge it. According to the user booklet, you can get upwards of 450 full cleansing/anti-aging uses out of one charge!
The LUNA is fabulous for travel! The device is extremely small and compact! I like the slim design and little carrying pouch. You can just easily slip this into your handbag or tolitries bag for easy travel. Honestly, I usually traveled without my usual cleansing brush because it was bulky and needed its charging cradle. I will now always travel with my little LUNA! I don't even need to bring its charger since it rarely requires charging.
I love how sanitary the LUNA is! Unlike other brush devices, you never need to replace the brush or cleansing surface...ever! This can get so expensive with sonic brushes that need a brush replacement every 3 months. Sure the LUNA is super expensive. However, after the initial cost. There is no need to keep spending on expensive replacement brushes like with other brush cleansing devices. The LUNA's silicone brush surface resists bacteria and is incredibly long lasting.
The LUNA is so gentle! I tested out the pink LUNA which was designed for Sensitive/Normal Skin. I find that the soft feel of the silicone brush surface is much more gentle than any of my sonic or rotating brush devices. If you have sensitive skin and have had trouble finding a brush that is gentle enough, then the LUNA might just be for you (and there is even a version more gentle than the one that I tried: the white LUNA device).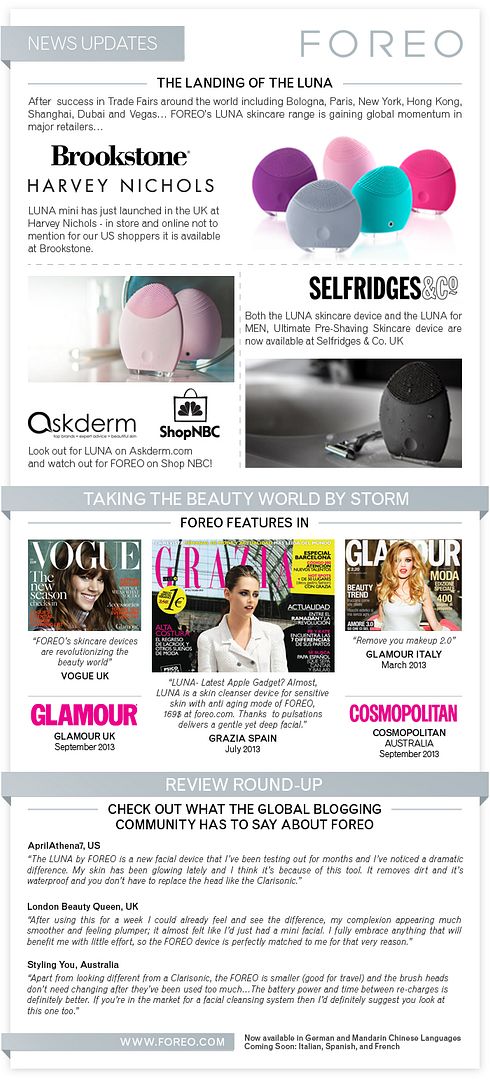 As ya'll can tell from this review, I really love my
FOREO LUNA
device! I feel that my skin just gets much cleaner when I use this amazing device. My skin appears to be clearer and feels much softer overall. The
FOREO LUNA
provides a deep-down clean that is also very gentle. The light daily exfoliation provided by the LUNA allows my treatment products to penetrate better so that they are more effective. Plus, the LUNA is quick and easy to use. It has been a pleasure adding the LUNA into my daily cleansing routine and I plan on continuing to use it every day! I have totally been reaching for the LUNA over my various sonic brush devices! If you are in the market for a cleansing device, I highly recommend that you check out the
LUNA
!
Thanks for reading!
XOXO!!!