I Bought It
Affiliate Link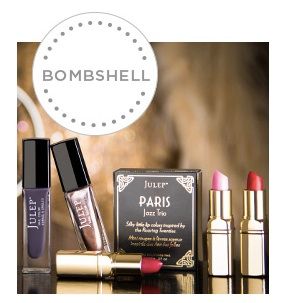 With the release of the new Great Gatsby film, Jazz or Flapper-inspired looks are totally on-trend! So, of course,
Julep
had perfect timing with their "Jazz Up Your Look: Set the Stage" Julep Maven Box!
I am so excited that I opted to get a box this month!!! Things have been so crazy with us putting our house on the market and getting ready for a move (hopefully soon! fingers crossed!!!). I honestly had intentions to skip the month to focus on cleaning the house and de-cluttering in prep for a move. However, when I saw how amazing this month's boxes looked, I just absolutely could not resist!!!
Let me tell you, seeing this box in person did not disappoint! Actually, this might be my
favorite Julep box
...ever! :) The polishes are beautiful, the hair accessories are adorable, and the trio of mini lippies....swoon!!!
The
Julep Maven program is a Monthly Beauty Box subscription
. It is a beauty subscription for nail polish lovers! When you sign up for Julep, you take a style quiz. Then, Julep matches you with a Style Category. For the Monthly Box, Julep pre-selects a box for you based on your beauty style profile. You get an email with a graphic (see the picture below) representing your box. If you do not want the box for your particular style category, you can easily switch to one of their other boxes.
The Skinny:
Subscriptions are $20.00 per month (but remember you can skip a month if you need to).
You get to choose your box! They have a great assortment every month.
With Julep, you can skip a month! If you can't find a box that you like or if you just don't feel like spending the $20.00 for a particular month, then you can simply opt to skip a month.
Each box contains 2 full-sized Julep Nail Polishes plus one Julep Spa full sized product. Also, there is always one box that has 3-full sized Nail Polishes and no spa product. I have literally loved every spa product that I have gotten! Seriously, I have found some favorites at Julep!
Box Value: The value of the box far exceeds the $20.00 cost! The nail polish normally retails for $15.00 a bottle and the product prices range from $14.00-$38.00.
You can earn credits for referrals! Here is how you earn "Jules": You earn 1,000 Jules for referring a friend to Julep Maven, 300 Jules for each full priced Maven box you are billed for, 200 Jules on your Birthday, 500 Jules on your Maven anniversary, 750 Jules when you pay for the monthly upgrade box. You even get 100 points just for becoming a Maven. As you can see, there are many ways to earn!
This month, I opted for the
"Bombshell" box
. It was a hard choice! All the boxes looked amazing!!! To find out more details about this box and to see more pictures, please click "read more" below!
Set the Stage and "Jazz Up Your Look": Julep's Flapper-Inspired May Bombshell Maven Box!
This box is so stinkin adorable!!! As always, it comes beautifully packaged and is packed with amazing products and cute extras!
Inside the Box:
Julep Nail Polish in Zelda: A gorgeous soft pinkish champagne super shimmery metallic
Julep Nail Polish in Gabrielle: Smoky mulberry creme (a deep rich purple shade)
Julep Paris Jazz Trio Mini Lipsticks: Silky little lip colors inspired by the Roaring Twenties (3 -.07 oz) The shades are: Lady in Red (Matte Crimson Lip Color), Sweet Lorraine (Bubble Gum Pink Lip Sheer), and Charleston (Cranberry Lip Sheer).
"Extra": Rose Hair Pins: 4 Decorative Rose bobbi pins (2 white roses and 2 peach roses) These are really pretty and I will totally wear these! They look very vintage-inspired
May "Bombshell" Maven Box Swatches:
The Jazz Trio Mini Lipsticks:
OMG! These mini lipsticks are adorable!!! I love "all things cute and girlie". So, you know that I just love these lippies! The trio is three little lippsticks in elegant gold tubes are packaged inside a vintage-inspired box. I really like the formula of these. They feel moisturizing and smooth on the lips and they leave a nice shine. This mini lipstick trio is actually what tempted me to get a Julep box this month (don't you just love that you have the option with this subscrption to buy a box or pass on the month?). I hope that Julep offers mini lipsticks in future boxes! I adore these!!! :)
What a great box!!! Not only are the items amazing, but also the box really is a great value. For $20 you get 2 nail polishes, 3 (mini) lipsticks, and 4 hair pins. A great deal indeed! The Mini Lipsticks retail for $28 and the polishes retail for $14 each. The value for the lipsticks and polishes alone totals to $52 (and that doesn't even include the hair pins!). So, you are getting $52 worth of products for the $20 box price. The value is a total no-brainer! If you are looking to explore the Julep brand, the montly Maven boxes are the way-to-go!
My fellow
Julep Mavens
, how did you like your box this month? What box did you get?