Affiliate Link
Press Sample
With the arrival of Spring and Mother's Day just around the corner, some really fabulous Spring fragrance gift sets are cropping up! Even if you are not shopping for a gift, these fragrance sets from Prada are just beautiful and are a great value! Plus, it is nice to be able to layer your sent with matching body lotion and to have smaller travel sizes to freshen up throughout the day.
I tested out the
Prada Infusion d'Iris Gift Set
and the Prada Amber Gift Set.

Both of these sets were recently released in April.
To find out how I liked these sets and to hear more de

tails, please click "read more" below!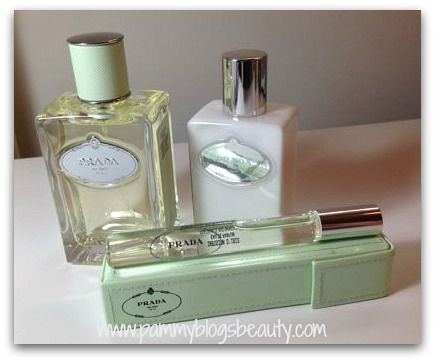 Prada Infusion d'Iris Gift Set
:
Infusion d'Iris is inspired by a search for balance and harmony in a chaotic and contradictory world.

I love this incredibly light and unique scent! It is sophisticated and sex. I find that the lightness of this perfume make it great for everyday wear.

Fragrance Notes:

A blend of Orange Blossom, Mandarin, Iris, Glbanum and Lentisc, Benzoin and Incense, Vetiver and Cedarwood evokes an ultra-feminine experience.
This scent is fresh, feminine, and very appropriate for Spring and Summer! The top notes dry down to reveal a deeper woody and earthy scent mingled with Iris

.
This scent is

truly

unique! I love that I can't think of a single fragrance on the market that this reminds me of. When you wear this, you have a scent that

is all your own.
The packaging is lovely! It is elegant and classic. The bottle looks beautiful on my perfume tray.
The

G

ift

S

et includes:
Eau de Toilette (3.4oz.), Eau de Parfum Roll-On (.34oz.) and Hydrating Body Lotion (3.4oz.)
Prada Amber Gift Set:
Prada Amber embodies classic femininity with a modern sensibility: the ultimate expression of a woman's self. It is a fragrance that every Prada woman knows she deserves, something instantly recognizable as unique and sensually evocative.
This is a classic and sexy warm Amber scent. I love the mix of vanilla, amber, and a bit of Patchouli. My husband, in particular, is a huge fan of this scent on me.

That is always a plus! I always get the "you smell amazing" compliments when I wear this. :)
Fragrance Notes:
Bergamot Oil Italian, Orange Oil, Bitter Orange Oil, Mandarin Flower, Mimosa India, Rose Absolute ABS, Schinus Molle ABS LMR, Peru Balsam, Patchouli Oil LMR, Raspberry Flower, Labdanum Resinoide LMR, Tonka Bean ABS LMR, Vanilla Absolute, Musk, Sandalwood Oil.
The Gift Set includes:
Eau de Parfum Spray (2.7oz) and Hydrating Body Lotion (3.4oz).
PRICE: $110
What scents are you loving for Spring and Summer?
As always,

t

hanks so much for reading!
XOXO!!!