Affiliate Link
Press Sample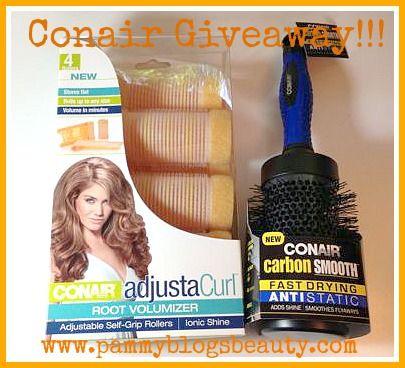 I love trying out new hair tools! Sometimes the "gadgets" and tools are exactly what inspires me to try new hair styles!!! I fully admit that I get into hair "ruts". As much as I love curls in my long hair, I often just opt for a pony tail or drying my hair straight. So, it really excites me to have an opportunity to test out some of Conair's new products. The good news is that these Conair tools are super easy to use. What is even better is that I am able to host a giveaway from Conair for their new AdjustaCurl Rollers and Carbon Smooth Brush! Yay!!!
Please keep reading for a review and video demonstration of
Conair's new Infinit Pro Auto-Rotating Curling Iron
and the Giveaway for the
AdjustaCurl Rollers
and the Carbon Smooth Brush!!!
Conair's new Infinit Pro Auto-Rotating Curling Iron
:
It is so quick and easy to create lasting curls in just minutes with
Conair's Infinit Pro Auto-Rotating Curling Iron
!!!
How I Use:
1. Clip the iron into place at the end of the hair. I find that it helps to leave a little bit hanging loose off the bottom.
2. Press either the right or left rotation buttons (depending on what direction you want your curl to go).
3. Then you just hold the iron and watch as the iron rotates and curls your hair by allowing it to wrap around the wand.
4. Hold the iron in place for a few seconds and then release the curl.
I love the results!!! The curls look amazing and are rather long lasting. I can usually get 2 days from my curls! :)
My Infiniti Pro Curling Results: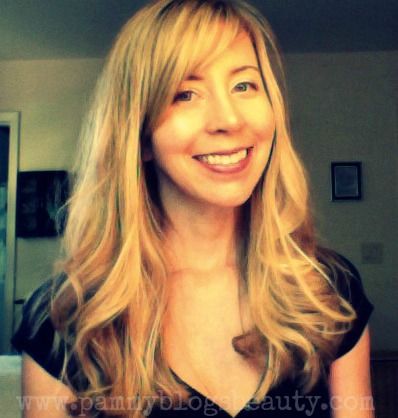 This new hair appliance... has a unique auto-rotating clamp that holds hair and spins around to create the perfect curl effortlessly! The 1 inch barrel has a tourmaline ceramic easy-glide surface which allows for smooth, shiny, silky curls. You can create an entire head of curls or just a few accent curls. Looser, natural looking curls can be created with wider sections of hair, or you can amp up the sexiness by stopping the rotation a few inches from the scalp.
The newest technology makes it simpler to clean off styling product residue and hair glides easily over the surface as you're curling. The barrel has bi-directional rotation, and the no-slip silicone strip allows for deep shine. There is less damage and zero hot spots. This amazing tool has two unique high-heat temperature settings that provide styling versatility for all hair types reaching 400°F on high heat. It has 30-second heat up and evenly distributes heat so that the style you create has a salon-perfect, silky smooth, shining finish.
The Skinny:
Here is a Video of me Demonstrating the
Infinit Pro Auto-Rotating Iron by Conair
.
This video shows
my actual first experience with the iron
. You can tell that it is a bit tricky at first. However, I soon got the hang of it. I am now much more proficient with it. :) I think the hardest part is getting the iron to grab onto my layered hair (sometimes my hair feels so slick from my heat protectant that it slips out). Also, using the left and right rotation buttons takes a bit of practice. Sometimes when I set the iron down, I accidentally activate the rotation buttons. Overall, I love this iron! The curls it produces are just beautiful. Also, I find the rotation feature to really speed up the process of curling my hair. The rotation also helps with hard-to-reach areas like the back of my head.
Here is Conair's Video Tutorial for how to use this
Infiniti Pro Iron
:
Conair Carbon Smooth Extra-Large Thermal Round Brush
:
Round brushing my hair is just about the easiest way to style it. Using a brush like this one from Conair smooths out my hair and leaves it looking shiny and bouncy with a bit of "bend". This brush grips my hair nicely and is easy to handle and use! The heat of your blow dryer warms up the barrel to help style your hair. Tip: try to leave your hair wrapped around the barrel for a minute or so to "set" the hair.
Shape up and style your hair beautifully like the pros! This sleek looking new brush features the latest Carbon technology. The Carbon properties on the barrel help to quickly blow dry hair, curb flyaways, add shine and reduce static providing gorgeous professional results. The new wavy bristle technology helps to gently grasp hair firmly making blow-dry styling easy! It smooths and strengthens coarse, curly, or wavy hair and can create soft waves or curls.

The Skinny:
Conair AdjustaCurl Self-Grip Rollers
:
These rollers are so unique!!! Honestly, I am surprised that no one invented them sooner. What a great idea: Adjustable size rollers! No need to dig around trying to find the perfect size roller. Just create your own custom size with these! :) You can use these to either create volume or curls. I like making a super big roller and using it for volume right at the crown of the head.
If you're looking for root volume, lift or customized curls, you can now achieve it all with just one unique hair roller! With Conair AdjustaCurl™ Self-Grip Rollers, you can create easy, root volume or curls of any size based on how tight or loose you roll them up.

To use:
Start with the adjustable piece out flat and roll it to the size volume or curl you desire.
Add extra volume by rolling hair into the root volumizer roller, or, create classic curls, waves or smooth styles by rolling hair into standard rollers.
Once you're finished styling, the Conair AdjustaCurl™ rollers become flat again to stack and store for ultimate portability.
The Skinny:
The Giveaway Details:
Giveaway Prize:
One winner will get the Conair AdjustaCurl Rollers and the Conair Carbon Smooth Round Brush
The Rules:
You must be 18 years old to enter (or have your parents permission).
Prize is shipped directly to the winners by Conair. Pammy Blogs Beauty is not responsible for items lost or damaged in mail/transit. Prize fulfillment is through Conair. Prize is not redeemable for cash.
To enter the contest, you must fill out Rafflecopter form below. The winner will be chosen randomly through Rafflecopter. In the event of technical error, Pammy Blogs Beauty reserves the right to pick the winner. The entries will be verified as needed and individuals with multiple or falsified entries will be disqualified.
Only one entry per person. With that said, you may earn extra entries by tweeting, liking on facebook, etc on the Rafflecopter form (see details below on how to earn extra entries).
Contest is void where prohibited by law.
Contest runs from May 17th -June 14th 2013. Winners have 48 hours to respond to winning email from Pammy Blogs Beauty or a new winner/winners will be selected.
To Enter the Contest (required rules):
Please see the rules listed above.
1. You must be a follower/Subscriber of this blog in at least one way to enter. You have multiple ways to follow this blog: e-mail subscription, Google Friend Connect,
facebook, twitter, Pinterest, Google+, BlogLovin, Hello Cotton, and Instagram.
The more ways in which you follow this blog, the more chances that you have to win!
2. Fill out Rafflecopter form below.
3. Answer question in comment form below: How do your currently curl your hair?
4. You must like
Pammy Blogs Beauty Facebook
page.
5. You must follow Pammy Blogs Beauty on
Instagram
: pammy_blogs_beauty
6. You must follow Pammy Blogs Beauty on
Bloglovin
.
For bonus (optional) entries:
You can tweet about this giveaway (one time per day max please!). Please include a link back to this giveaway and @pammyblogbeauty
Do a Blog Post about this giveaway (must include a link back to this giveaway and giveaway photo/art)
Please let me know if you have any questions. Thanks so much for reading my blog! Good luck!!!
XOXO!!!
a Rafflecopter giveaway