Affiliate Link
Press Sample
It is time for a
the NAIL Files
Update!!! Nail Polish is just so darn fun to talk about! Especially with all of these pretty Spring/Summer shades!!! :) My biggest challenge these days nail-wise? Finding the time to polish my nails when I am a stay-at-home Mommy of a busy toddler! Typically, it is a task only done once she is sleeping for the night. ;)
When it comes to eye shadows, I am a neutrals girl at-heart. However, when it comes to nail polish, bring on the color!!! I love experimenting with color on my tips and toes! Actually, it is a fantastic way to bring more color, sparkle, and shine to your overall look!!!
I am totally seasonal when it comes to nail color. My pastels, brights, neons, and most of my pinks are pretty much reserved for the Spring and Summer months. I have been testing out a lot of fun nail polish lately!!! Click "read more" to find out more details about the shades that I am loving for Spring/Summer of 2013!!!
Spring/Summer 2013 in Polish:
Here is an assortment of polish that I have been wearing this Spring/Summer!
BUTTER London
: I am absolutely in love with BUTTER London Polishes! Sure, they are a bit pricey for nail polish. However, they are constantly releasing beautiful and unique shades. With BUTTER, I feel that the polishes are totally worth the price! I get above average wear with BUTTER London (4+ days). Plus, they dry quickly and are just so beautiful and unique!!! I love these shades for Spring and Summer:
Poole
(teal cream),
Marbes
(metallic gold),
Fruit Machine
(lovely light pink) and
Two Fingered Salute
(my FAVE!!! A gorgeous teal with iridescent micro glitter).
mark Sorbet Shades Nailed It mini nail lacquers
Have you heard of mark? Mark is Avon's somewhat trendier line. The cosmetics are fun and fresh! These little
mark Nailed It mini nail lacquers
are so cute!!! These sorbet shades are absolutely perfect for Spring and Summer. The pack comes with a soft peach and a light purple-ish pink. These polishes give good coverage and dry pretty quickly. I love wearing these shades together! These retail for $7 for the set of two mini polishes.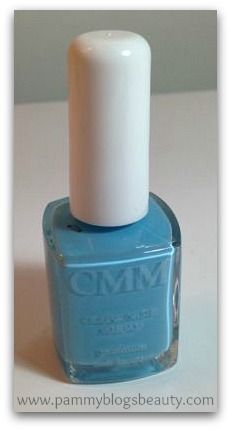 Color Me Monthly
"Clear Skies Ahead": This is such a pretty shade of sky blue! 2 coats give the perfect coverage without being streaky at all. I get about average wear with Color Me Monthly polishes (about 3-4 days. Color Me Monthly offers a monthly polish subscription. The
Color Me Monthly subscription service
delivers toxin-and-cruelty-free nail polish to your door for just $7/month. $7 is not a bad price for a bottle of polish! This subscription would be great for any Indie Nail Polish lover (a great gift to yourself or a friend).
Dazzle Dry:
Dazzle Dry
is a brand of quick-dry polishes. The shades that they sent me are really pretty for Spring and Summer. However, I must note that I have had much better results with the blue and green shades over the pink and peach (quite a bit streaky). The finish is not quite as thick nor shiny as typical polish. However, it does dry really quickly. So, if I am in a particular rush to get my nails done, which I often am, then I opt for a Dazzle Dry polish. They really do dry completely in 5 minutes.
What nail polishes are you loving for Spring and Summer? Is there any particular shade that you seem to reach for over all others?
Thanks so much for reading!
XOXO!!!
Affiliate Link
Press Sample