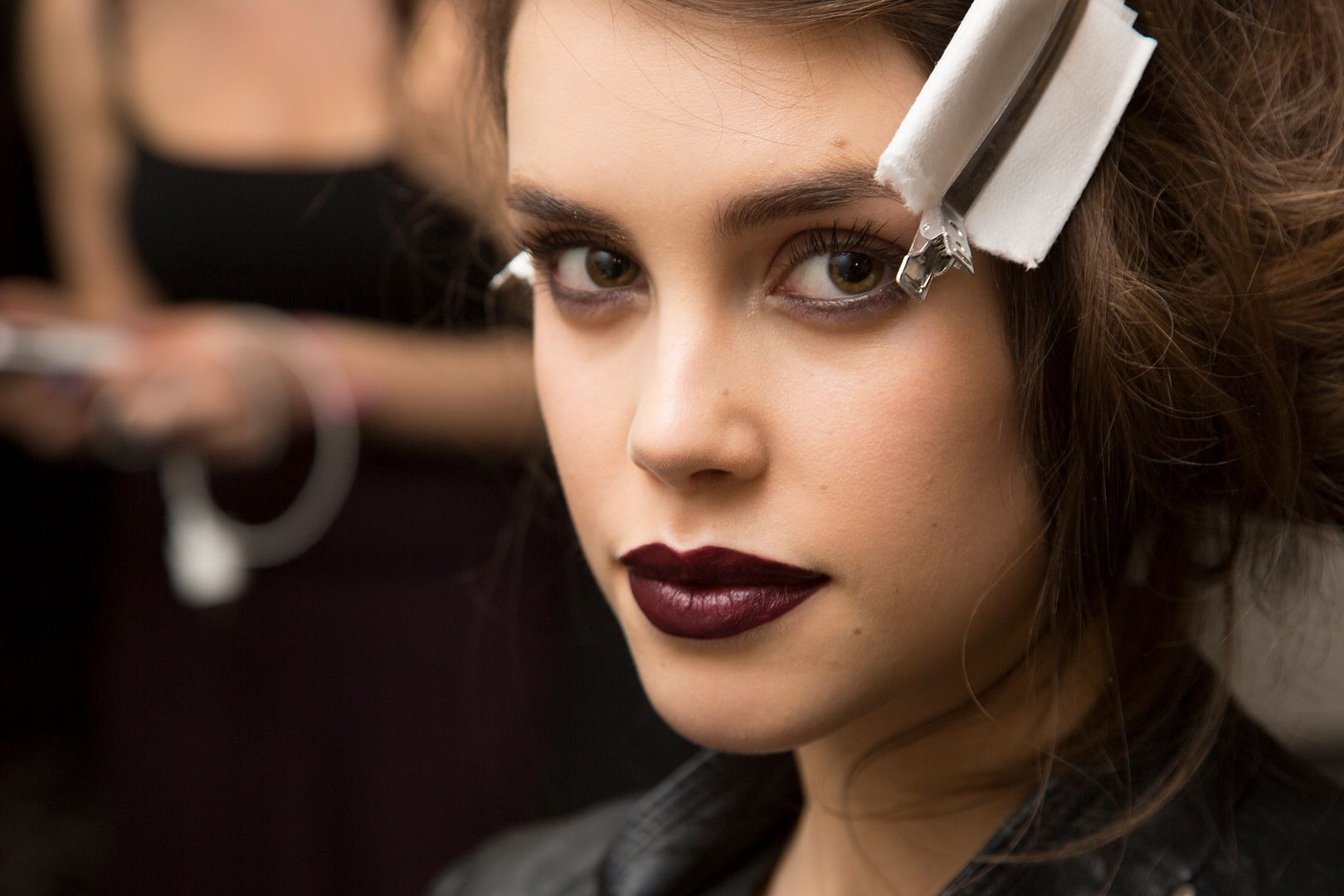 Have you had a chance to scope out the new MAKE cosmetics line? Not only were they featured in my Birchbox this month, but also they are a brand that I am in the process of testing out for upcoming review! From the same cosmetics manufacturer as NARS, the products have superb quality and pigmentation! Plus, a portion of all sales goes towards supporting the non-profit We See Beauty Foundation that works to ben

efit and empower woment in need!
MAKE created some amazing looks for Daniel Vosovic's Fall/Winter 2013 presentation in New York this week. MAKE's makeup team, led by Kristen Hilton, crated modern and contemporary looks that gave a nod to modern aristocracy (which was Daniel's inspiration for his collection). The key components for the overall look? Bold statement lips and fair porcelain skin! Hey, this is certainly a look that I could rock!
Get the Look: Create this look yourself! Here is how MAKE's makeup artists did it! :)
SKIN:
Step 3: Working from the palm of her hand, where she saturated a stipple brush with MAKE's Soft Focus Foundation, Kristin blended the foundation onto the model's skin to create a flawless, porcelain look. Concealer was used where needed to cover any blemishes or under eye darkness
Step 4: Kristin used MAKE's Expert Veil Brush to powder the forehead, under the eyes, and around the nose to deliver a matte finish with a bit of extra coverage to ensure the look was perfectly polished

EYES:
Step 1: Kristin began by filling in the brows where needed to create a natural yet defined look. She used Expert Brow Definer Brush and Brow Sculpting Duo to provide definition
Step 2: MAKE's Matte Finish Eyeshadow in Kalahari was also used on the eyes where Kristin brushed the shade into the crease of the lids and blended out to create natural shading
Step 3: She then lined the water line with Gel Eyeliner Pencil in Very Brown and blended Satin Finish Eyeshadow in Aubergine – an intense eggplant purple – into the lower lash line to set the look
Step 4: Finally, Kristin curled the lashes with MAKE's Eyelash Curler, applying several coats of Defining Mascara. She added a touch of Skin Illuminator in Skir to the inner corner of the eyes to brighten the look and add luminosity

LIPS:
Step 1: Kristin began by applying concealer to the lips to offset any pink pigment that may interfere with the dark, dramatic colour she and Daniel chose
Step 2: She then lined the lips with MAKE's Lipliner Pencil in Rum Raisin and filled in lips with Silk Satin Lipstick in Beetroot – an intense wine with red undertones
What do you think of this look? Is this something that you would like to try yourself? I love the contrast of the dark and bold lips with the fair skin and smokey eyes. Very modern!
Thanks for reading!
Have a great weekend!!!
xoxo