Hello Lovelies! I have a "First Impressions" post for you all today! Any IT Cosmetics fans out there? I just love this brand! IT Cosmetics is a QVC bestselling brand as well as a cult favorite of beauty bloggers and vloggers. They are known for their research based ingredients and cutting edge technology. I, for one, am a huge fan of their
Vitality Lip Flush lipsticks
and their amazing
Hello Light Illuminating Powder.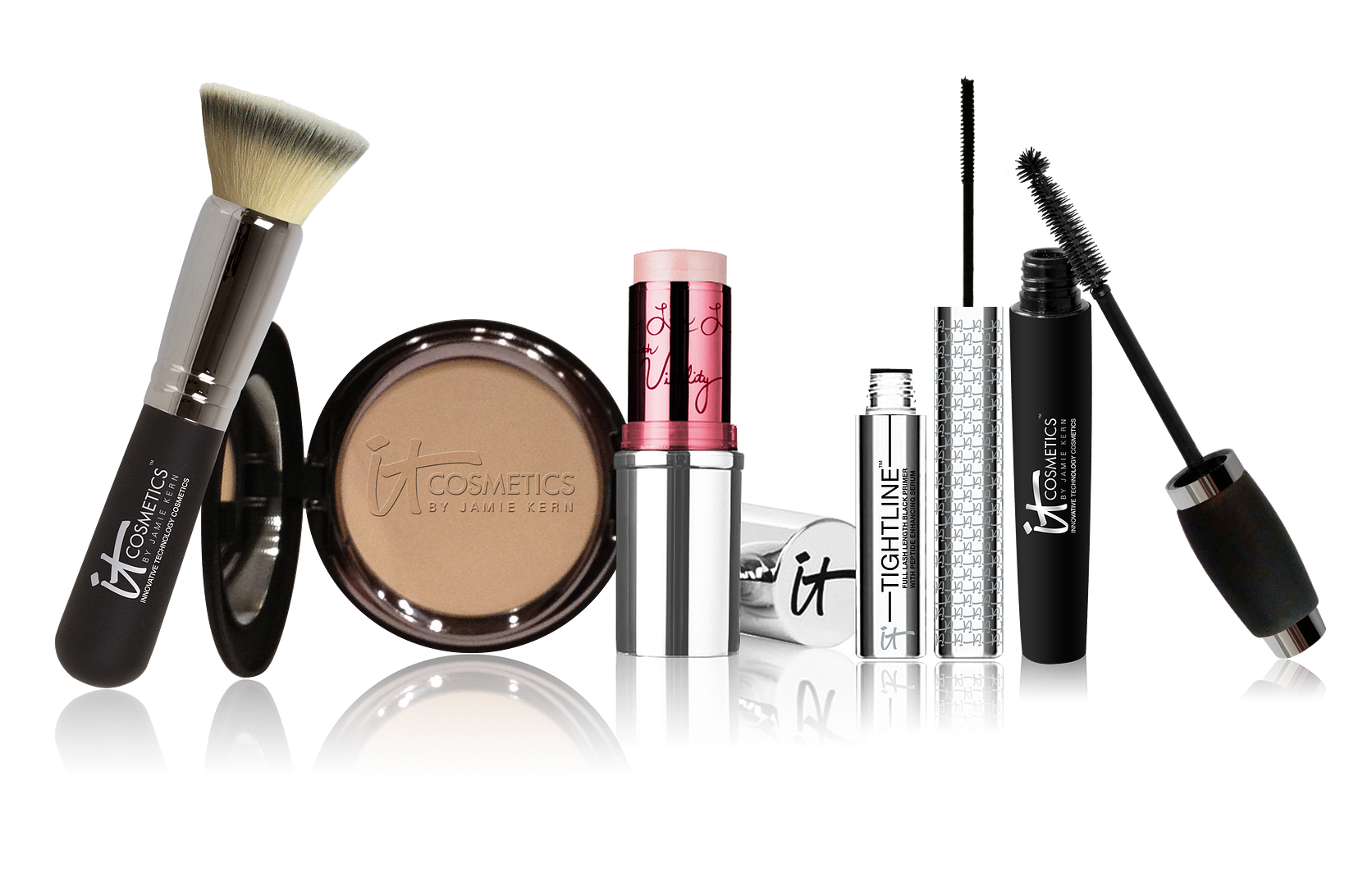 IT Cosmetics is offering this
"Hello Beautiful" Special Value kit
*for one day only* (Monday the 18th) on QVC. This kit is a 5-piece "anti-aging color collection" including 2 NEW product launches as well as 3 of IT's best-selling products. This kit's retail value is $155.00 and it will be available for a special sale price (to be revealed on the 18th) on QVC.
Inside the Kit:
Celebration Foundation: This is a full-coverage anti-aging powder foundation. It is infused with skin-loving ingredients like hydrolyzed collagen, peptides, silk, antioxidants, Grapeseed, Olive, aloe, rose, niacinamide, and hyaluronic filling spheres. You can get an airbrushed finish when you apply it with the amazingly soft Heavenly Luxe Buffing Airbrush Foundation Brush that is also included in this kit. IT Cosmetics sent me the shade "light medium" which is just a tad too dark for me right now (the "fair" shade is likely a better match for me: FYI: You can pick between 5 shades when you order the kit). So, I am primarily saving this for use in the summer when I get ever-so-slightly darker (even with wearing sunscreen). Just a little of this powder goes a long way. Just swirl the foundation brush onto the powder and then lightly buff it onto the skin. Application is so easy with this soft brush! For comparison, this brush is strikingly similar to my beloved F80 brush by Sigma. They really are almost identical.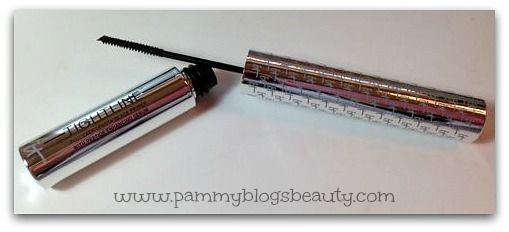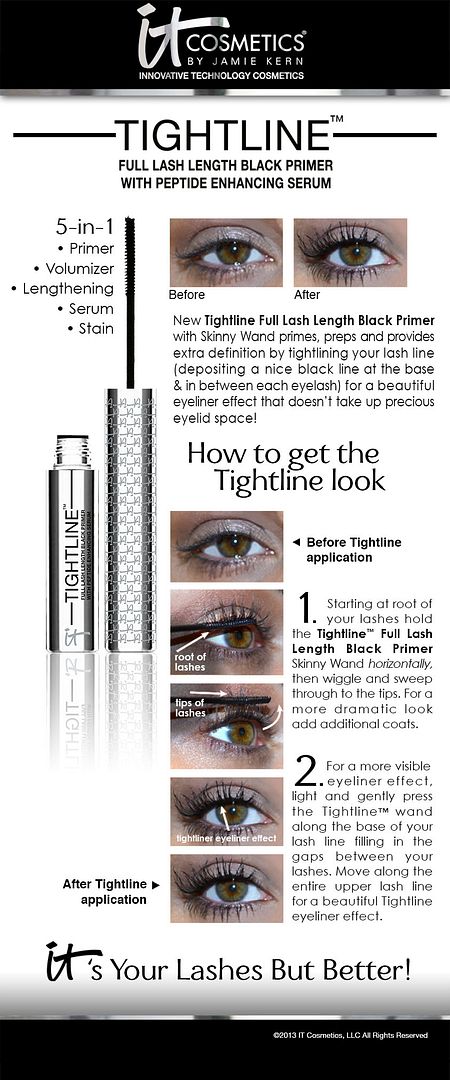 NEW Tightline Full Lash Length Black Mascara Primer: What an inventive idea!!! This mascara primer is intended to coat your lashes from root to tips! No more "lash root"! You know, how you kinda miss the very base of your lashes because you would poke your eye with the wand if you got your regular mascara down that far to the roots? Well, this brush is super-duper skinny. So, you can coat the whole length of your lashes. Also, you can also get a "tightlining" effect by gently pressing the wand on the base of your line to fill in the gaps. So cool!!! I am already having fun playing with this!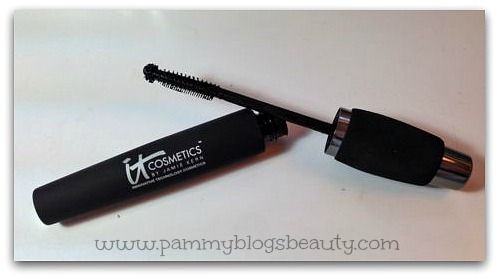 "Hello Lashes" 5-in-1 Mascara: This mascara looks very promising! First of all, I adore the packaging. I have never seen a mascara wand quite like this! The wand is chubby and has a soft "grip" (like a pencil grip) on it. I am such a "butter fingers" when I am trying to apply mascara in a hurry. Yes, my wand has actually gone flying out of my hands! lol! So, I think that this grippy wand will certainly help with application. The brush on this mascara is unique, too. It is a rubberized wand with a round "ball" at the end. The idea? You lengthen with the wand when holding horizontally and when you hold it vertically and utilize the little ball tip on the end you pull the lashes up and achieve volume and lift. Interesting concept! The true test (of any mascara) for me? Will it smudge? The verdict? No smudges here! That is a feat with my allergy-prone sensitive and watery eyes.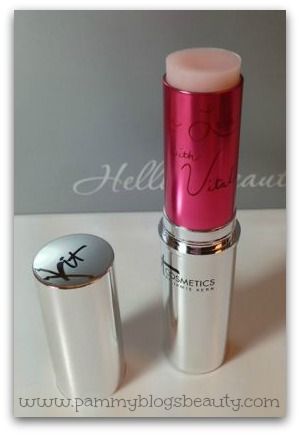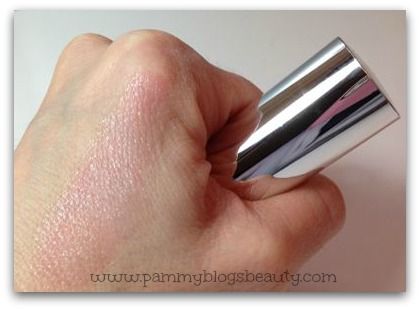 Vitality Flush 4-in-1 Reviver Lip and Cheek Stain Stick: Ooooh! I already LOVE this product!!! This is a self-adjusting lip and cheek stain stick. The hydrating balm reacts to your chemistry to produce a natural looking flush on your cheeks and lips. The effect is so natural and beautiful! It shows up on me as a lovely cool-toned sheer pink. Plus, it is packed with anti-aging ingredients like Plum oil, Cherry oil, Shea Butter, Argan and Jojoba oil, Vitamins A, C, & E, Green and White Tea, and Aloe.
What do you think? Is this kit something you are interested in? If you are looking for a good introduction to IT Cosmetics, this kit could be a nice way to try out a variety of items from the brand for a good price!
Thanks for reading!
XOXO!!!