Feel like getting glittery? Sparkly nails can be the best accessory! Sure, the holidays are behind us. However, there is no reason that you can't bring a little bit of sparkle into your everyday life! These gorgeous glitter polishes from Pure Ice can add sparkle and shine to a dressy look for going out or you can just add some glitter to your everyday life like I do!
Pure Ice's Diamond Couture collection
is a limited edition release of 11 polishes which features densely packed semi-full coverage glitters. While the coverage on these is not quite full (like Sally Hansen's Gem Crush polishes), I am get pretty close to full coverage with 2 or more coats.
Here are the polishes available the
Diamond Couture Collection
from
Pure Ice
:
Sea-quin (moss green glitter)
Hot-Rocks (black base silver glitter)
Girl's Best Friend (maroon)
Party of Five (green glitter with green shards)
The Family Jewels (gold shard glitter)
Treasure Hunt (clear base with green and purple shards)
Tinsel Town (blue glitter with blue shards)
Silver Lining (clear base silver glitter)
Material Girl (rose pink with pink shard glitter)
I got to try out 6 beautiful glitters from Pure Ice (some from Diamond Couture some from other collections)! The type of glitter and coverage varies per shade. At $1.97 per bottle, these are the best glitters around for the price! If you are interested in these, be sure to scoop them up while they are still available (if you can find 'em)! My favorites are The Family Jewels (gold shard glitter) and Sea-Quin (moss green glitter) as I just love the effect of the big shards of glitter! I just didn't even have any other glitters in my collection with this type of chunky glitter. Pretty!!!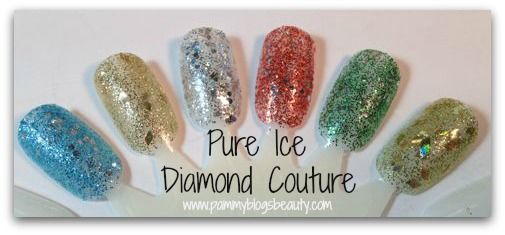 Pictured Left to Right: Stop Flirtin, The Family Jewels, Seduce Me (such a sparkly silver/iridescent!!!), Call Me, Turn it Up, and Sea-Quin
Do you like to rock glittery nails? Do you paint just a bling finger or do you go for full-on glitter on all of your tips? Me? I like the full-on glitter effect!
Thanks for reading!
XOXO!!!