Tired of the Cold Weather already? Even though it doesn't get "that cold" in Georgia, I am still ready for Winter weather to pass and for the warm days of Sunshine to begin! :) Cold weather is kinda nice for the Holidays. However, once the Holidays are over, I always seem to be ready for it to warm up! Julep must be of the same mind-set as the January 2013 Julep Maven box is packed with fun and bright colors that will have you dreaming of a beach getaway! Le sigh!
What is the Julep Maven Nail Polish Subscription Box?
The
Julep Maven program is a Monthly Beauty Box subscription
. It is a beauty subscription for nail polish lovers! The best part? You get to select *exactly* which box you want each month!!! When you sign up for Julep, you take a style quiz. Then, Julep matches you with a Style Category. For the Monthly Box, Julep pre-selects a box for you based on your beauty style profile. You get an email with a graphic representing your box. My style on Julep is "Boho Glam". If I do not want the box for Boho Glam, I can simply switch to one of their other style boxes.
Another good thing? With Julep, you can skip a month! If you can't find a box that you like or if you just don't feel like spending the $20.00 for a particular month, then you can simply opt to skip a month.
Subscriptions are $20.00 per month (but remember you can skip a month if you need to).
You get to choose your box! They have a great assortment every month.
Each box contains 2 full-sized Julep Nail Polishes plus one Julep Spa full sized product. Also, there is always one box that has 3-full sized Nail Polishes and no spa product. I have literally loved every spa product that I have gotten! Seriously, I have found some favorites at Julep!
Box Value: The value of the box far exceeds the $20.00 cost! The nail polish normally retails for $15.00 a bottle and the product prices range from $14.00-$38.00.
You can earn credits for referrals! Julep has recently re-vamped their rewards system and website. So, I am just learning how the new system will work for rewards. Here is how you earn "Jules": You earn 1,000 Jules for referring a friend to Julep Maven, 300 Jules for each full priced Maven box you are billed for, 200 Jules on your Birthday, 500 Jules on your Maven anniversary, 750 Jules when you pay for the monthly upgrade box. You even get 100 points just for becoming a Maven. As you can see, there are many ways to earn! Note: Current Julep Mavens: Your referral link has changed! So, be sure to log into your account to grab your new referral link to use. :) Here is how you redeem your Jules: You can redeem 2,000 Jules on Maven boxes, 750 Jules on nail color add-ons, and 5,000 Jules on Upgrades.
From the Julep Blog:
Meet the January 2013 Resort Collection!
Do you want to find out what is in my
Julep Maven "Boho Glam"
box for the month of
January 2013
??? Keep reading to see what is inside the box!!!
This month I went for my pre-selected box for the "Boho Glam" style Maven Box. I almost choose another box since the shades are a bit out of my comfort zone. Then I realized that maybe getting "out of my comfort zone" is exactly the direction that I wanted to go! So often I get stuck in a makeup or polish "rut". Beauty Subscriptions are *great* for shaking up your style a bit! I am excited to try some new colors that are so very "new" to me!!!
Escape & Unwind with Julep's Resort Collection!!!
This month Julep reveals their new
Resort Collection
in the Julep Maven boxes. Wow!!! What a fun assortment of beautiful neons, nudes, and brights! These colors certainly have me wishing for warm sunny days on a beach. While I do not have any vacations in the near future, nor is the weather warm in Georgia...I can still dream of sunny days while wearing these colors. Also, I am glad to already have a fun new bright and shimmery nude polish in my possession for when the Spring weather suddenly hits!
Besides the fun polishes, Julep (as usual) both surprised and spoiled its subscribers with an amazing Julep spa product and some *super fun* extras (I can't wait to tell you about these!!!)!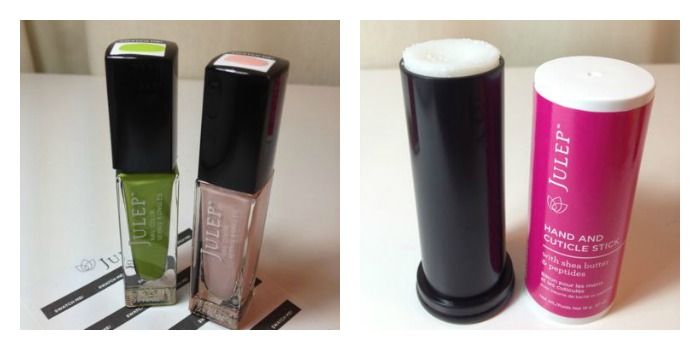 Inside the Box:
Julep Nail Color in Teresa (Opaque Pink Pearl Frost) (retail price $14): This gorgeous shimmery/frosty pearly nude is gorgeous any time of year! While I love to experiment with trendy and bold shades, a classic nude is always gorgeous (and my husbands favorite look on me...gotta please the hub! lol, sometimes!). I am so excited to have this pretty shade!
Julep Nail Color in Fiona (Electric Neon Lime Cream) (retail price $14): This is my "out of my comfort zone shade"! I will fully admit that I pretty much never wear this shade of neon nor do I even have anything similar to it in my vast nail polish collection. With that said, this color is much less "scary neon" in person than it is online (see photo above from Julep blog with swatches). To me, I almost wouldn't describe it as neon. It is more of a light "spring green". It reminds me of the color of flower stems. Green is a major trend for 2013! So, I am happy to add this to my assortment of greens as I didn't have this particular shade of green...until now! Plus, it is just fun to get out of my "comfort zone" and experiment!!!
Product Info from Julep Email: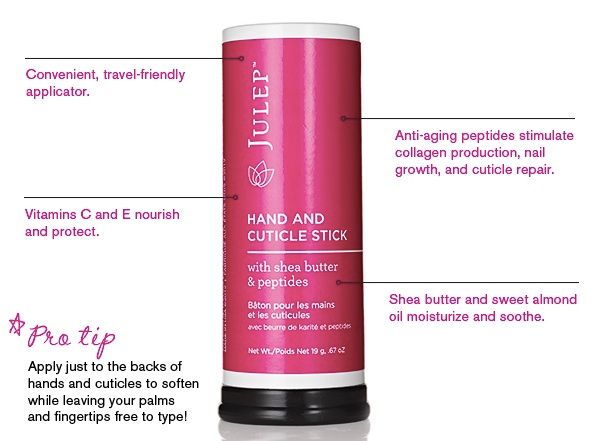 Julep Hand and Cuticle Stick with Shea Butter & Peptides (retail price $22): OMG! I am *soooo* excited about this cuticle stick! First of all, my cuticles are in terrible shape. It is pure neglect. I know that I need to moisturize more and apply cuticle oils, creams, and balms...but, I have been slack (*slapping own hand* "bad beauty blogger"!). One of my goals for 2013 is to get my cuticles back into shape. I am even hesitant to post NOTD pictures until I get my cuticles back on track. This stick smells amazing and contains peptides, Vit C, and Vit E. I have never tried a cuticle product in a "stick" form. So, I am excited. I plan to carry this with me everywhere. I am such a huge fan of Julep Spa products! Honestly, I have liked every single Julep spa extra that I have ever gotten in a Maven box.
Twistbands Hair Ties (actually, I am not sure if these are "Twistbands" brand or not...they look like they are?): Birchbox introduced me to this type of hair tie. I just love these. Julep included 3 neon twistband-type hair ties in the January box. These are great because they don't tug or damage your hair. I like to wear one on my wrist at all times so that I can throw my hair up in a quick pony when I need to.
Nail Polish Swatch Stickers: OMG!!!! I am so excited about these!!!!!!!! Seriously, why has no brand thought of this before. These little stickers are a *genius* idea! How often do you did through your polish collection trying to find the right shade? How helpful would it be to have a swatch sticker on the top of every bottle??? Plus, with such a variety of formulas and opacity, it is almost impossible to tell what color a polish will go on from the bottle. That is why swatching is important (and why nail blogs are so popular). I am sure these cost Julep nothing to products. However, they added incredible value to my box because they are such a good idea! I can't wait to use all of these! I hope Julep sends more of these in future boxes! I didn't see these available for sale on the Julep site? I wonder if they will end up selling these?
Once again Julep sent an *amazing* Julep Maven box. I literally love everything in the box! Plus, the box's items value *far* exceeds the actual price of the subscription. This happens every month: a box of full-sized products for $20! You are getting upwards of $50 worth of products for only $20. You really can't beat this deal...especially if you love nail polish, staying on top of trends, and trying spa products.
If you haven't subscribed to
Julep Maven
yet, please follow any of my links to sign up! I just love participating in the Maven box program!!! It is money well-spent for me! :)
My fellow Julep Mavens, did you like your box this month? What Julep style box did you go for?
I am a Julep Maven subscriber.
Referral links included in p

ost.