Looking for a sophisticated and delicious new scent for the Fall/Winter seasons? Look no further than this beautiful new release from Shiseido! As the cold weather approaches, I just love wearing warm and rich scents like this one. As Shiseido describes it:
Discover the secret of golden flowers blooming at night
.
Happy Anniversary Shiseido!
In honor of Shiseido's 140th Anniversary this year (<---OMG! Wow!), the brand launched a new and limited edition
Shiseido Zen Secret Bloom Eau de Parfum
.
Immediately, I was drawn to the elegant packaging. The heavy square glass bottle's design is modern with a beautiful Asian inspired floral design. What a lovely addition to my perfume collection! Pretty packaging aside, lets talk about the scent!
Zen Secret Bloom
offers a
captivating contrast between freshness and mysterious warmth: combining a blend of jasmine, freesia, patchouli, incense, and a hint of black vanilla.
While I liked this scent upon initial application, it wasn't until the scent dried down and reacted with my chemistry that I fell in love. Seriously, I think I have found a total favorite new scent here! Zen Secret Bloom takes a few minutes open up and show its warmth and complexity and when it does...Swoon! This scent is just beautiful! Honestly, this scent really just smells better and better the longer you have it on.
The other true test: Does my Husband like it?
To quote him, "Wow, you smell REALLY good!" Normally, I always poll his opinion when trying new scents. I mean, I don't want to just please myself with my scents. I want him to like them too! Usually I have to prod him a bit and he will finally express "sure" or "yes" that he likes it. When I wear this, He literally approaches me without any prompting just to tell me that I smell great! He likes sexy and sophisticated scents. So, this one is a real winner with him!
Not only does this scent evoke a sexy image, it actually makes me feel like a sexier and more elegant version of myself when I wear this. This is a scent that I can wear any day that I want to feel gorgeous and put together. I am certainly going to wear this for date nights and evenings out! The more I wear this scent, the more I fall in love with it. There is no question that this scent is one of my new favorites!
As I continue my exploration of perfumes, I am finding that many of my all-time favorite perfumes are warm vanilla and jasmine scents. So, if you are a fan of those scents like I am, then you must check out Zen Secret Bloom!
The Skinny:
1.6 fl oz retails for $68.00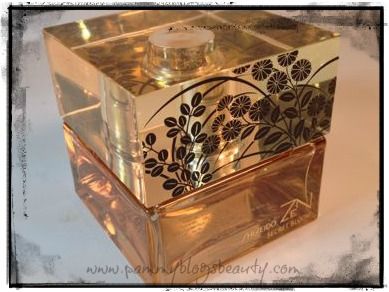 Giveaway on Shiseido's Facebook Page!
Want to win Zen Secret Bloom? The brand is hosting a giveaway on their Facebook page through October 27th! your readers have a chance to win this limited edition item on Facebook by making their Wish for the World at
www.shiseidowishingtree.com
.