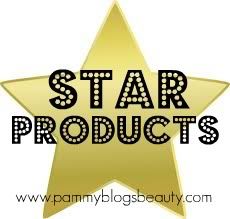 Hello Beauties!

It is time for my monthly "Star Products" post! Every month I keep a running list on my iPhone of the products that I am reaching for, loving, and using the most. Often they are products that I am currently testing, but also they are sometimes old favorites!
This month I seemed to have a lot of favorites to mention. I am trying a lot of new products and can already tell that many of these are destined to be favorites for quite some time. There is even a repeat from last month's favorites (the product is just *that* good that it needed another mention this month!).
So, what are my *stars* for this month???
My April "Star Products" list is full of great palettes, rich moisturizers, sparkly and colorful nails, and a fresh and summery fragrance. Let's see what made the list!
Hmm...I see a trend with my nails lately! If you read my
March Star Products post
, you might remember that I listed a glitter polish for last month:
essie's Multidimensional Top Coat
(which I still love). Well, this month I found a new silver/iridescent glitter polish that I equally love!
Here is my Polish list:
Pure Ice Polish in "Jamaica Me Crazy": I started using this polish when I created some Hunger Games-inspired manicures for this post: Hunger Games-inspired Nail Looks. While I love it on my nails, I like it even better on my toes! What a beautiful magenta! Plus, I still can't believe that this great polish is less than $2.00.
OPI's "Servin Up Sparkle": Its no secret. I *heart* glitter and sparkle. This pretty polish packs a TON of bling! I love that there is both micro fine glitter and big circular glitter chunks in this polish. The effect? Beautiful iridescent sparkle! I like using this lately on one "bling" finger over the MAC polish listed below.
MAC Nail Lacquer in Pinkly Fresh: I acquired this polish mid-month and it instantly became a favorite! Such a pretty shade. Love the Mod vibe with this one. It is a fav of my Hub's too!
Palettes, Palettes, Palettes!
It has been a great month for eye palettes. Do you see a repeat from last month? Yes, indeed! I am still loving PixiGlow's Fairy Face Palette. :) I went back and forth trying to decide which of these two palettes to post in this month's Star Products list. I really couldn't decide because I love them both and have been pretty much rotating them every-other day! Then I realized that I couldn't choose. They are both fantastic and both deserve a mention this month!
The Balm Nude'tude Palette (review coming soon!): I got this during my most recent Birchbox haul. I know what you are thinking. How many "nude" palettes does a girl need? LOL! Well, this one is fantastic! The color selection is just perfect. Shades range from white to black...with the whole range of nudes in-between! The price is fabulous too!!! I adore it and it very quickly became one of my all-time favorite palettes! LOVE it!
Pixi Glow Fairy Face Palete: (repeat from March's Star Products post): I still just can't get enough of this adorable and useful palette! Not only are the shadows beautiful, but also I love the blush and the lip colors too! I find that I grab this palette when I need to get ready in a jiffy as I have absolutely everything that I need for my whole face in this one little palette. Also, I traveled with this palette recently. Even though I brought other makeup with me, this was my go-to item for the whole trip. It really allows me to get ready quicker. It packed quite nicely! If you missed it, be sure to check out my full review of this palette.
Body Products and Fragrance:
This month I found some *really great* body products!!! Also, the change in season has re inspired my love of fragrance. Every Spring I rotate my fragrances and add new ones. Gone are the heavier scents of winter. This is a time for light and fresh scents!
Forever Sunshine Body Products by Bath & Body Works: I have the fragrance mist, the body lotion, and the shower gel in this scent. Body mists do not last long. So, the scent must be layered to last. I either layer this Fragrance mist with the matching body products or use the mist to freshen my scent when I am wearing a regular perfume. I find that this mist layers nicely with my other spring perfumes.
Shea Terra Organics Bananas & Baobabs Whipped Shea Butter (review coming very soon!!!): I have a new obsession. Banana scents!!!Well, I take that back. I have always loved banana scents (and bananas!!! I eat one every day!). I am a huge "food scents" girl. But, with warmer weather, I am not wanting heavy vanilla smells. I want tropical food smells. The banana scent of this Whipped Shea Butter is just amazing. It is just like a banana cream pie. Plus, this cream is super moisturizing. Love it!
LUSH Lemony Flutter Cuticle Butter: I am so into LUSH lately. Having a new baby, I find myself strolling the mall at least every other week. LUSH is one of this most fun stores to browse in. This cuticle butter has made such a huge difference in the condition of my cuticles. The lemon in it exfoliates and the rich butters and oils moisturize. I put this on before bed every single night and multiple times throughout the day. I have a feeling this will be a Holy Grail item for years to come!
Lip and Face:
This is kinda a Misc. category! :)
Clinique's Age Defense BB Cream: I believe this product gets mixed reviews. But, I for one love it! I am in the process of testing out quite a few BB Creams (this was the first one I tested and my fav so far!). Shade 01 is a pretty close match for my super fair skin. Generally speaking, I am not much of a foundation user. It usually feels too heavy for me. But, the fact that BB Creams contain great SPFs and beneficial skin ingredients "sold me" on the whole BB Cream concept. A full review for this product is scheduled to post May 10th!
Nivea's "A Kiss of Vitamin Swirl: Lipbalm: Does it seem that I have some sort of lipbalm in my favorites each month? What can I say? I am a lipbalm fanatic. Also, since I am now a stay-at-home Mommy, I find that lipbalms and tinted lipbalms are just the easiest thing to wear. I am always kissing the baby and I don't like leaving lipstick marks on her sweet face! I love all the great ingredients packed into this one: cranberry and raspberry extracts, Vit C, E, and B5, plus SPF 10. It is nicely hydrating without feeling waxy.
Eye Products:
Last, but not least, eye products! I think I found a winning combo this month of eye primer plus concealer. Actually, these are both old faves that I rediscovered this month. I struggle with dark circles. So, I always look for great products to help disguise those circles.
Amazing Cosmetics Amazing Concealer in Fair: As its name states, this concealer is amazing! Actually, I am thinking this product deserves its own review soon in my Cover It! Concealer Review Series. I mentioned it back when I first started blogging in a top concealers post. But, I never gave it a full review. With my constant quest for new and better concealers, I have neglected this goody! Shame on me! It is so good. It is super-duper pigmented, yet it is not heavy. It is actually quite thin. This product layered over the MAC Vibrancy Primer completely cancels out my dark circles and my under eye area looks flawless. Love it!
What a great month for products! :) What are your favs this month?
Some products I bought, some were
gifts, and others I got as a sample.