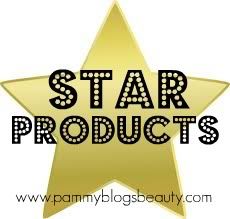 Wow, what a fast month? Here we are...its Spring already and Easter is coming soon! The weather in GA has been just lovely (despite the crazy high pollen count!).
While our winter was mild, it is always the best feeling to pack away the winter clothes and to shake-up my beauty routine for Spring! Gone are my sweaters, boots, and dark nail colors. Its time to bring on the pastels and the brights! I seemed to start my makeup transition mid-month and those items quickly became my month's top picks! Also, when warm weather rolls around, I switch up my fragrances too...
So, what items make my
Star Products
list this month? Be sure to keep reading to find out!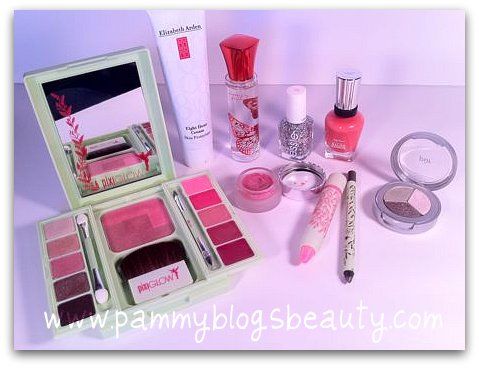 This month my Star Products are all about *makeup*!
My bath and body products are in "use it up" mode. So, I couldn't pick clear "stars" in that category. Stay tuned for a "use it up" challenge update in a few weeks. I am determined to get to the bottom of a variety of products in my bathroom. I started my use-it-up challenge back when I first started this blog. But, I haven't done an update in ages (shame on me!). I just started saving my empties again last month. So, I am determined to see how many things I can use up! Sorry, I digress...back to the Star Products!
March 2012 Star Products: Spring Themed Makeup!
PixiGlow Fairy Face Palette: I am sure it is no suprise to ya'll that I have quite a few PixiGlow items in this month's favorites! I am just absolutely in love with this whole collection. This Tinkerbell-inspired Fairy Face Palette is certainly one of my top favorites of the month. This palette is not only adorable, but also extremely flattering to wear! It has everything that I need to do a soft and pretty makeup look. If you are a fair skinned girl like me, you should for sure check this palette out! But also, I think these shades would be flattering on anyone. Very girly and pretty. I won't go into a full description here since I just reviewed it. So, be sure to check that out!
PixiGlow Magic Tink Tint: Another new favorite from PixiGlow!!! This Magic Tink Tint is my new fav lippie! It is a self-adjusting balm that leaves a beautiful unique-to-you tint. Plus, it is so hydrating and quick to apply. Love! Stay tuned for a full review on this goodie soon!
PixiGlow Straight On Till Morning Liner: LOL, yes, another PixiGlow item. I am obcessed I tell ya! Normally, I am a straight-up neutral liner person. While I love some of my fun colored liners, rarely will you see me wear them day-to-day. Well, that all went out the window when I tried this amazing sparkly earthy-green liner from Pixi! It wears very neutral, but has just enough color to make it fun! Plus, the sparkles are nice too. It pairs *beautifully* with one of my all-time favorite eyeshadow trios by Pur (mentioned below). This liner will also get a full-review soon. Stay tuned!!!
Pur Minerals Perfect Fit Trio in Halo: Do ya'll remember me mentioning this little trio before? It has been in a previous Star Products post. Well, I am still loving it. But, had neglected it during the winter months. Now that it is Spring, I am leaning towards shimmery pastels and etherial makeup like this little trio. The dark green in this trio is almost an exact match to the Straight On Till Morning PixiGlow liner mentioned above. The liner inspired me to whip out and use this trio more! I just line my eyes with the liner and then use an angled brush to layer the sparkly green shadow over top of the liner. It lasts longer that way. :) I use the light and shimmery shade on my inner corners and the pastel green (duo chrome, flashes light pink) on my lid. I mix the pastel and darker green to create the perfect crease color. Then I line my inner corner with the shimmery light pink. So pretty! Love, love, love this trio! Be sure to check out my previous review of the Pur Minerals set which contained this trio: The Heavenly Treasures.
essie multi dimension top coat in "set in stones": Oh Birchbox, I *heart* you for including this adorable glitter top coat in this month's Birchbox! I think a good glitter coat perks up any polish! I have been having so much fun with this layering it over polishes in my exisiting collection. I like glitters like this that contain glitter of two sizes. This is not a full-coat glitter, but it is very heavy on the glitter. This is my second favorite glitter in my collection next to my OPI Katy Perry Teenage Dream (and that says a lot considering that is my favorite glitter *ever*!).
Sally Hansen Complete Salon Manicure polish in Casting Call: This is a gorgeous pinkish-coral that just screams "Spring" to me! I really reserve these types of shades for the warmer months only. So, I am having so much fun painting my nails with colors like this! If you haven't tried Sally Hansen's Complete Salon Manicure polish, you must RUN down to your closest drugstore to pick some up! It really is one of the best drugstore polish lines with its amazing color selection, great application, good wear, and nicely shaped brush and bottle!
Dalton Color Creme Lip Gloss in Shawny K: I tried this on a whim this month and ended up loving it!!! I got this little pot of super-hydrating lipgloss in one of my New Beauty Test Tubes. I believe that this came in the QVC version. Well, I don't know why I waited so long to try it! I adore it! The gloss has a yummy vanilla scent and is so super duper moisturizing. Leaves just a soft pretty pink color. My only complaint is that I have to dip my finger into the pot...very hydrating! This is my first experience with Dalton cosmetics and I am curious to check out more from this line.
Butterfly Flower Fragrance by Bath & Body Works: Mmmm...this is my current favorite scent from Bath and Body Works. I picked up the whole Butterfly Flower range a couple summers ago (and sadly, the stores are not currently carrying this scent...sorry!). I *really* hope that Bath & Body Works brings this scent back as I just LOVE it! Fresh and floral (honeysuckle I believe?)...just yummy! Even my Hub loves it (and most Bath and Body scents he thinks are just "meh"...but this one he loves!). Fingers crossed that I can find more products from this line online (ebay?) somewhere as I want to scent my whole house with this! I am obcessed I tell ya!
Elizabeth Arden 8-hour Cream: OMG, still loving this! Yes, this was listed in last month's favorites too. It is just *so good* that I had to list it again!!! My lips have never looked or felt better! Yes, the taste/scent is strange. But, who cares? This works better than anything else that I have ever used for dry lips. I am realizing that I don't ever want to be without a tube of this stuff. I really can see why all the celebrities swear by this one! Worth the hype!
So, that is the list for this month! I am truely loving every item that I mentioned. These items are taking me right into Spring!
What are your favorites this month? If you did a monthly favorites blog post or video and want to link it in the comments below, please feel free (normally I don't post comments with links...but, in this case, I will!).
Thanks so much for reading! Happy Spring!!!
Some of these products I bought and
some I got as samples. Items were chosen
based on how much I liked them reguardless