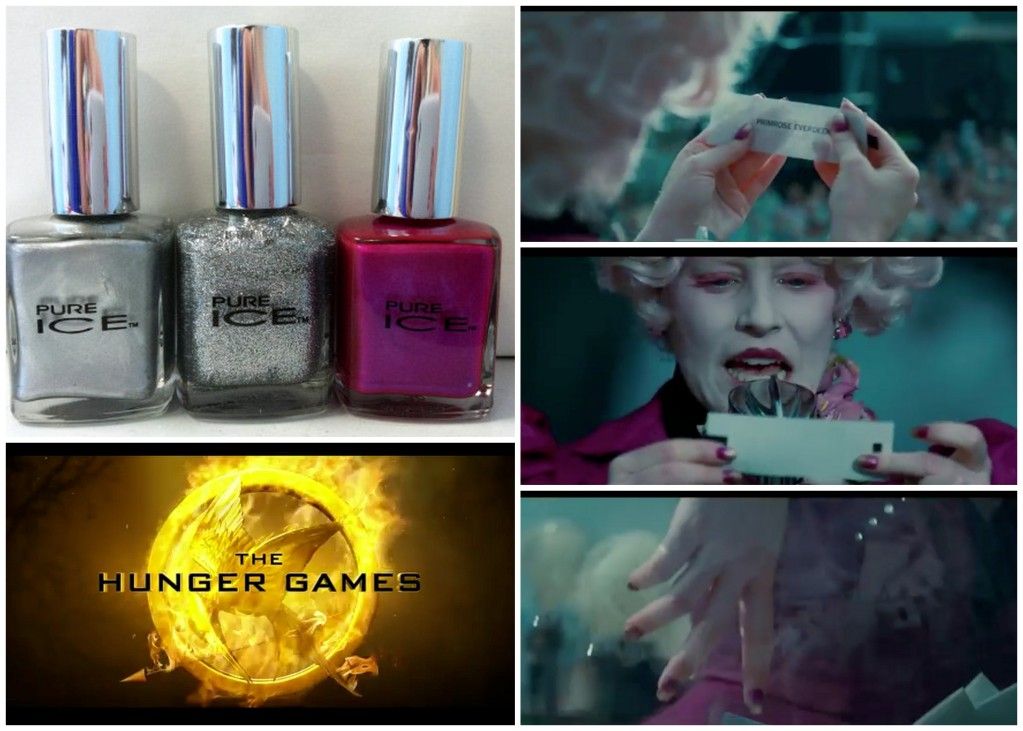 When I saw that Pure Ice Nail Polish had created some Hunger Games inspired nail looks, I just knew that I just had to recreate them myself!
I am literally obsessed with the Hunger Games book series. I read this series for the first time in December while 9 months pregnant. Hey, any series that keeps me up late at night reading even when very tired and extremely pregnant has got to be a good, right?!?! Well, I am now in the midst of re-reading the series the 2nd time before heading out to see the film. I would have seen the film sooner. But, alas, with a new baby at home, it all depends on getting a sitter! If you haven't read this series yet, then you are just missing out. Its sooooo good! For those of you not familiar with the series/movie, the costumes and makeup are really an integral part of the story. I have been imagining these characters for so long! I can't wait to see how this all translates in the film.
In addition, this week my pre-teen niece Mollee is in town visiting during her Spring Break. Well, I am thrilled that she *just finished* reading Hunger Games and is very excited to see the movie. So, me, Mollee, and my Mom (who has also read and loved the Hunger Games book series) all have a girl-date to see the movie today! In honor of our movie viewing, we all recreated these "Pure Ice" Hunger Games Nail Looks!
For our "Pure Ice" Hunger Games-inspired NOTDs...please keep reading!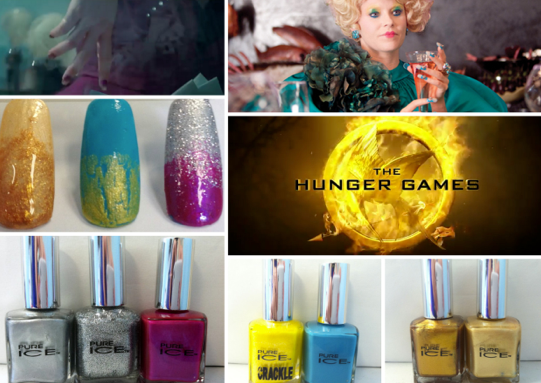 What fun!!! We just had a blast recreating these looks with Bari Cosmetics' Pure Ice Nail Polish line. For those of you not familiar with the brand, Pure Ice is sold at Walmart, Walgreens, and
Bari Cosmetics
. Polishes retail for about $2.00 each.
These polishes just apply so easily! I get great coverage out of one coat with these polishes. But, I usually still go for two coats as I like a "thicker" feel.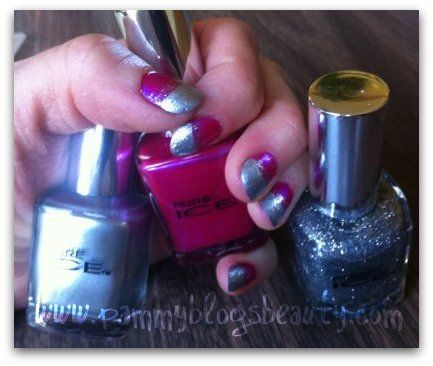 I did the Effie Trinket look with Pure Ice "Jamaica Me Crazy" (magenta with a beautiful blue/purple flash) + Pure Ice "Silver Mercedes" (silver metallic) + Pure Ice "Beware" (silver glitter). OMG, I love my nails!!! I think I will recreate this manicure many times (and not just for Hunger Games movie-viewing!). This is a direct recreation of Effie's manicure during the Reaping scene (lol, I know this from watching the previews!). Really a gorgeous nail look! It was super easy to recreate it using these polishes. Jamaica Me Crazy would also be beautiful on its own for either the tips or the toes. Silver Mercedes is really one of my nicest metallic polishes (high or low end!).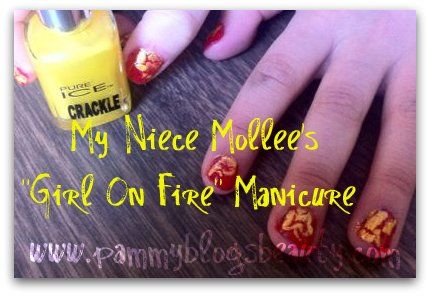 Mollee, my niece, did the Katniss "Girl on Fire" manicure. I did not have the Pure Ice red crackle. So, Mollee created her look using with Pure Ice "Catwalk" Crackle (sparkly gold crackle) and OPI's "Color So Hot It Berens" (true red). I really like how Mollee's Katniss nails turned out! She applied the OPI first all over and then topped it with the Pure Ice "Catwalk" crackle on top. She only applied the Crackle partially to get the "Girl on Fire" flame effect with the crackle streaks. Wow! Cool!!! It really does give the effect of a flame. LOVE!
My Mom recreated another Effie look using Pure Ice "Pool Party" (teal cream) and Pure Ice "Catwalk" Crackle (gold). What a pretty manicure. Mom applied "Pool Party" all over the nail as the base color and then applied "Catwalk" crackle on top. This manicure is not only a pretty Hunger Games movie recreation, but also an ideal Spring/Summer manicure! These colors are just so summery and pretty. I think I am going to have to do this same exact manicure on myself!
Needless to say, we had a blast with our little Hunger Games/Pure Ice "nail painting party". :) Now we are all ready and excited to see the film! Mollee and I even might do some Katniss-inspired hair braids. LOL, I am such a nut and a fan-atic. But, getting all amped up for the film viewing is half the fun!
Have any of ya'll see the movie yet? Are you inspired by any of the makeup, nail, and costume looks in the film?