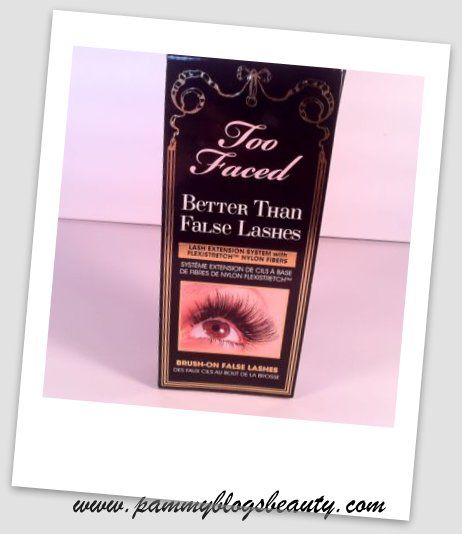 The first step is admitting the problem: I have "lash envy"...Oh the plight of the girl with puny lashes. Long have I admired the thick and lush lashes of others. I am not one of the lucky ones. My lashes are thin, sparse, light in color, and short. Lash products were just made for a girl like me. I need all the help I can get: volume, length, color, and curl. Yes, false lashes are a great solution. But, quite frankly, I only occasionally take the trouble to apply them. They are not hard to apply. Its just that I am usually in a hurry and that seems like one step that I can skip to save time. So, for day-to-day, I rely on a good lengthening and thickening mascara. But a simple mascara can only do so much. Right??? Well, that is where Too Faced "Better Than False Lashes" comes in!
Too Faced's "Better Than False Lashes" Lash Extension System
is a two part mascara that gives the look of longer and thicker lashes. It is super easy and quick to use and it gives great results! For more details, keep reading!
Too Faced Better Than False Lashes:
Lash Extension System with Flexistretch Nylon Fibers:
This system really is different! It is a brush-on false lash/extension system. It is a 2-product/3-part system.
The result? Major length and added volume without the hassle of gluing on lash extensions or false lashes. This is a super easy way to give your lashes lots of extra "oomph".
Too Faced promises 98% more lash volume and 42% more lash length. The price? $35. Not bad considering that the system is supposed to give you 4 months of use.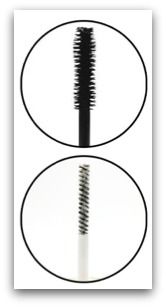 Products:
Activating Mascara Base & Top Coat: This is the product in the gold tube. It looks just like a typical mascara. The brush is your typical fat spoolie mascara brush/wand. Application is super easy: Just swipe on!
Nylon Lash Fibers: This is a little tube of brush-on lash fibers. They are dry white fibers. They look like cotton on the brush. Your lashes will look "fuzzy" when you brush these on. A second coat of the Activating Mascara & Top Coat seals them off on your lashes.
The Steps:
So how do you apply?
1.
Prime:
Use the Mascara Base & Top Coat. Apply just like a regular mascara. I apply from root to tips wiggling upwards. I use 2 coats. The idea here is that you are providing a base coat for the little fibers to stick to. Then you use it again (as Step 3) to seal off/coat the fibers.
2.
Build
: Next apply the Flexistretch Nylon Fibers. I use 2 coats of these. The fibers look like little tufts of cotton that you are applying to your lashes. Your lashes will look white and fuzzy after this step.
3.
Seal:
Finally, use the Mascara Base & Top Coat again to coat and cover the fuzzy Nylon Lash Fibers. Just swipe it on and apply as you normally would a mascara. I apply 2 coats. It surrounds your lashes and the Nylon Lash Fibers to create your finished look for your long and thick lashes.

Results:
The results are clear! My lashes look both thicker and longer with this system. There is more of a noticeable difference in length. But, there is some thickening too. When you apply the Nylon Lash Fibers in Step 2, you can visually see the increase in both volume and length! I love that my lashes look longer with this system, yet still appear to look like natural lashes.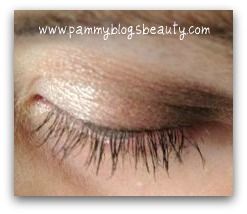 Actually, my lashes are so dramatically longer in this step that I can actually "feel" them when I blink my eyes! I am really impressed!
Smudging?
Yes, I actually do get a little bit of smudging with this product. For some reason, I am just one of those people who always ends up with mascara smudges. But, this product does not smudge that much. I get just a little bit of under eye transfer on the outer corners where my lashes are a bit longer. Typically the transfer happens right after application and I can just wipe it away (and it won't smudge or transfer for the rest of the day). It is possible that the product is still a bit wet and the product transfers from my lashes because they are uber-long. While I do get some slight smudging, it is not enough to prevent me from using the product! I can deal with a slight bit of transfer to get these long and awesome lashes!
Wear and Removal
:
Better Than False Lashes wears all day until you take it off! Removal is totally easy. Actually, you remove this product just like you would a regular mascara. I use a bi-phase liquid eye makeup remover soaked on Q-tips (how I always remove eye makeup). I just swipe over and then wash my face.
Overall, I am a huge fan of Too Faced's "Better Than False Lashes" Lash Extension System! I will continue to use this product whenever I want my lashes to looks super long and thick. This product just gives my lashes the "oomph" that they need! I find the Better Than False Lashes to be much easier and quicker to use than applying false lashes. Also, the results are much better and more dramatic than your typical lengthening and thickening mascara. What a great beauty innovation! I am actually surprised that no one came up with this idea sooner! Way to go Too Faced!