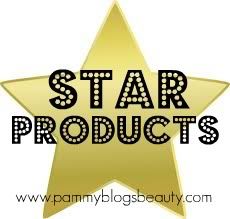 With the birth of a new baby in December, I consider this January 2012 to be a HUGE milestone of a month! 2012 is destined to be an amazing year!!!
As ya'll can imagine, having a new baby at home has thrown a total wrench into my beauty routine! LOL! Seriously, I am not complaining. But, it is a huge change. I am often to be found with my hair in a ponytail and seem to wear yoga pants 24/7 these days. So, being a sleep-deprived glam-girl at heart, I found that I needed to perk myself up with my favorite products. I need products that are easy to apply and use and that just always make me look and feel great.
Curious? I know you are. So, keep reading!
My makeup focus this month has been soft and natural. I have been reaching for products to either moisturize, give me a "glow", or to diffuse dark circles and tired eyes (no sleep with an infant!). I reach for any product that makes me look more rested!
What were my beauty "stars" this month???
Check it out!
Makeup:
Trending for me this month:
Eyes
: soft neutral shadows with lots of shimmer to disguise tired new-Mommy eyes. No harsh liners...just going for soft, pretty, and "rested". I reached for high quality shadows that looked good and applied well in one quick swipe with no need for primer.
Lips:
sheer moisture that is not fussy...quick and easy!
Cheeks:
Give me color! Give me glow! I have been snuggled up inside with baby and just needed something to make me look less pale and products that look glowy.
Products:
Urban Decay Naked 2 Palette (full review coming very soon!): I know, I know, there is nothing but buzz about this palette right now. Let me tell you, it is worth the hype!!! I adore it! I was on the waiting list for this bad boy and it arrived in the mail literally just a few days before the baby arrived! So, these have been my go-to shadows for pretty much the entire month. I am a huge fan of the original Naked palette as well. Between these two Naked palettes, I am in neutral shadow heaven. I feel that I have a very "complete" array now of neutral shades and can create endless looks with these two amazing palettes. What else do I love about the Naked 2? The shade selection, I find that I always use the lighter shades more in palettes. I love that the overall theme of the Naked 2 was "lighter shades" than the original Naked Palette. Also, this palette leans more towards cool which works great with my skin tone. Love, Love, Love this palette! Fair skinned girls with neutral-cool skin tones, this is a *must have* palette if you love neutral shadows! Don't even get me started on the quality and pigmentation...they just can't be beat!
POP Beauty Lid Bronzer Palette: What? What? Another neutrals palette in the same favorites list? Yes! With all the buzz with the UD Naked Palettes, lets not neglect the other fabulous neutral palettes out there! This one is so different from the Naked 2 mentioned above. This one is *tiny* and all the shadows are warm toned. What is similar? The fabulous shimmer of these satiny shadows and the amazing texture. These buttery shadows are very easy to wear. Make sure you check out my full review!
MAC 266: I am inserting this here under "makeup" even though it is a beauty tool. I found myself using this MAC 266 small angle brush whenever I put on shadow! Just a swipe of this brush into you shadow gives a perfect line. This month I have been using it more for highlighting the inner tear ducts of the eye with light shimmery shadow. This really fakes giving you an "awake" look! Love it! I have had this brush for a million years. The quality is great. Hairs are still perfect and it has just the right amount of stiffness and thickness for a soft shadow line.
BeneFit Eye Bright: I am in love with this little chubby pencil. Actually, this has been a Holy Grail product for me for years! Nothing fakes the "awake" look better than this! Just swipe in the inner corners of your eyes and smudge with finger. You will look instantly more awake. This month, I have been using this layered underneath a shimmery eyeshadow.
Revlon Lip Butters: Yes, another hyped beauty-community product has made my list. These Lip Butters are, hands-down, the best new lip product to come about in a long time! The colors are so pretty and wearable. Plus, there is a great assortment of shades! I really think that just about anyone could wear these universally flattering and pretty shades. Be sure to check out my full review!
Napoleon Perdis Blush Patrol: This blush is just amazing. It is soooooo dark, yet it is so flattering for fair skin! It gives color, definition, and a hit of shimmer. It only takes a light swipe of your brush because it is so very pigmented. Wears all day and looks beautiful. It feels like an instant perk-me-up when I wear this.
Physician's Formula Happy Booster Powder in Translucent: This has easily become one of my all-time favorite face powders. It is technically a face powder, but I wear it more like a highlighter. It just gives a soft and shimmery glow. No glitter chunks here...just glowy and beautiful skin! The quality is very high end. Actually, it reminds me a bit of my beloved NARS Sheer Glow.
Hard Candy Glamoflauge: The more I use this concealer, the more I love it!!! I do an ongoing Concealer Review series. I reviewed Glamoflauge here: Hard Candy Glamoflauge. This stuff is amazing! It is high end quality with a cheap-cheap drugstore price. It is sooooo pigmented and thick. My dark circles have been so pronounced with a new infant at home...but this stuff totally obliterates them.
Skincare:
BeautyMint Skincare: I just finished testing this brand and really like it! It is mild and gentle. My skin has looked amazingly glowy. Maybe it is the joy of new-Motherhood...or maybe it is the skincare (or a little bit of both, wink!). I like all of the products that I tested. But, the SPF and the cleanser are the real stand-outs for me. Be sure to check out my full review here: BeautyMint Skincare.
Vaseline: After time spent in the hospital and the dehydration from nursing, my lips were in despirate condition. They were extremely dry, chapped, and dehydrated. Coating them with Vaseline throughout the day and before bed has brought them back to a much better condition. I know we often forget about these standard products, but Vaseline was fresh on my mind after just writing up this post as well: Beauty Uses for Classic Products.
Hair:
Tresemme' Fresh Start Dry Shampoo (Smoothing formula): I <3 Dry Shampoos! This product has been a lifesaver this past month. Let's face it, with an infant, my hair has taken the back-burner this month. I have very long hair that takes forever to dry. Normally I wash my hair every/other day. With this product, I can squeeze and extra day out of my hair wash! Also, I packed this in my hospital bag for labor and delivery and I am so glad that I did! I was in the hospital for 5 days and often didn't feel up for a shower. This product perked up my hair and made me feel cleaner. Another bonus, it gives great volume. I honestly believe that every girl should have a dry shampoo on hand!!!
Fragrance:
Katy Perry Meow: I haven't mentioned a favorite fragrance in ahwile! I actually am still using a sample of this one, but am planning on purchasing it soon (hint, hint Hubby if you read this for Valentines day!!!). This scent is just so totally "me"! It reminds me a lot of my all time favorite fragrance, Angel. It smells of vanilla and is on the sweet side. A great warm scent for winter. Plus, the bottle is adorable. I am really more of a dog person, but cats are cute too! ;)
Nails
:
This time of year makes me *crave* color! My winter wardrobe leans heavy on the black. So, it is always nice to perk things up with a colorful manicure!!! :) This manicure color/glitter combo below got me soooo many compliments!
Zoya Catilin with Sinful Colors Frenzy: What a beautiful combo. Catilin is a gorgeous grey-toned lavendar and Frenzy is purple and aqua glitter. Such a fun combo!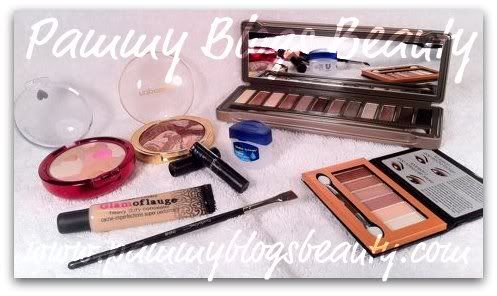 I hope you enjoyed reading! I would love to hear about your favorites too! I normally don't publish comments with links. But, if you did a favorites post for the month of January, then feel free to leave a link here!
XOXO!
I purchased some of the items listed
and others I got as promotional samples.
I choose the items that I truely love
reguardless of how I got them.