Skincare lovers: I have a review for you today! This review is for a brand-spankin' new skincare line called
Beautymint by Jessica Simpson
.
Skincare testing takes time and patience. Plus, I have VERY sensitive skin. So, I am hesitant to jump into a whole new system at one time. Well, the good news here...this skincare line is so gentle! So, testing these products was a a total pleasure!
My Skin Background:
I have normal-dry sensitive skin. I do not breakout very frequently. But, since I am pregnant, I am slightly more prone to breakouts at the present. While breakouts are rare, I attribute this to good skincare as I have had trouble with breakouts in the past.
My skin is also allergy prone. This is actually a huge issue for me. So, my skin is both sensitive and "allergic" to certain ingredients. How does this manifest? With redness. As long as I keep my skincare gentle, I can keep redness and irritation at bay. What seems to trigger the redness? Certain sunscreens and product fragrances.
I am in my mid-30's so age prevention is a key factor for me when choosing skincare. I seek out skincare packed with antioxidants, sunscreens, and peptides. When I am not pregnant, I venture more into treatment products as well. But, for now, I am sticking to antioxidants and prevention. I do not have lines or wrinkles (yet!). When my skin gets very dehydrated, some slight fine lines emerge in my eye area. But, so far so good as far as age prevention!
Last, but not least, my biggest skin issue is the presence of deep/dark under eye circles. This issue will not be addressed in this review as I did not test out a Beautymint eye cream. But, be sure to check out my Cover it! Concealer review series!
I can't assess all the products offered by BeautyMint as they sent me the ones useful for my skintype:
Sensitive Normal-Dry Skin
. But, if you have normal-dry sensitive skin and are interested in hearing more, then this is a review for you!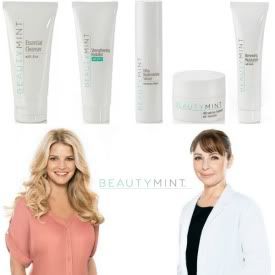 What is BeautyMint?
Beautymint
is a collaboration between
Jessica Simpson
and celebrity skincare expert
Nerida Joy
. This is a brand-new line that just launched in October of 2011. Nerida has over 30 years experience in the skincare industry, has been profiled in over 60 publications, is on the editorial board of New Beauty Magazine, and was named one of Self magazine's and Elle Magazine's top facialists. Jessica's goal for Beautymint: to make solutions-oriented skincare accessible for women. I think the combination of affordability and results-based products is always a good combo! Why pay more for skincare when you can get results with a good price?
Nerida believes that for skincare to be effective, it needs to address
individual needs and goals
.
Beautymint
was founded on the idea that everyone is different. We all have different and unique skincare needs. This system was designed to be a personalized approach to skincare. Not every product will work for every person. So, the Beautymint website has an online personalized skincare consultation/assessment. Your answers on the assessment will determine what type of products you will need. Your skincare needs will drive your skincare program. The end result: a Customized Skincare System.
BeautyMint focuses on using powerful ingredients. Products contain clinically proven ingredients such as marine collagen, elastin, peptides, aloe vera, chamomile, cucumber extract, acai fruit, mulberry extract, green tea, and shea butter.
BeautyMint's Monthly Full-System Approach:
BeautyMint offers a "members-only" monthly approach and the products are sold as a "system". You have to buy the "complete kit" either a 4-piece system for $39.99 or a 5-piece system for $49.99.
The organization into a system has its pluses and minuses. The plus is that the products really do work well together as a system. But, if you are like me, you like to mix up your skincare. I mean, I have some HG items in rotation already and don't necessarily want to replace them with a whole new system. Also, rarely do I run out of products all at the same time. I would love to have the flexibility to order the products individually and pick and choose based on my own experience with the products. But, if you are just starting to learn about skincare or are going through a skin transitional-phase, it might be nice to have the products selected for you. I know that there are a couple items in particular that I really fell in love with from this system. I wish that I could order them individually!
My Personalized BeautyMint System:
BeautyMint selected the following products for my Sensitive Normal-Dry Skin (Of note: I requested no treatment products as I am pregnant and am avoiding treatments like Retinol).
Essential Cleanser with Aloe
Ultra-Replenishing Serum with Marine Collagen
Sculpting Treatment with Peptides
Strengthening Hydrator with SPF 15
Usually, when doing a product test, I slowly add products one product at a time. This way you can test for individual skin sensitivity and find out what individual products work for you. Well, since this entire skincare line is designed around a "system" approach, I tested all of the products simultaneously (most of the time). No, this is not what I usually do. But, it is how BeautyMint designed the system for its consumers. I will go ahead and tell you...the results have been great. But, it is sometimes hard to ascertain exactly what product "does what" when you test them all together. I ended up editing this approach a bit and alternating use of the Serum and the Sculpting Treatment. Sometimes I would layer these right after each other and other nights I would rotate these two products.
The BeautyMint Line At-A-Glance (Packaging, Product Size, and Price):
Before getting into product details, lets talk about the image and packaging of the brand. The website and packaging evokes a "clinical-based" skincare feel. The packaging is nondescript white plastic with grey and green lettering. The overall look and feel of the design is clinical and clean. I like this kind of aesthetic with products. No fuss. Overall, no complaints about the packaging. The pumps worked and all the products were packaged effectively.
The other thing you will notice is the size of the packaging. I initially assumed that I got "sample" sizes since I am a blogger. But, no...the sizes I received are the actual sizes of the products that are for sale. So, just a word of warning: these are small containers. Just keep that in mind when you think of the price of the system. Yes, the price is good, but the products are rather small. But also it makes sense given that BeautyMint's intention was for this to be a "monthly" skincare system. I will tell you that these skincare products will give you more than a month's worth...you can probably get 2 months out of each product. Another plus: it would be so easy to travel with this system as they products are already travel-sized!
BeautyMint System Prices:
$39.99 for 4 items and $49.99 for 5
Essential Cleanser with Aloe:
Ahh! I love this cleanser! It is a uber-gentle aloe-based gel cleanser. It is unscented and uncomplicated. This is exactly what I am looking for in a cleanser. It cleanses effectively without over-drying your skin or leaving you feeling like you have "residue" (as many gentle cleansers do). Totally love it! If I could re-purchase items separately, I would totally be ordering this cleanser. This cleanser comes in a 2 oz. squeeze tube.
No harsh lathering agents
Aloe, cucumber, and chamomile help sooth while energizing
Perfect for all skin types
I use this cleanser in the mornings and evenings. After removing eye makeup (PM), I just wet my face and then apply a small amount (less than a dime size) to my hand and massage into face. This cleanser doesn't "foam"...but, you don't need foam to get clean. :) My skin was always left feeling soft and clean with no residue. I experienced no dryness after washing (sometimes I can get dry patches after cleansing). Also, I did not experience any redness! So, I do think that this cleanser had a "calming" effect to my skin.
Ultra Replenishing Serum with Marine Collagen
:
In general, I am a serum fan. To me, serums are just ideal for my skintype. They calm the skin, reduce sensitivity, and hydrate. Serums are always my 2nd step after cleansing. This serum comes in a 1 oz pump container.
I really enjoyed using this serum. I use about one and a half pump's worth and smooth it all over my skin. The serum has a smooth gel-like texture. It comes out white-ish and smooths in clear on your skin. It leaves your skin feeling lightly hydrated with a bit of a dewy glow. There is a bit of "residue" on your skin from the product and it feels ever-so-slightly sticky. But, like I mentioned, it gives a dewy effect. So, I am pleased with the finish. You can use this product day or night. During the day, I apply before sunscreen. At night, I apply before the Peptide Sculpting Treatment (with some alternation of these procedures).
This serum contains 50% marine collagen to promote skin's
firmness, smoothness, and glow.
Helps reduce the look of fine lines and wrinkles
Ingredients promote hydration
Patented technology delivers a power-load of actives to skin
Results? Well, as I mentioned, I really don't have any fine lines or wrinkles. But, when my skin is dehydrated, the fine lines crop up a bit. I feel that this product worked well to smooth out my skin by evenly hydrating it. Skin feels incredibly soft and smooth and somewhat "plumped". I am not sure that it was this product alone achieving this result.. but I know that this product is contributing to an improved and softer skin appearance within the complete system (does that make sense?).
Sculpting Treatment with Peptides:
This gel-like serum contains 4 peptides which can help support your skin's elastin and collagen production. It is a clear and fragrance-free moisturizing gel that sinks into your skin very quickly without leaving any sort of film. This treatment comes in a .5 oz pump.
Designed to help promote a firmer, more lifted appearance.
Ingredients encourage overall vibrancy
Botanicals like acai and green tea contain protective properties.
I use this Sculpting Treatment either after the Replenishing Serum or on alternate nights. It seems to boost my skins moisture level and it feels soothing.
Honestly, I am not quite sure of the direct results from this product. But, when used as part of the system as a whole, my skin's hydration has been boosted and redness has decreased. My skin's appearance is very smooth and soft. I believe that this is one of those "preventative products" with the effects of the peptides and antioxidants primarily being preventative in the long-run.
Strengthening Hydrator with SPF 15
I am an avid sunscreen user and fan. I have extremely fair skin that burns easily. On a serious note, my father frequently has Carcinomas removed and I lost a dear friend to Melanoma. We all must wear sunscreen every single day! Not only are sunscreens "age" preventors, but wearing it could literally save your life.
Finding a sunscreen that works well with sensitive skin is very challenging. I am allergic to many chemical sunscreens (they cause a terrible red splotchy rash on my skin). One combo that I have found that works particularly well for my skin is the Oxtinoxate and Zinc Oxide combo sunscreens. So, I was thrilled to find out that was the exact combo in this sunscreen by BeautyMint.
Now, if you are going to be in the sun. I recommend wearing a SPF of 30 or higher. But, for day-to-day use, a sunscreen/moisturizer with SPF 15 will likely suffice.
Formulated to provide luxurious hydration
Contains marine collagen
SPF 15 provides sun protection
I adore the formulation of this Strengthening Hydrator with SPF 15 by BeautyMint!!! I love that it is non-scented. The lotion is clear and and non-sticky. It absorbs quickly into the skin and leaves a very slight dewy cast. It hydrates well and protects your skin. Seriously, I adore this product! I apply as the "last step" in my skincare routine in the mornings. It leaves the skin feeling so soft, moisturized, and well prepped for makeup. I really enjoy using this!
My only wish is that this product was available for purchase separately on the BeautyMint site! This is hands-down my favorite product of this line. Since I am a beauty blogger and general skincare enthusiast, I have many skincare supplies on hand, but I am always running out of sunscreen because of my "religious" application of sunscreens on a daily basis.
Overall results:
Since I tested out all of these products simultaneously (how the system was designed to work), my results speak to the effectiveness of the combined use of all of the products mentioned.
During my testing I saw an overall decrease in redness in my skin. This is great! My skin is so prone to irritation especially in the colder weather (and while pregnant!). Also, my skin looks very "plump" and hydrated. No dry patches at all (also a feat!). My skin feels extremely soft to the touch as well. I love how my makeup just glides on over my skin when it is prepped with these products (no need for a makeup primer!). Also, I did not experience any breakouts nor clogged pores while testing these products.
I am a fan of the new BeautyMint system. I saw great results with my skin! The products are reasonably priced. But, please note the small size of the products and keep that in mind when thinking about the price. I am a particular fan of the
Strengthening Hydrator
and the
Essential Cleanser
. I am curious about the eye creams available from this line too: the Ultimate EYe Treatment with Shea Butter and the Brightening Eye Gel with Mulberry Extract. My eye area is *so sensitive* and my dark circles are so dark. Since i know BeautyMint products to be gentle, I bet these are great.
Thanks for reading!
Have a great day!!!