As much as I love "playing" with all of my pretty and colorful eyeshadows, in my heart-of-hearts I am a neutrals girl. Not only do neutral shadows have a more natural look, but also the various shades of brown really work well to play up my blue eyes and make them pop!
This little mini
Lid Bronzer palette by POP Beauty
is just the kind of eyeshadow palette that gets me very excited! The shadows are all beautiful and shimmery light-medium warm neutral shades. For day-to-day looks, I like using lighter/brighter lid colors to "wake up" my eyes and minimize any tiredness. This little palette contains wonderful light and bright lid options with some medium toned shadows for a defined crease.
To find out more about this cute little palette and
POP beauty
creator
Sara Strand
's new blog, just keep reading!
The Lid Bronzer Palette:
This petite palette contains 6 beautiful warm-toned shadows: True Bronze, Toffee Bronze, Nude Glimmer, Rose-Nude Glimmer, Metallic Peach, and Beige Glow. While my coloring leans towards the cool-toned side of neutral, these shades still are not "too warm" for my skin. Actually, the "peach tones" in these shadows works incredibly well to enhance the color of my blue eyes.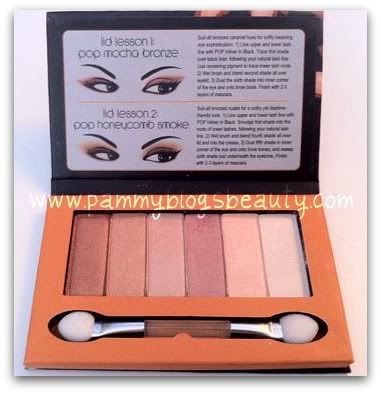 This palette is so lightweight that it almost feels "weightless"! You really can't find a better palette for travel or for your purse! The palette itself is made of cardboard and has a brown floral-like design on the front. The palette is "cute" but nothing fancy or spectacular. Inside the lid of the palette are tutorials for 2 different bronzed lid looks. You can create multiple looks with these 6 shades.
The Texture: The shadows themselves feel very soft, silky, and "buttery" in texture. They are extremely easy to work with.
The Finish: These are all shimmery and metallic shades. They reflect light well and the finish of the light colors is fabulous on the lids! It really gives we a wide awake look. Also, I like to line the inner corner of my eyes with the lighter shades. Very pretty!
Shade Selection: As I mentioned, these are all warm-toned shadows. Shades range from light/highlight shades to medium (crease color) shades. If you like to go very dark in the crease, you might not feel like these give enough definition. But, for my fair skin, these medium toned shades provide plenty of definition.
Wear: These shadows wear about "average". I did find that they faded by the end of the workday if I skipped wearing a primer. So, prime your lids well ladies. When a primer is used, the wear is much better. Also, you can apply these shadows wet to increase wear and vibrancy.
Pigmentation: I would describe these shadows as having medium pigmentation. It is not light nor super rich.
Price: $22.00. Available at stores like Ulta.
I am really happy with this palette! It is one that I reach for frequently for great day-time neutral eye looks. Also, I (almost daily) use the lightest shade to line the inner corner tear ducts for a wide-awake and brightened look. I can't wait to travel with this palette too! It gives so many beautiful neutral options. I also love the super shimmery/metallic finish of these shadows.
Want more tips on how to use this palette and other inspirations from Sara Strand, POP Beauty creator? Be sure to check out her new blog
Sara's Sonnet
.
Sara will discuss inspirations behind the POP brand, what drives her creatively, as well as her flares, tastes, and passions in all that is POP culture. These musings in fashion, makeup, art, and music will be updated monthly, sharing an in depth look into Sara's taste making style.
Stay tuned for more POP Beauty reviews in the future! What have ya'll tried from this brand? I love this
nail polish by POP
...it makes me want summer! ;)
Stay beautiful ya'll!